A bespoke industrial kitchen from our Foundry Collection in Ascot
Party central!
The clients and the renowned interior designer Peter Mikic (check out the feature on the whole house, there's now words to describe the talent of this man and his eye for what truly matters) agreed a brief before I went off on a mission to match the talents of all the other parties involved!
The clients made it clear from the very start that they liked to entertain in great numbers and on a regular basis. The hub of this 'party central' was going to be the kitchen which lent itself perfectly to our latest 'Foundry' collection.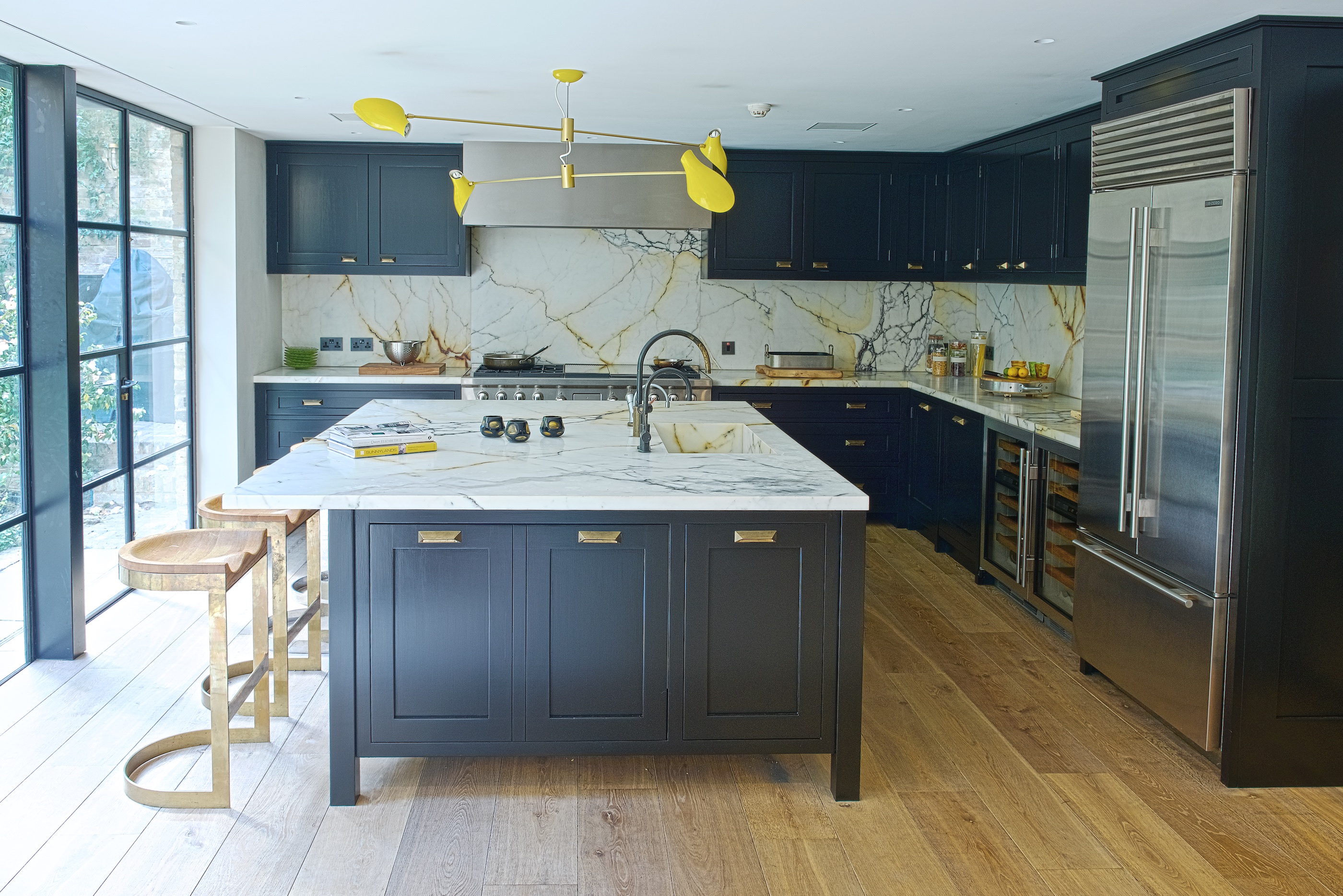 Because of the great space we had to work with, we decided on this metropolitan, urban style kitchen with a modern, industrial twist on its shaker ancestor. It is a bespoke industrial kitchen collection with lots of character.
The large space called for a bold introduction and aesthetic: the 50mm thick Arabescato Paonazzo veined marble worktop and full wall splashbacks do just that. They make a true statement and contrast with the raven cabinetry.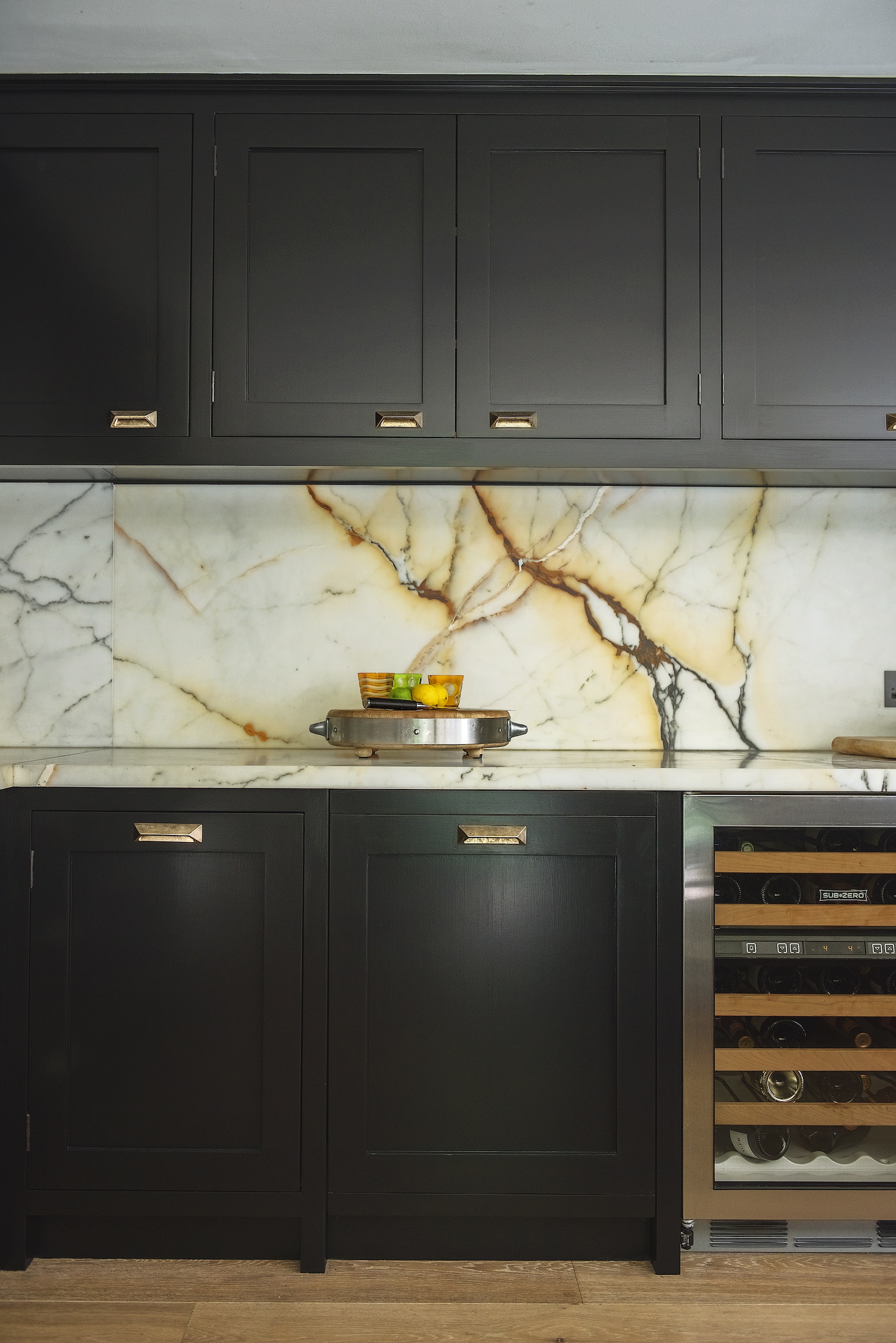 We also carved the sink on the island from this same marble. This gave the centrepiece island worktop a subtle flowing continuity. A stroke of genius! The Kohler tap with a filtration faucet and hand rinse were exclusively custom electroplated in bronze. The Quooker boiling water kettle tap was given a similar treatment to complete the contemporary, industrial look.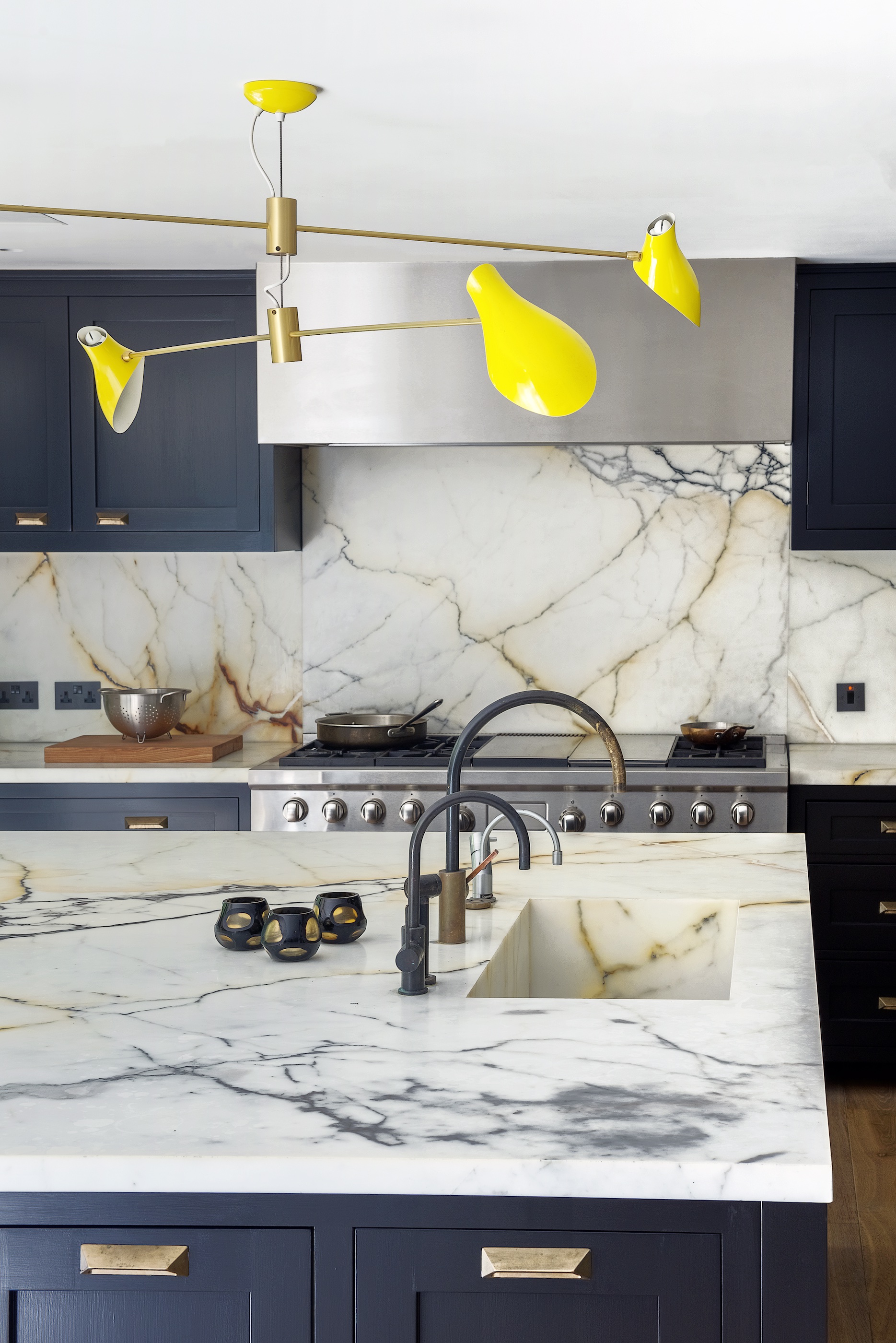 In keeping with our 'Foundry' collection, we created a dark colour scheme using our favourite and revered pitch dark Mylands Sinner No.238. We coupled this with the divine brass vintage patina handles from Rocky Mountain Hardware. These really are something special when you get up close and personal with these beauties.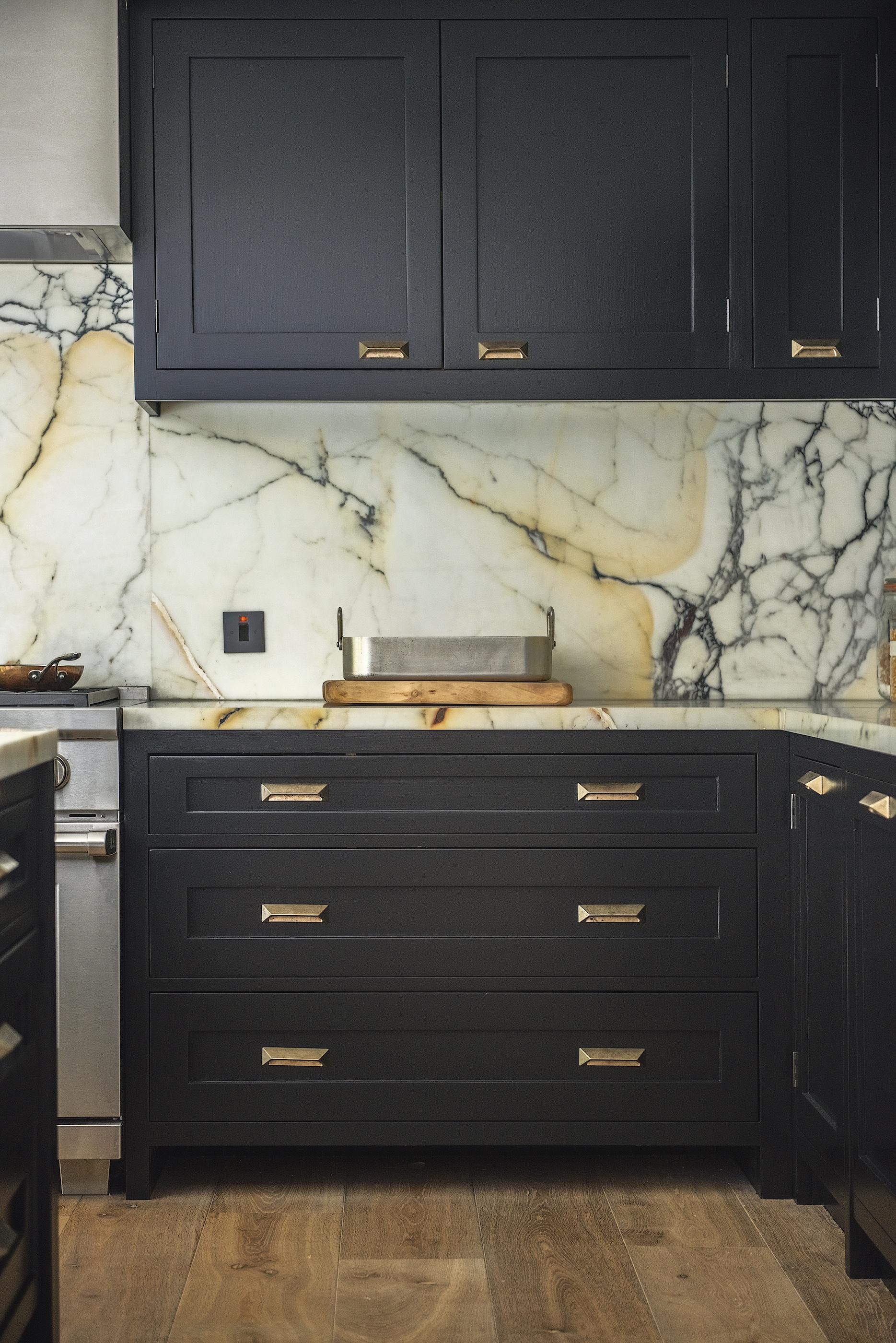 The yellow provocateur, screaming out loud in the the feature light above the island, was inspirational in its contrast to the surrounding arrangement. Loving it? Then head over to the David Weeks Studio in New York. You'll find this and even more amazing statement, focal lighting elements and the best of any avant-garde design.
The sheer scale of the space called for large appliances. Step forward the 'game changers': the influential Subzero French door fridge freezer with ice maker partnered with the under counter pair of Sub Zero wine coolers. This pairing would have no problem keeping up with the comestible outputs of this bespoke industrial kitchen.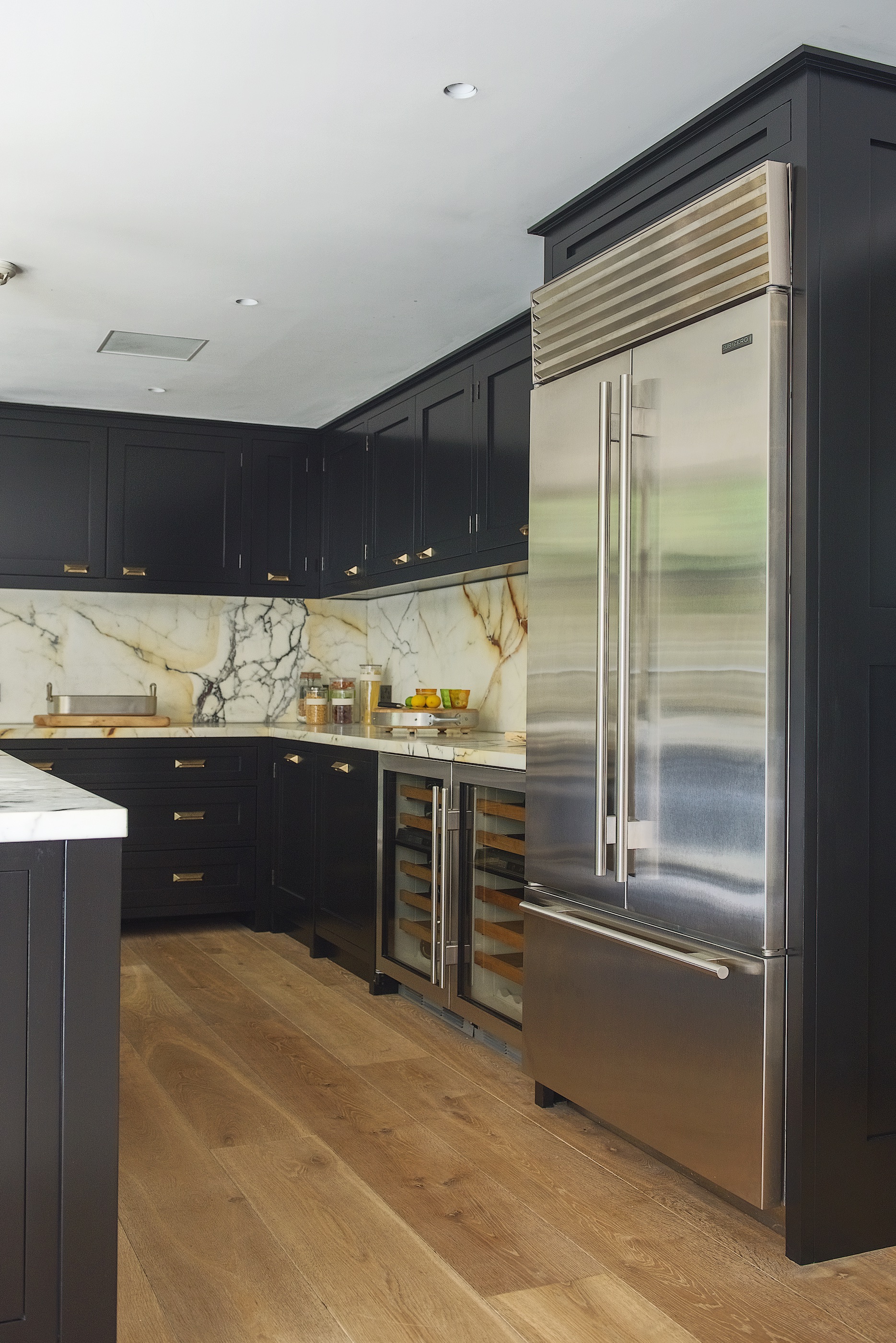 However, even these naughty boys are soon upstaged by the 'front and centre' 1500cm wide double oven Wolf range cooker with indoor barbecue. A beauty and a beast! Little tip: this baby smokes more than Lee Marvin. So make sure you have the right extraction calculations and a custom-built hood to cope, like this one from Westin.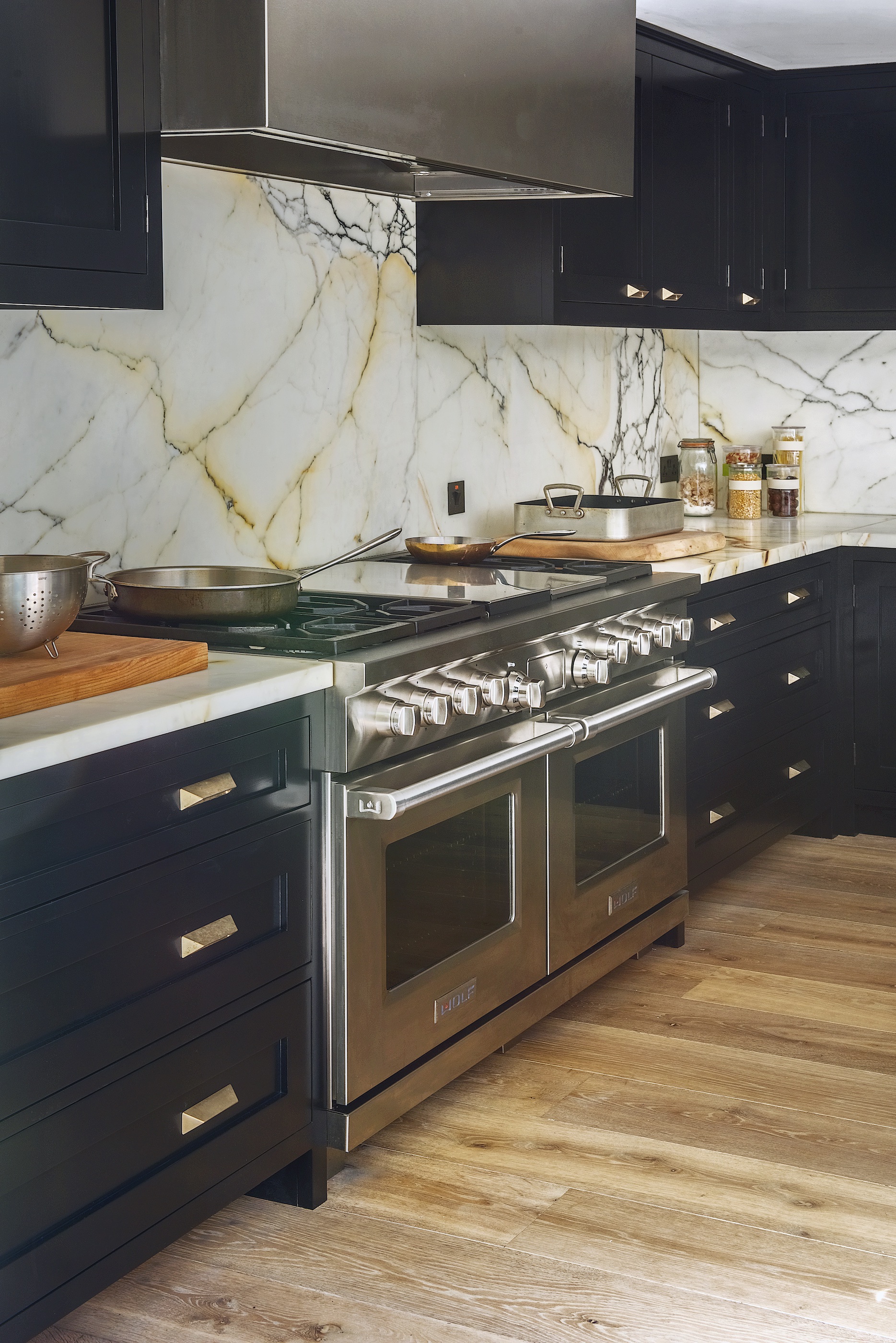 On top of this impressive set up, a Fisher Paykel fridge drawer was incorporated into the end of the island nearest the living area.
"How on earth would all the dirty dishes be dealt with?", I hear you ask. Well, let me tell you there is only one solution that can cope with this monumental task: twin Miele dishwashers. These 'tubs' are the most durable and fit for purpose washers available to the market. To cope with the 'debris' generated, two 32 litre built in recycle bins on soft close runners.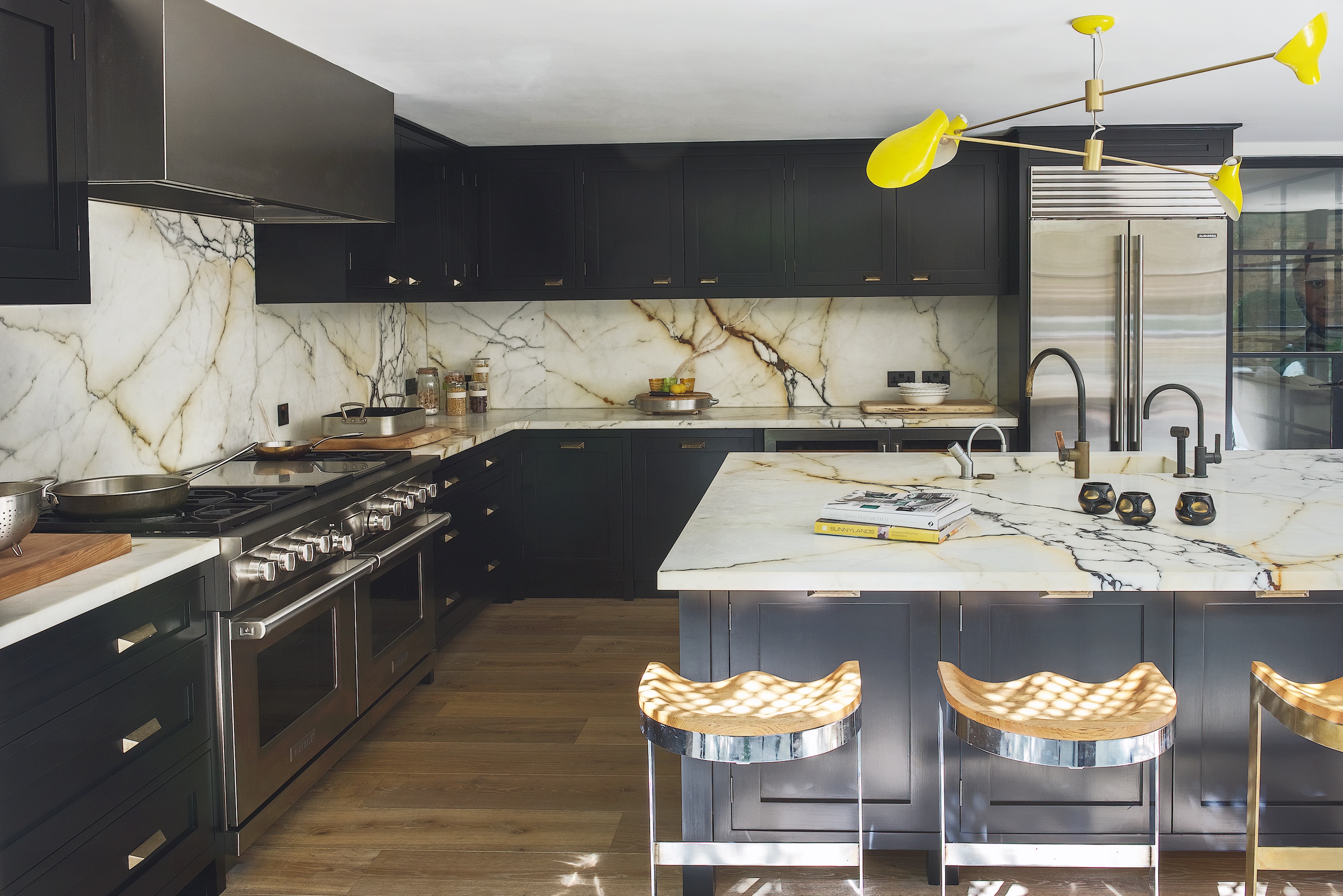 You may have noticed the majestic double banked drawer sets surrounding the 'beast'. Normally, drawers this wide, although stunning, have a tendency to twist. We overcame this by insetting two drawers on soft close runners but faced off with one panel.
One of our favourite details in the joinery is the exclusive and custom made spice drawer. All the ingredients you need, perfectly stored yet right at hand, make the whole creative cooking operation enjoyable for our client.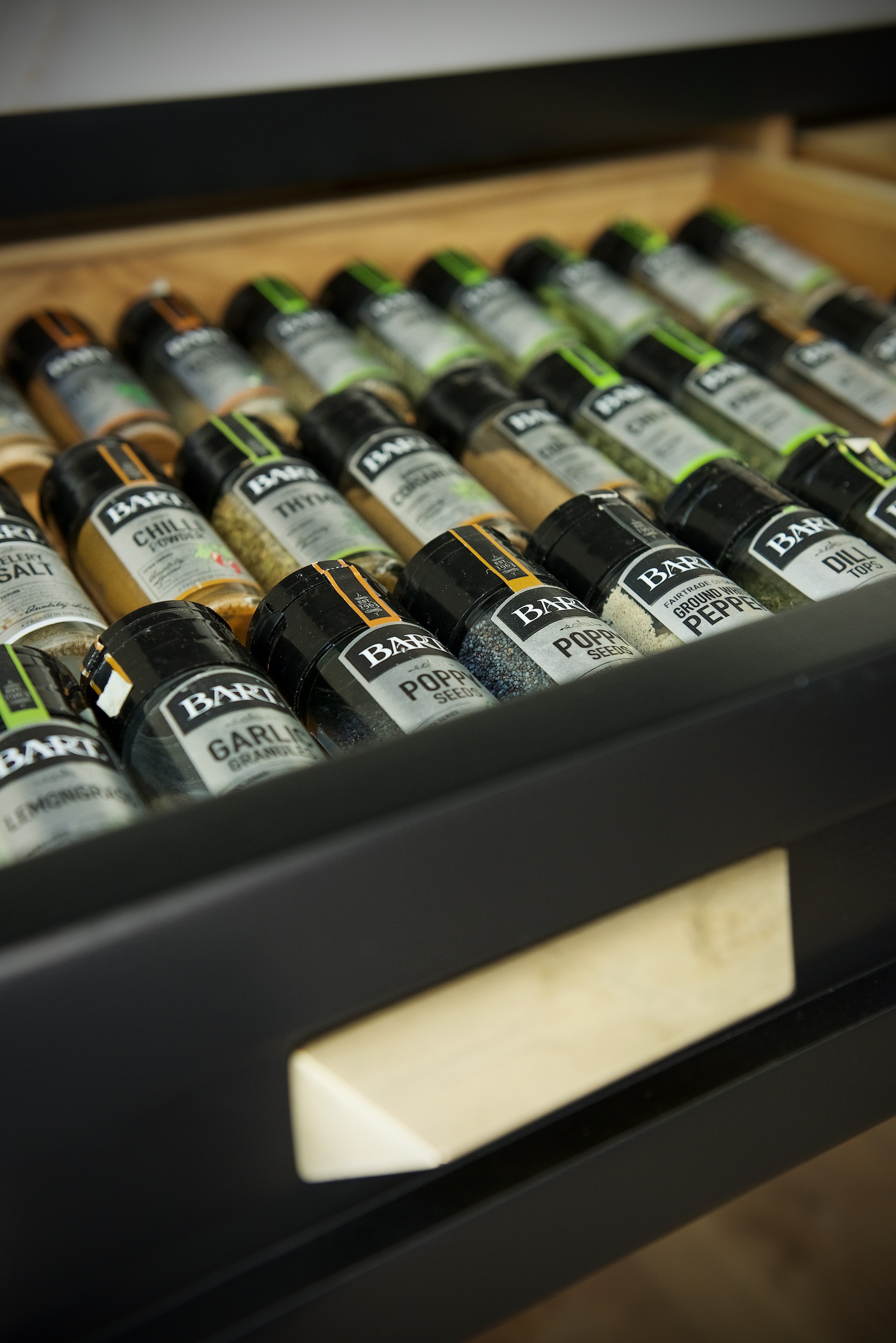 Next up in this cornucopia of a room set: the vintage and retro stools. These were hand-picked by the designer and top off the design perfectly! The simple styling of the the kitchen allows it to speak for itself but also portrays the client's own style. Take a look at these showstopping Warren Bacon stools from the 70s.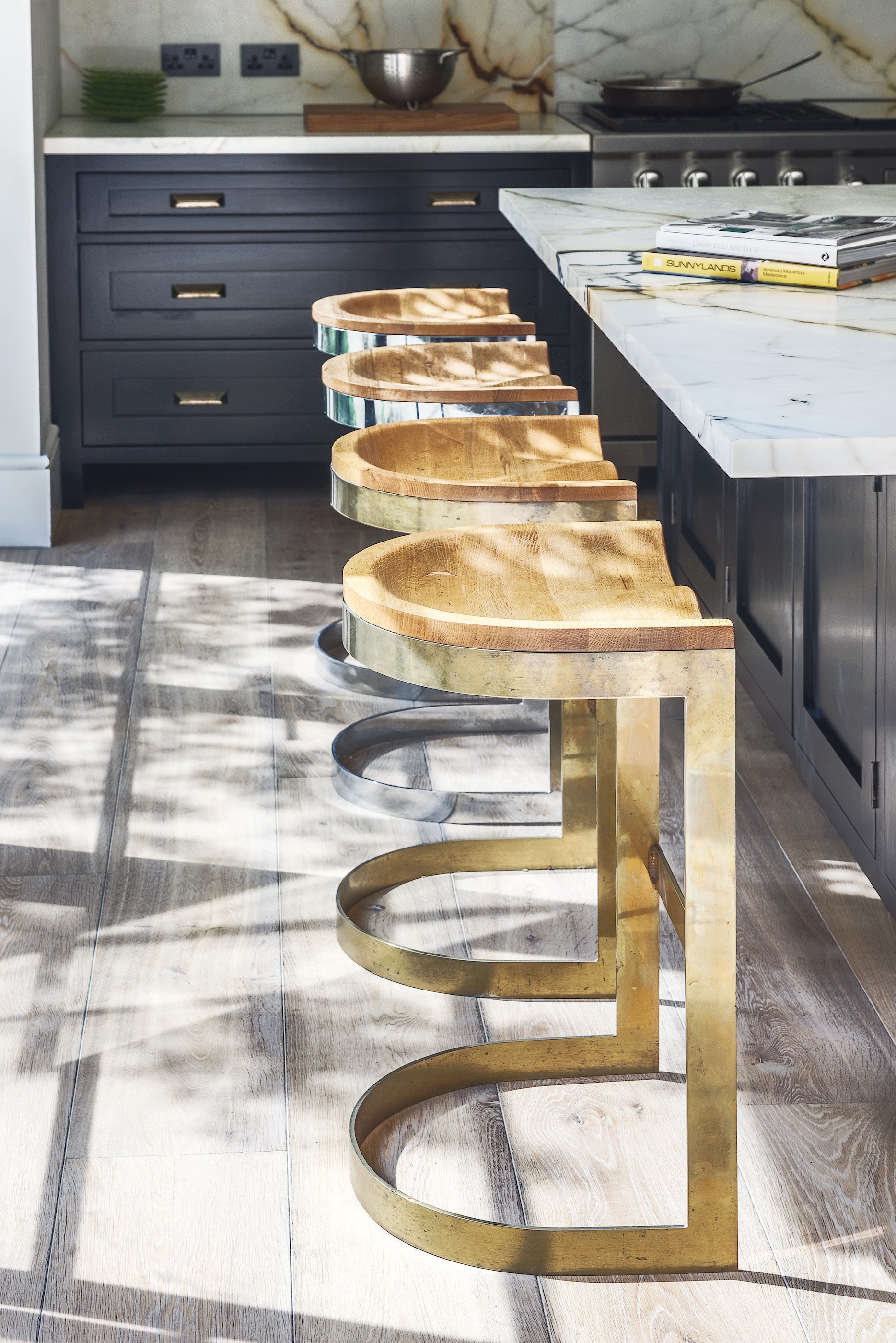 To cap it all off, recognition! It is an absolute honour to be featured in any magazine, but especially one from overseas. Finding out we were featured in Architectural Digest Spain was a delight. It is a magazine dedicated to design, home, art, travel, architecture and décor. A lovely article sharing our bespoke industrial kitchen.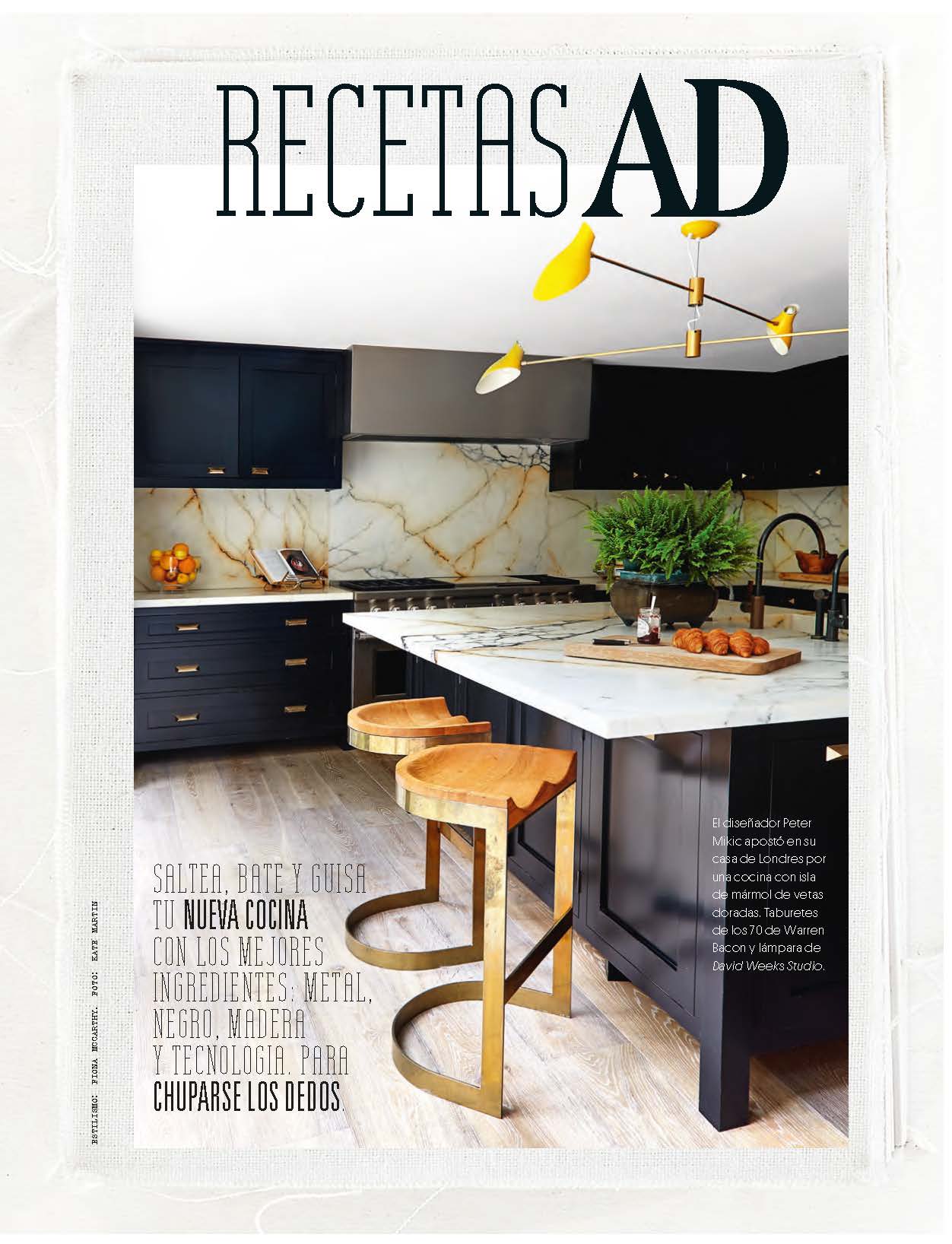 This project has been one of the standout kitchens for us. With pitch black cabinets and contrasting arabescato marble worktop and splashback, it was a kitchen like no other. It was a pleasure to use our traditional cabinet making techniques to put together a space that will not only stand the test of time but be a focal point for this iconic home.
It was a tough nut to crack and it will be even tougher to follow up on this corker. We're up for it, are you?
To see the full offer of bespoke kitchens, head to our homepage.