Mud, mud, glorious mud!
Love it or hate it, mud is most definitely a part of our lives. Even more so for those of us that have chosen to tread or ride the country paths of this green and pleasant land. Whether it be with bike or horse, kids or dogs, the one guarantee in life is you, your boots, your kids, their boots, the dogs and their paws are all going to get caked in the stuff. Here in lies the problem, at some point you do have to go back to that wonderfully clean and tidy place you call home!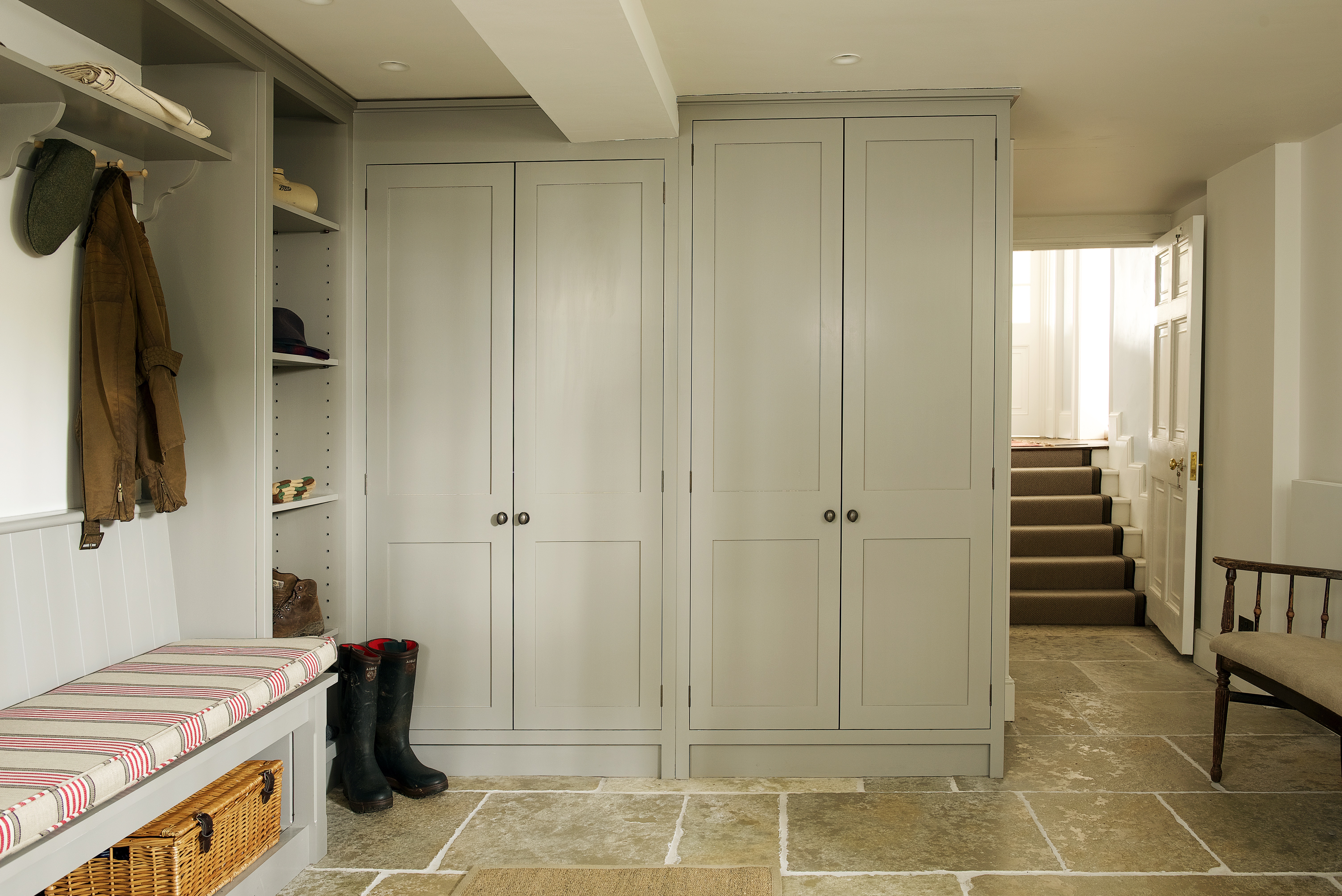 Enter stage right: your solution, a glorious bespoke handmade boot room. It is having a moment these days and we get it! Who wouldn't want a dedicated space to house all those messy bits that otherwise don't have a home? They give you the perfect 'somewhere' to house all the paraphernalia that everyday living seems to require. Boots, coats, hats, umbrellas, dog leads, running shoes. You name it, you've got it. The only difference is that now you may just have somewhere to put it!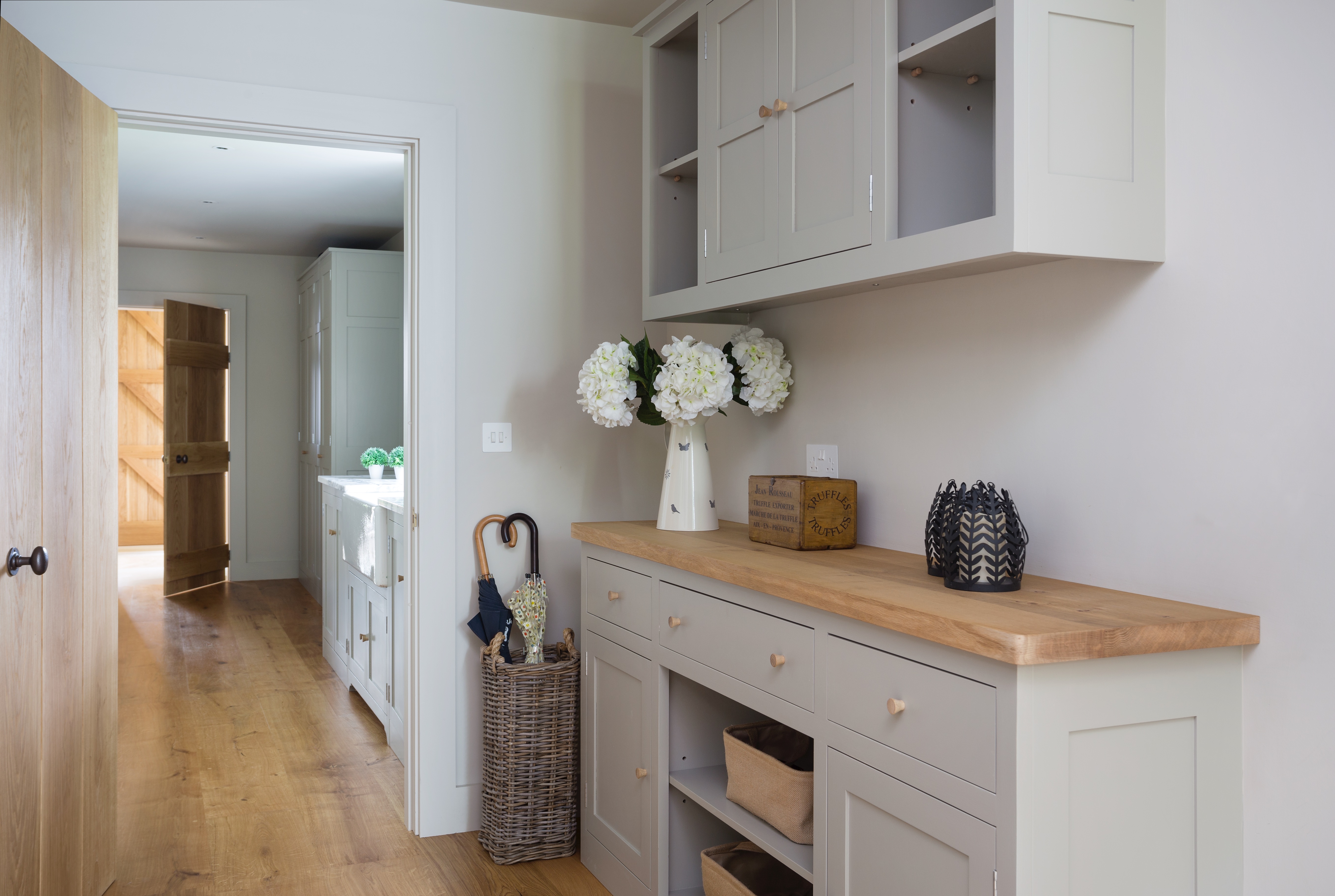 Open shelves, benches and hooks are essential here and pet beds are always something to consider. You might also want closed tall cabinets for hiding those smelly running shoes you won't part within other sports equipment. The boot room is meant to be a hardworking room so let's make it work hard but still maintain plenty charm in amongst the muck.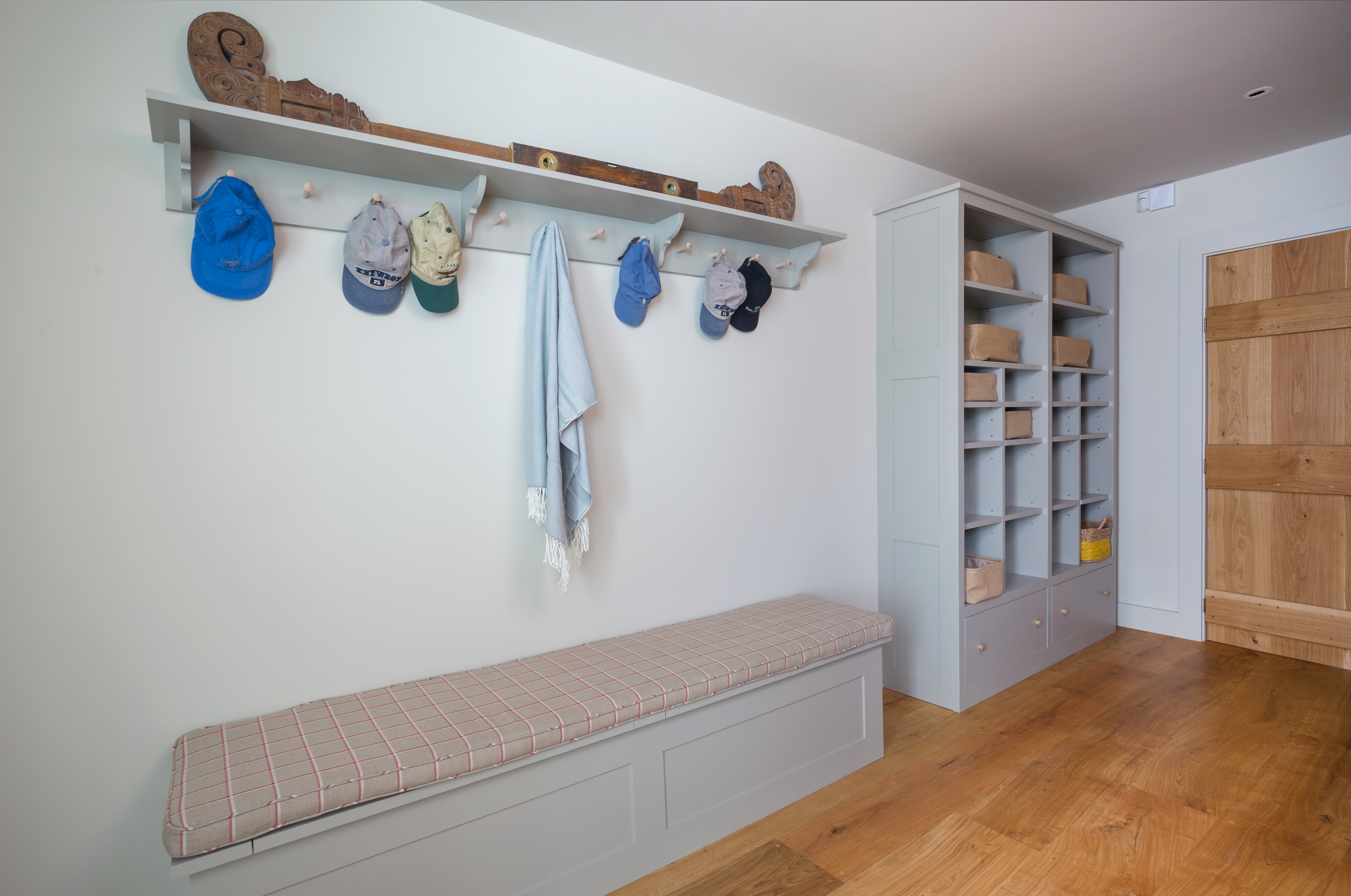 It can double up as a place to clean off or hose down too. In this case you would really want a sink and taps as these are most useful for cleaning up after muddy walks and shampooing the hound. If space isn't an issue then you might also want to include a downstairs loo.
Make sure to keep the hardworking nature of the room in mind when choosing materials. We love flagstone flooring for a country feel as well as for their long-lasting and hard-wearing quality. Think wipeable paint and durable materials but always with a beautiful aesthetic. We can help you choose the right materials and finishes.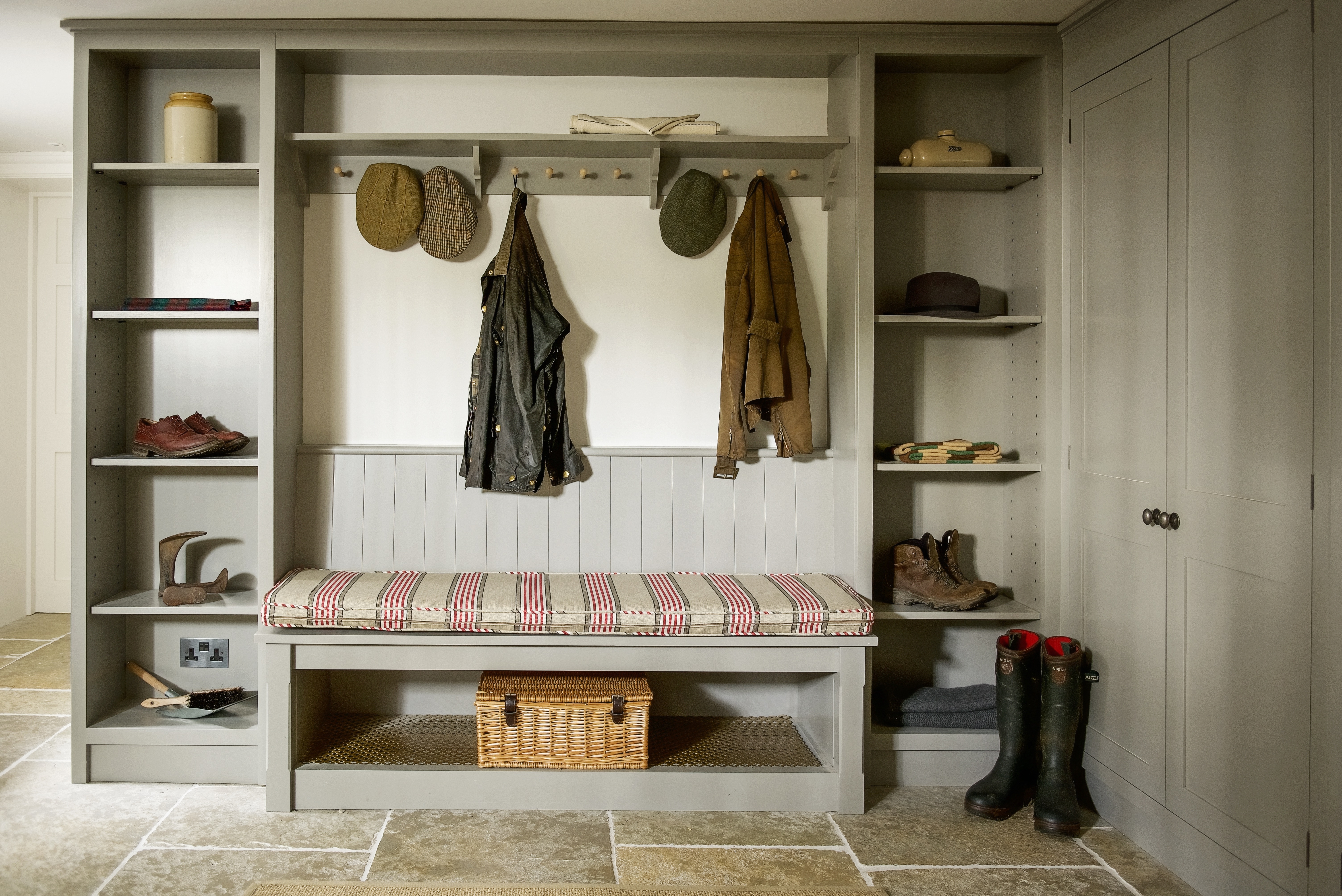 Bold colour choices are perfect for these spaces, especially darker colours like Hague Blue, which add style all the while staying practical. We don't want mud to show up too easily. This is especially important if it is the secondary entrance to the property as you really don't want 'this lot' traipsing through your grand entrance hall, do we now!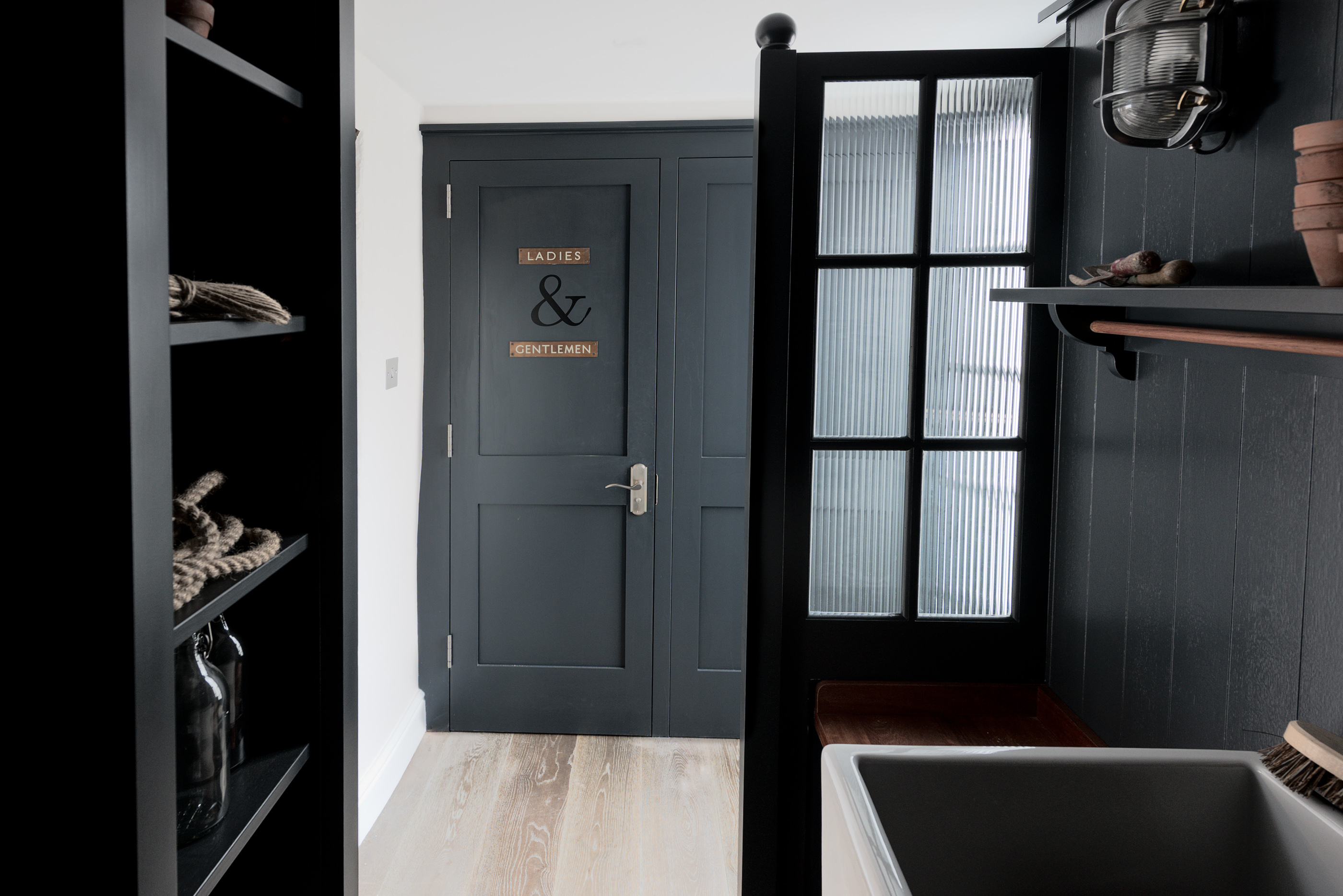 Although these spaces aren't meant to be glamorous by nature, it does not mean they can't be appealing. The above image is taken from our Guildford Showroom boot room. Why not visit and let Charlie Kingham see what he can do to devise a practical yet beautiful inimitable bespoke boot room to fit in with your life and style?
To see our full offer of bespoke cabinetry, head to our homepage for inspiration!