Form Follows Food by Caesarstone
Caesarstone worktops, a leading manufacturer of premium quartz surfaces, combines innovation and cutting edge technology to create the most inspiring countertops. We are proud to display their surfaces in our very own showroom as well as holding a vast range of samples for you to find just the right worktops for your kitchen, bathroom and more!
Their newest inspiration book, Form Follows Food, looks at the relationship between food and design, as explained by Lidewij (Li) Edelkoort: "Food and materials inspire one another and become a multi-sensorial form of creative expression."
The book explores three trends that we hope will inspire you! One of our most admired kitchen collections, the Foundry Collection, is the ideal foundation on which to add any of these stunning Caesarstone materials. The food-inspired textures and patterns make these surfaces all the more 'yummy'!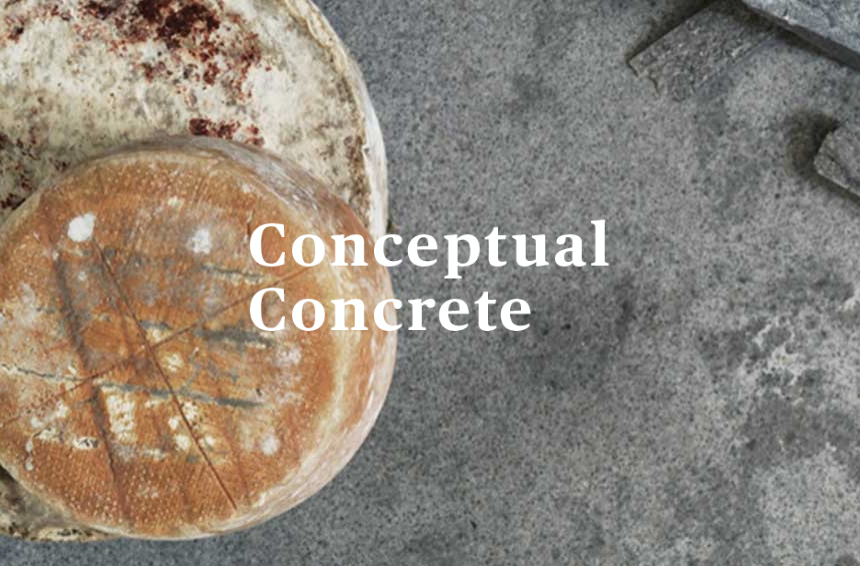 "There is an inherent beauty found in rawness and sturdy materials, reflecting the authentic textures of manufacturing, such as oxidized steel, poured plaster sifted sand, piled fractions and raw concrete. The concept of cementing materials together is also already reflecting in food trends, where pulverized ingredients are compressed into cheese, bread, paste or smash."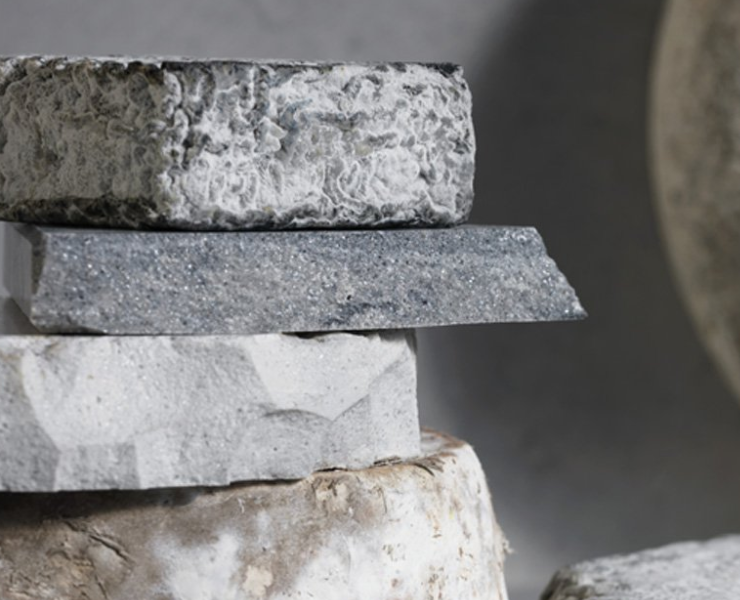 The rugged beauty of concrete is popular in many areas of design: architecture, construction, sculpting, kitchenware and more. Choosing this material will add an edginess and industrial vibe to your kitchen, which can cut through an otherwise very prim and proper design, giving it a bit more character. Our Foundry Collection, inspired by industrial luxe, is the perfect example of this.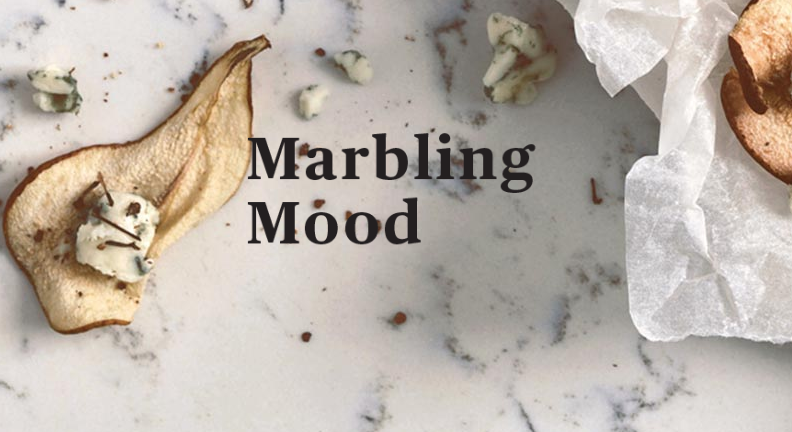 "The sudden return of marble has triggered a return to classical inspirations. Veining now comes in manifold variations, from the delicacy of intricately-laced lines to the dynamic drama of oversized thicker veining. Veining is impacting trends in fashion, textiles, ceramics, paper and design objects. A similar taste for texture and visual excitement pervades mottled foods and frothy desserts, with the prominence of marbled meringues."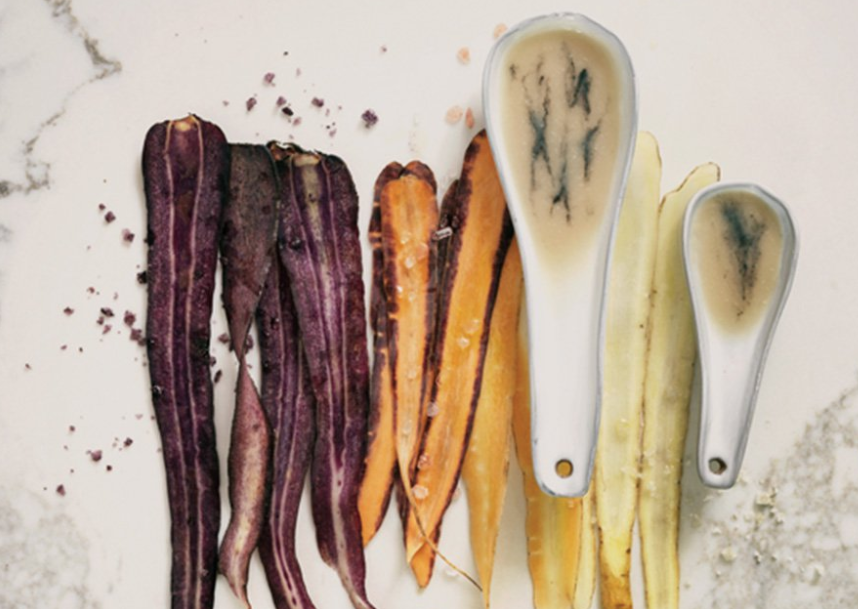 Marbling and veining are one of the most sought after designs in countertops amongst our clients – and no wonder! It evokes a classical grandeur that makes any kitchen look and feel high-end. It is a pattern that oozes class and works perfectly with most any kitchen design, from traditional to contemporary. Just look through our case studies and you will notice a trend: our clients love surfaces with marbling, from delicate to bold veining, there is something to suit everyone.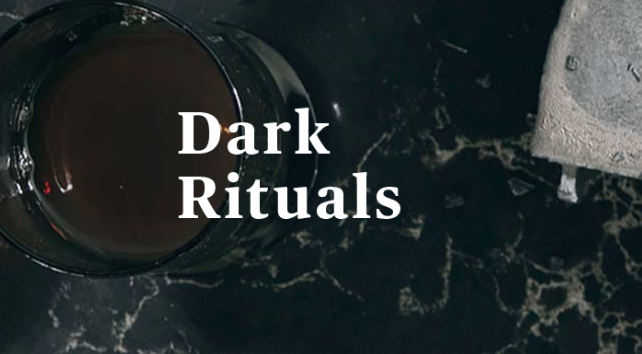 "Return to the beginning: like the authenticity found in foraged foods, in hunted and gathered ingredients. With these primal rituals, there seems to be a sober lifestyle direction emerging for the future, almost essentialist in its spirit. The darker side of living brings unfamiliar textures to the fore. These roasted, fired and drying treatments cast a dark shadow over all ingredients and introduce an intriguing new chapter in the designing, preparing and presentation of food."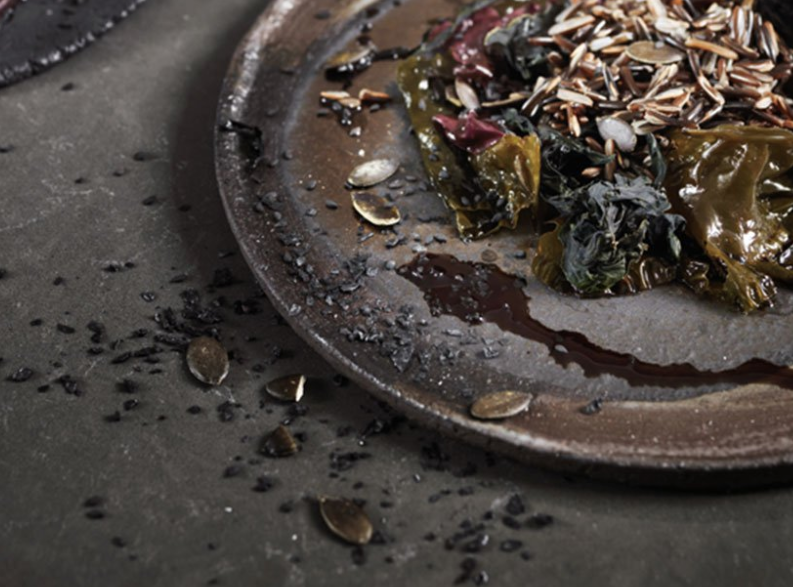 Dark tones have been in the limelight this year: from darker walls and cabinets to dark countertops, deep blues, greens, greys and even black have proved a coveted choice in our recent projects. There has been a shift from the Scandinavian whites and lights to a more characterful and decadent colour scheme with rich, dark tones. Can you be tempted to come to the dark side too?
You can order your copy of Form Follows Food by Caesarstone worktops here.
All images: Caesarstone