If you read our recent post about the story of our showroom in Guildford, you'll know we've been settling into and enjoying our lovely new home for almost two years now. Part of settling in is getting to know the area – and the bit we love most is finding little gems where we can enjoy something great to eat and drink, because food and drink go hand in hand with kitchens. We have tried and tested some of the best Surrey pubs, as well as farther afield. We want to share our findings from our 'thorough market research' (well, somebody had to do it!) in the surrounding area, including Surrey, Hampshire and West Sussex. So here we go with our top seven pubs & cafes!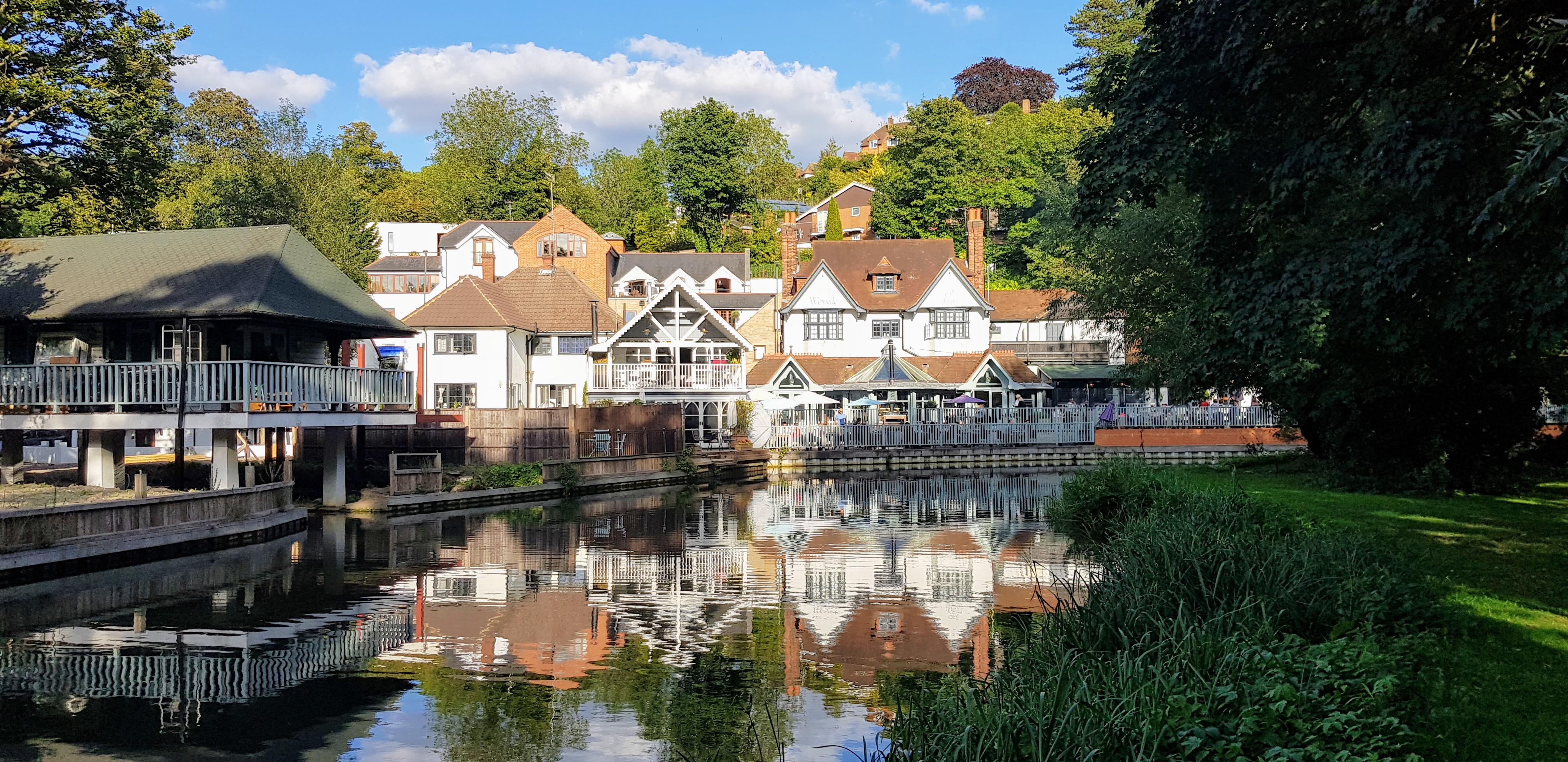 Our team's favourite Guildford pub for a yummy dinner and a cold pint is The Weyside. The locally sourced food and seasonal menu can be enjoyed in the comfort of a squishy armchair or alfresco – the riverside location is the perfect spot to unwind after work or on a sunny Saturday afternoon. It has all the countryside charm while being minutes walk from the town centre, you couldn't ask for more.

A short drive along the Hog's Back takes you into the picturesque village of Farnham. It is undergoing extensive regeneration work in the centre – but Castle Street and the Lion and the Lamb's Walk are still delightful cobbled streets to meander, grab coffee and go back in time. Just on the edge of Farnham, nestled in some lovely woodland, is our next grub favourite: The Spotted Cow. The food is deliciously home made pub food and the array of ales and wines to match means you could spend all evening enjoying this beautifully secluded, traditional setting. One of the best Surrey pubs!
You may have picked up on our love of a lovely traditional pub ideally with a riverside location and the option to eat outdoors on sunny evenings or get cosy inside by a fire on colder nights. So it's no wonder the Stag on the River in Goldaming is right up our street! The food is local and seasonal and we highly recommend the daily specials if you want to experience the best of what's in season while enjoying the relaxing riverside location.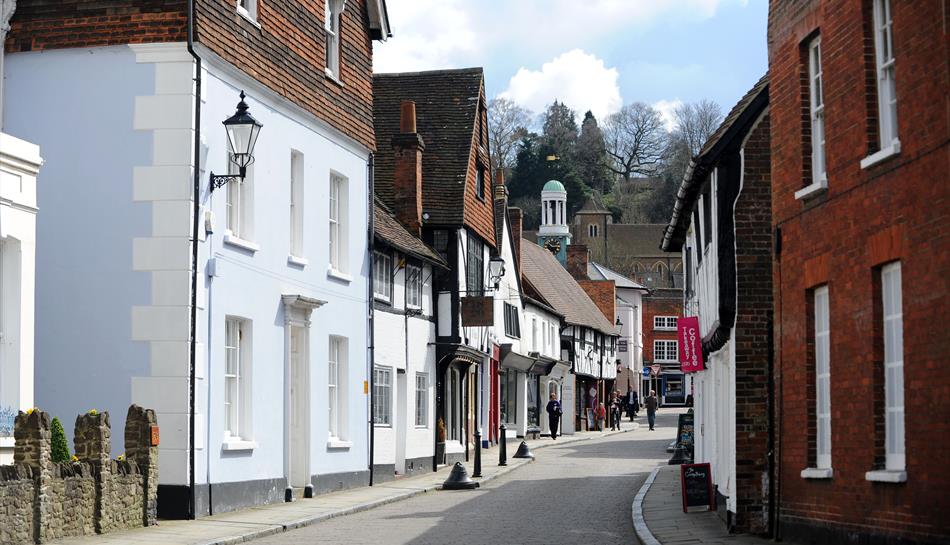 Who says country pub, says Sunday roast, right? Well, look no further than the beautifully traditional favourite in Haslemere: The White Horse. It has mastered the art of being perfectly laid back as well as maintaining an exciting buzz about the place. The food is seasonal and the speciality drinks, endless. Your perfect lazy Sunday is sorted.
If you travel a little further afield down the A3, you will come across Petersfield's top pub according to Trip Advisor. We completely agree with its smashing reviews: the Hawkley Inn offers both pub grub and fine dining with breathtaking views over the South Downs. It treads the line beautifully between traditional and contemporary when it comes to its food and hits the nail on the head with its fresh, locally-sourced seasonal produce. It's the perfect spot to put your feet up after a long walk or somewhere to celebrate with friends and family. It really does have it all!
A little way West, we found ourselves at the next place on our top spots: the Unicorn Inn, just outside Midhurst. The views from their beautifully kept garden were magical and the charm of its landlady-run pub truly cosy. The place has a real home from home feel, no pretence, just great British fare with outstanding views of the surrounding area.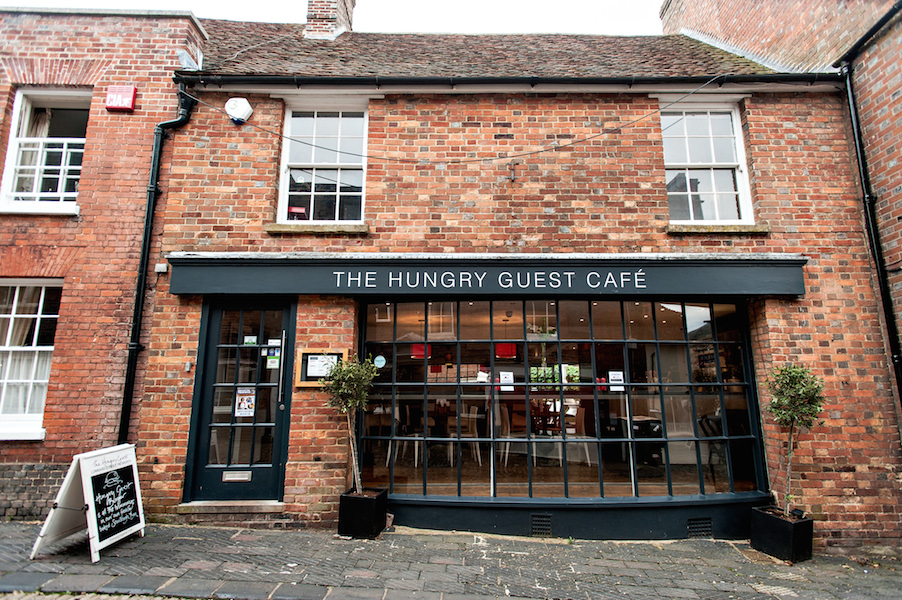 Our road trip down the A3 and along the A272 saw us finish off the adventure at The Hungry Guest in the market town of Petworth. Inspired by its co-founder, a Danish-born master baker, it is not a pub but a delicious little cafe with the loveliest locally sourced produce and artisan products. It is more than just a cafe, it boasts a butchery and a cheese room! It is an exciting little place with a vast array of delicious foods available to take home from their deli too. It is a perfect combination of traditional and contemporary – brining a modern twist to age-old recipes, like their Blackcurrant Curd. We returned with supplies for our kitchen, to liven up our lovely larders.
Have you been to any of our favourite eateries? What ones are we missing from our list?
If you fancy creating your own kitchen to cook up a storm at home then look through our full offer of bespoke kitchens on our homepage for inspiration!