A rush of blood to the head!
Not even sure where to begin with this one. Struggled where to end…
Long one here, bare with my indulgence as I describe my true bucket list No.1.
It starts with my following Chris Evans on Radio Two when he was doing amazing auctions for Children in Need.
There was some awesome packages but they also went for awesome money, so I wanted to get involved but way beyond my means.
When Chris Evans moved to Virgin Radio, he kind of got used to the 'Happy Ginge' so tagged along. Few weeks ago he had James Martin on the show and they were both in bits about the story of the little girl who wrote a letter to recently departed dad for Christmas, he had been killed in action. The guy at the post office asked for a 'return to sender' in case they couldn't reach him.
They then wrote the sweetest letter back saying how hard they'd tried to deliver this and finally reached him and told her he was looking out for her. Chris and James were so moved they rustled up an impromptu auction for five couples to go along and be involved in James Martin's Christmas show (…goes out Saturday the 21st of December, don't miss it it, mad funny due to the brew).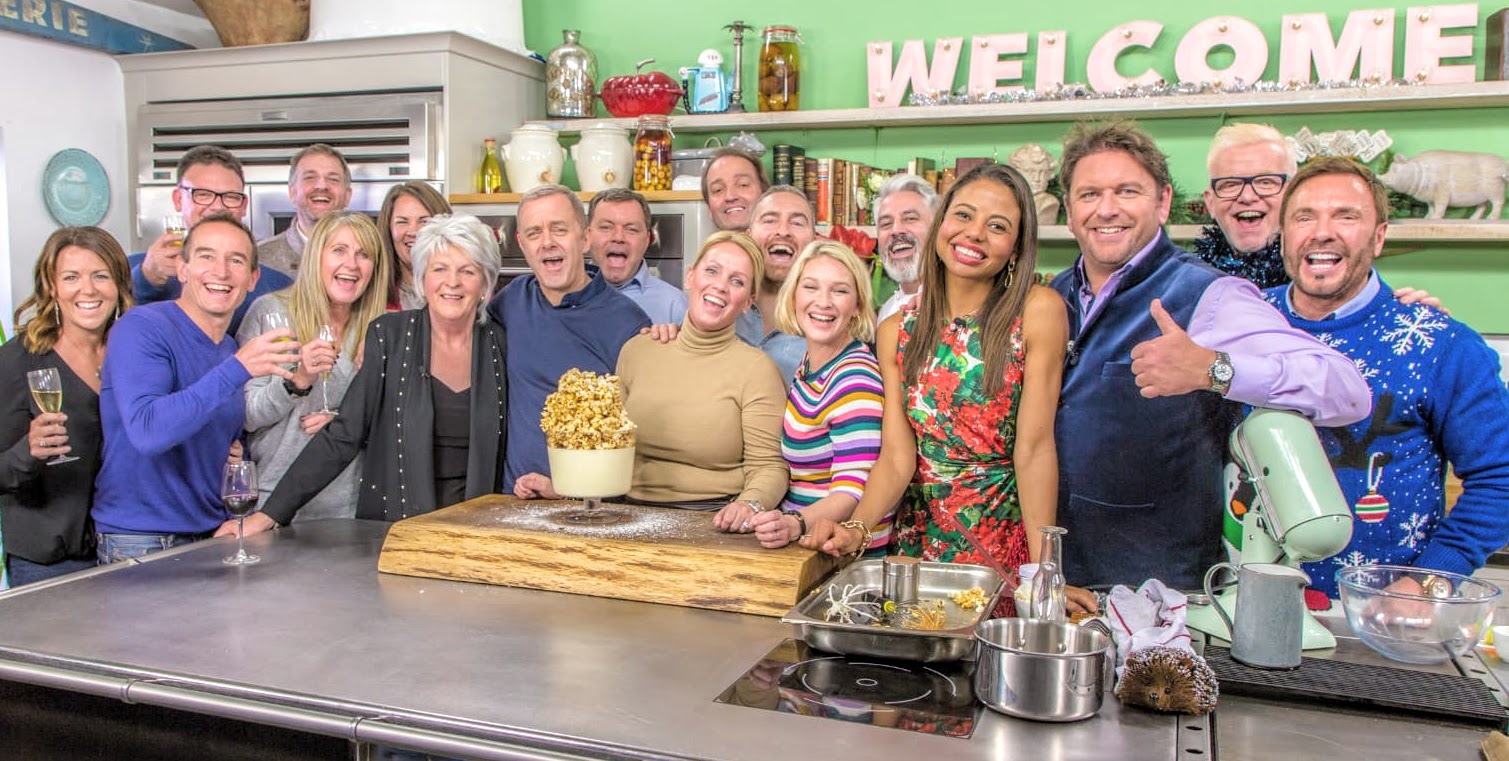 Fast forward one week and on a Wednesday morning the auction starts at 6.30am, there's me bright and early with a starting bid and low and behold, I'm in the lead! You may have heard Chris telling the listeners how generous Charlie Kingham from Guildford was.
Truth be told, my son and son in law are both in the British Army (so proud I'm choking just typing that) so bidding was easy as all proceeder going to the British Legion, a charity dear to me for obvious reasons. As the morning wears on, I'm thinking no way I'll win a place as my highest bid was a fifth of what lesser auction packages had gone for previously.
Cut a long story short, after two hours of bidders and me with my stomach in knots, it turns out I've won, mental storm as I try to take the in (…and justify to myself this financially lunatic 'rush of blood to the head').
Bucket list is what I came up with! Actually, it was the honest truth, this was a prize money truly could not buy and as it turned out, apart from the birth of my son Harry, the best day of my life and one that will stay with me forever, cannot think of anything to ever beat this?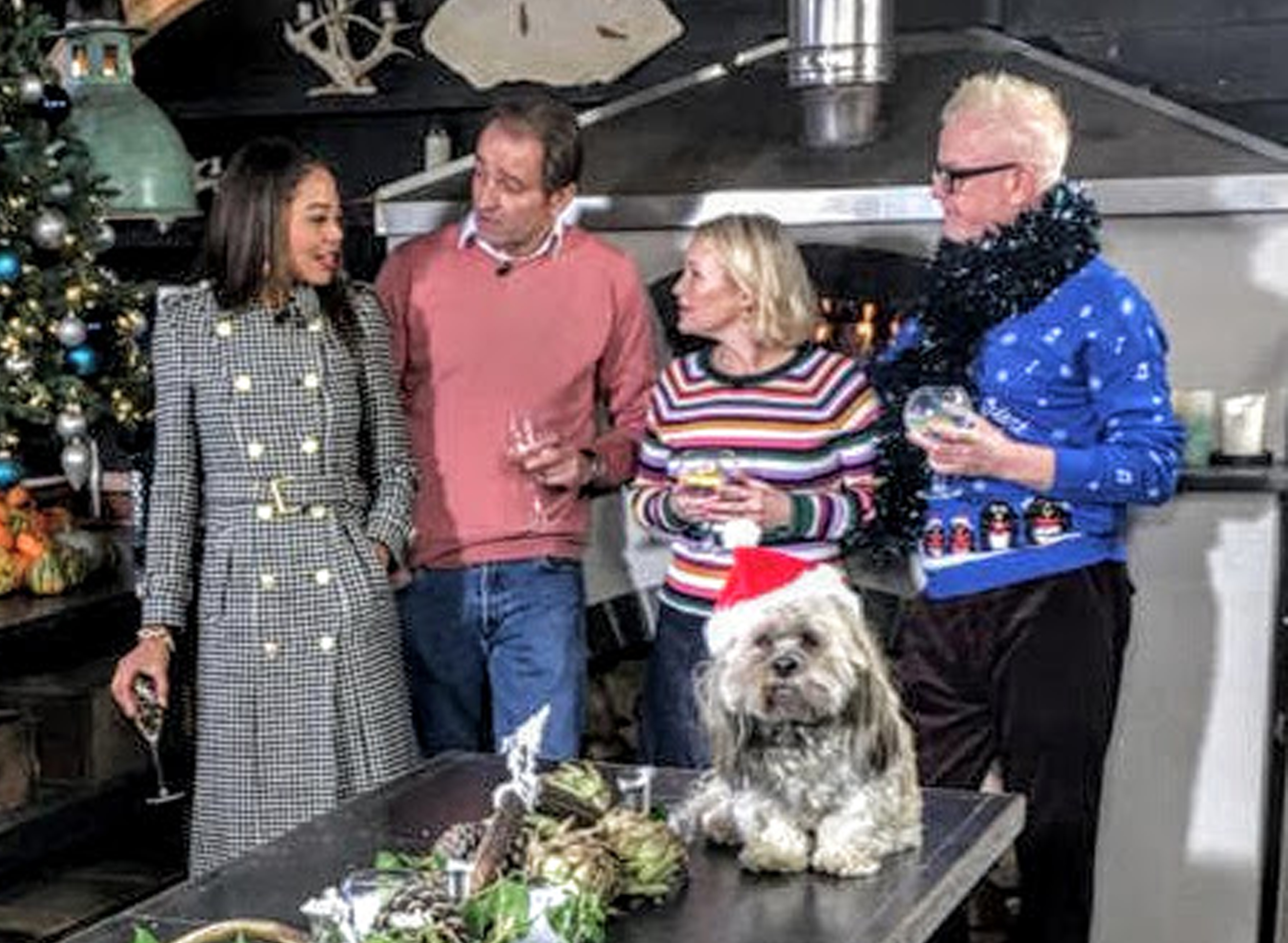 So here's the package in full.
Itinerary
10.00am – Meet at Chewton Glen for Champagne Breakfast
Midday – Private luxury coach to James Martin's home where the Christmas show will be filmed that day.
5.30 pm – Show finishes with James Martin and his Band playing live in his Man Cave.
7.00 pm – We all move on to the village pub for a private lock in party.
Top that !!!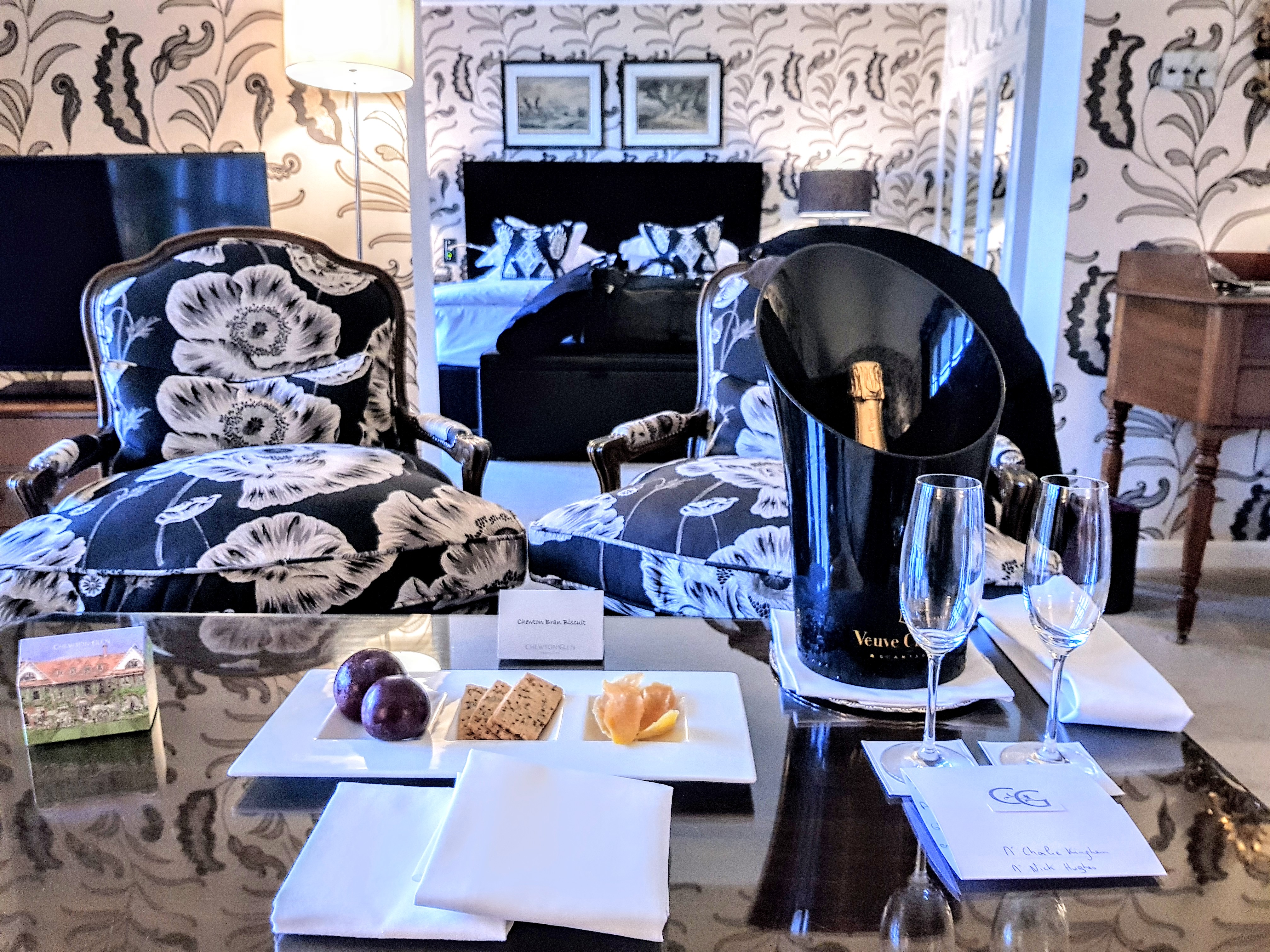 The following anecdote is mostly a narrative put together from hearsay and speculative rumours along with my befuddled misty haze of a memory of what may have happened this very messy day.
Took my brother along, son Harry turned it down, said his Mum watches James every Saturday and the bloke does his head in (his actual words).
Planning to max it out, we rock up dead early at Chewton Glen, full hydro therapy session, shown room and then down to breakfast. They'd set up a table for the winning couples so we could all be introduced. All lovely people and will always remember the great time I had in their company, hopefully we meet up again one day. Sorry but being useless with names will now have to skip forward and we cracked on straight away (might of had something to do with free flowing fizz). My personal plan was to take it easy as it was such a special day and I wanted to enjoy and remember every bit of it. Unfortunately, I forgot that I have the breaking strain of a Kit Kat and by the time the coach arrived, a bottle of Champagne was sitting very comfortably inside me.
On the bus, it carried on, more Fizz (..and beers) for the 'journey'. It was rumoured we was going to be travelling on the Spice Girls double decker from the film Spiceworld. Turned out not which proper rankled the female contingent on board.
A while later, we arrive at James's home to be greeted postally by 'Tequila Tash', Chris Evans' wife. In each arm she has a twin, Boo and Walt, gorgeous pair of babes in arms.
Obligatory glass of champagne again forced into our hands and we are escorted off to James's Man Cave. All gets a bit male orientated for the next few paragraphs. (Sounds a bit sexist as there are plenty of ladies that fully appreciate what is coming up).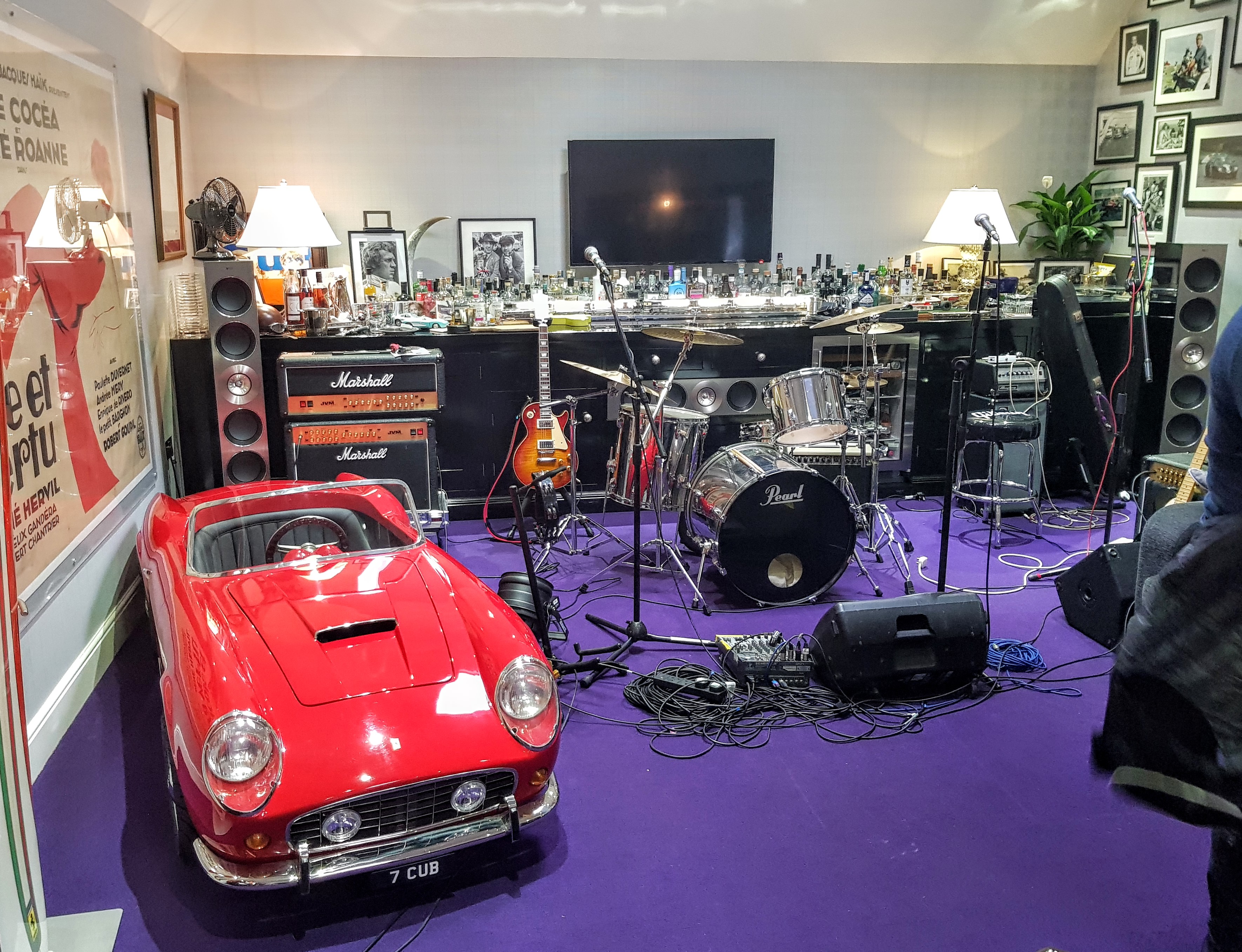 No secret I'm a massive fan of Steve McQueen, turns out so is he and when it comes to top trumps, he wins hands down with the Main Man's personal trials bike Steve road for the Team USA in the 60's. Amazing cigar cabinet and then enters Chris w makes a beeline for me to congratulate me for the charity 'donation', cannot believe this is happening, have to pinch myself. Have to say Chris, Tash, James, The Frothy Coffee man and everyone there that day Meade us all feel so special, there was no airs and graces, it was so relaxed and welcoming it was like you had known them all your life.
Next stop, James's garage, only four cars from his personal collection of 44. ButOMG, what a set of four, first up, Colin Mcrae's winning WRC car, how to follow that, maybe 3 million pounds worth of Ferrari 275, one along again,  a peerless Ferrari Daytona and to finish, only a little (…and very low) Ford GT40! It was my own Petrolhead heaven, except they were his cars.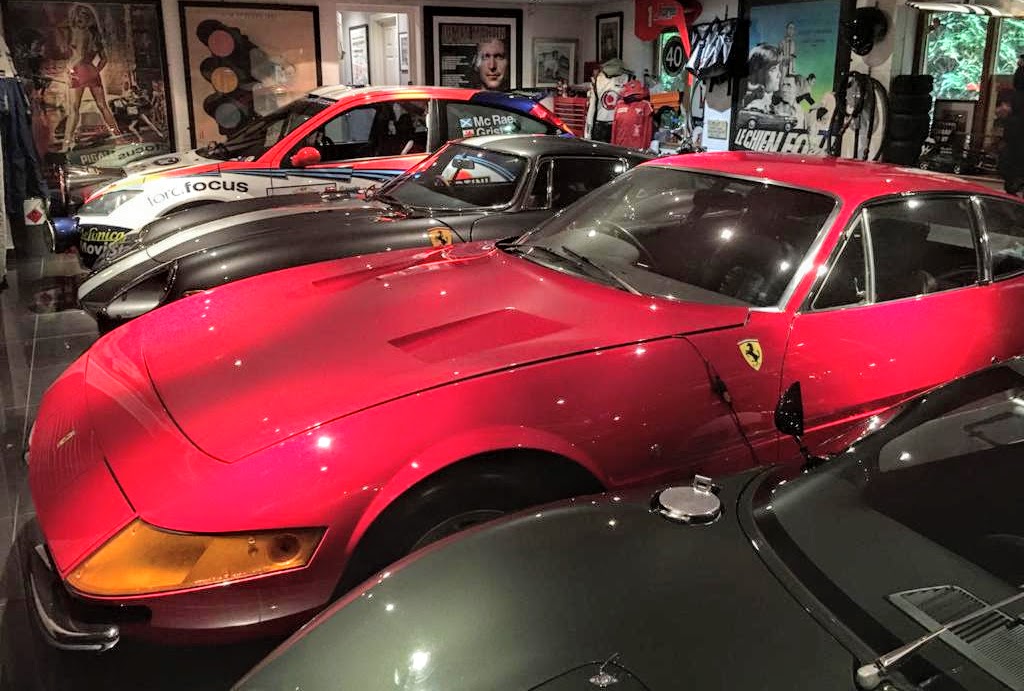 Flowing very slowly through that garage, we finally arrived in the kitchen where the show was to be filmed. Here, we were introduced to the stars of the show, starting with James's Mum, never before seen in one of his showings of any kind. Following on from her was the delightful and bubbly Joanna Page of Gavin and Stacey fame, next up was Lady Emma Weymouth, fresh from Strictly, then the man himself Chris Evans and too finish was Galton Blackiston, Michelin starred chef from Norfolk (more about him later).
The proceedings kicked off with a special 'one off' dish James created exclusively for the Charity winners, us! A cheese risotto with white truffle shavings (the white truffle was 480 grams, at £3,000 a kilo, I'll leave you to do the maths). It was sublime, how can one man get such flavours from something so simple?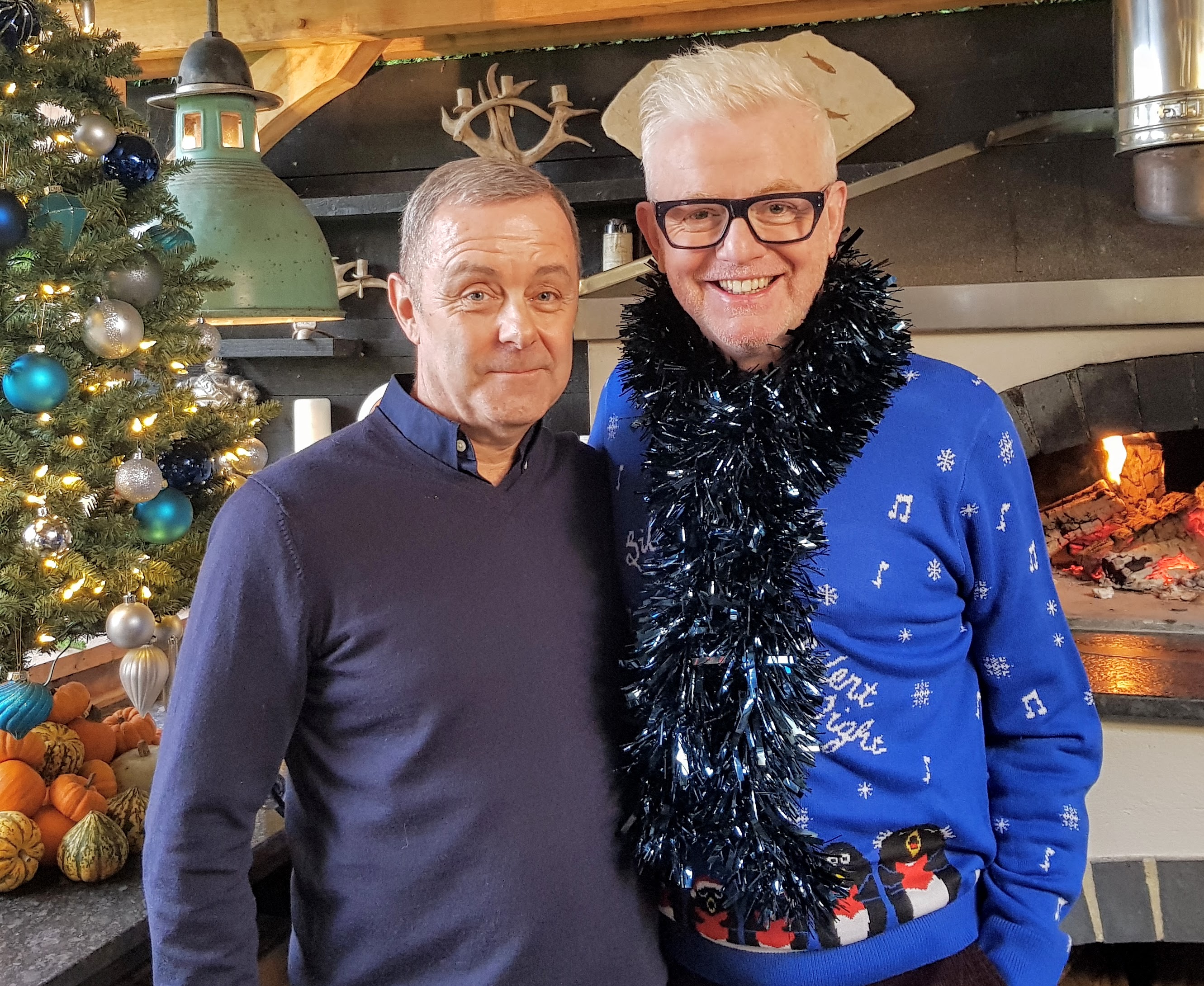 We all then gathered outside by the wood fire pizza oven for the shows start, introduced to the dog, check the piccy as I didn't catch his/her name. More champagne with tequila shot chasers, this is where my version of what happened that day goes deep south.
Then James created a duck confit salad with blue cheese sauce, not your average Christmas starter but divine and we all steamed in leaving nothing behind. In between all this, we was grabbing Selfies and chatting with the 'stars' who were amazingly down to earth and very natural making it all the more surreal as an experience.
Followed on with a great chat with Chris Evans in James's man cave, I told him I was worried he'd be all 'healthy and not be getting on it, he soon dispelled that concern by telling me about the last time he was in the very spot we was plotted up in. According to the man himself, he had a large brandy in one hand, a large cigar in the other and was so 'Oliver Twist' he didn't even know his own name. He was telling some rich and famous people about how sexy the rear of  a model Ferrari was that just happened to be sitting on James's sideboard. Chris was busy telling the surrounding hoi polloi that he would one day  like to go out and purchase one of these 10 million pound marques when one of the entourage pointed out to him that he already owned one! Love the man.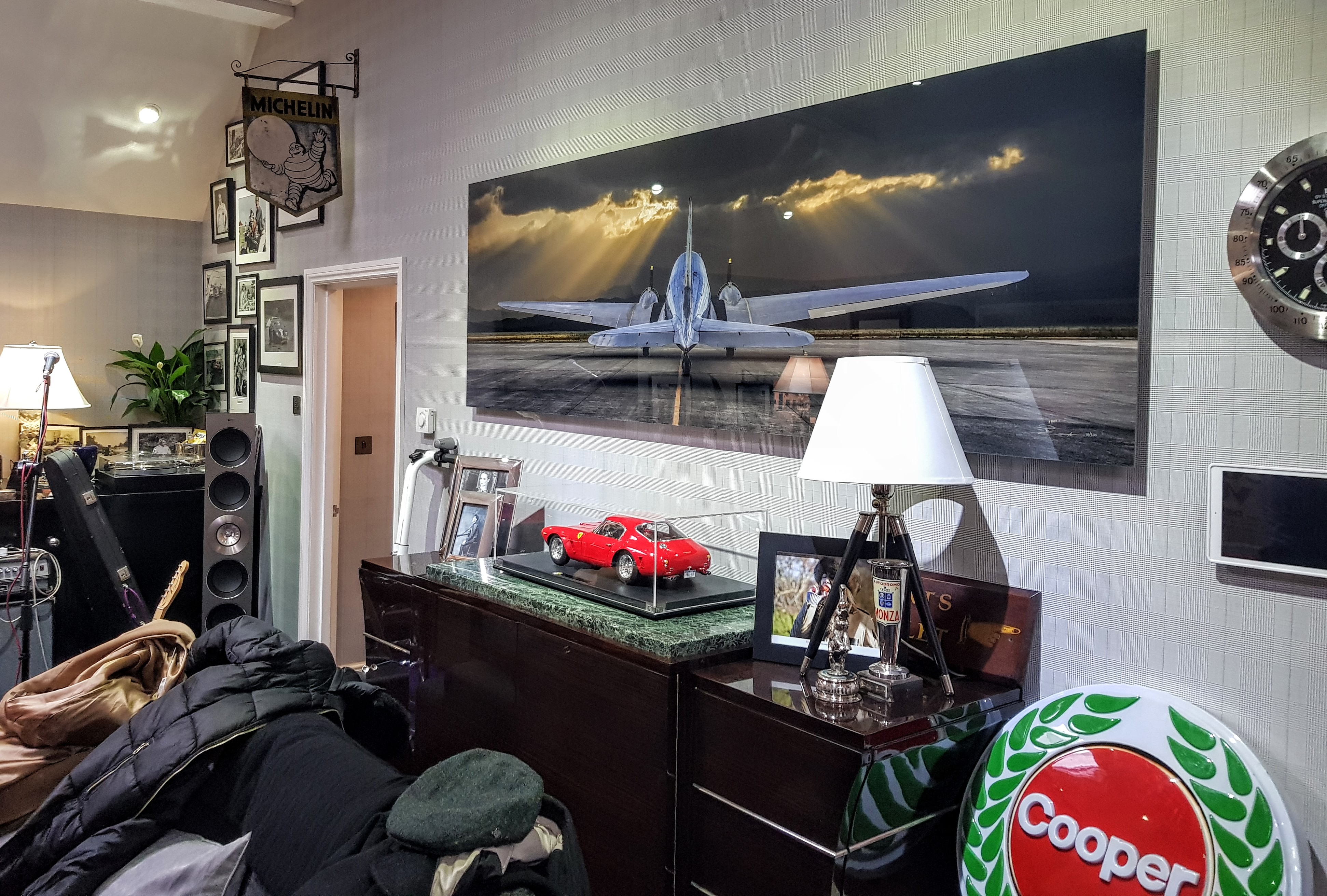 When I say loved the man, that changed sharply when James produced one of the most stunningly gorgeous roast pork joints and Chris ate all the crackling, unforgivable cardinal sin, banished to Hades for that one Ginge (along with painting 7 Ferrari's white) !!!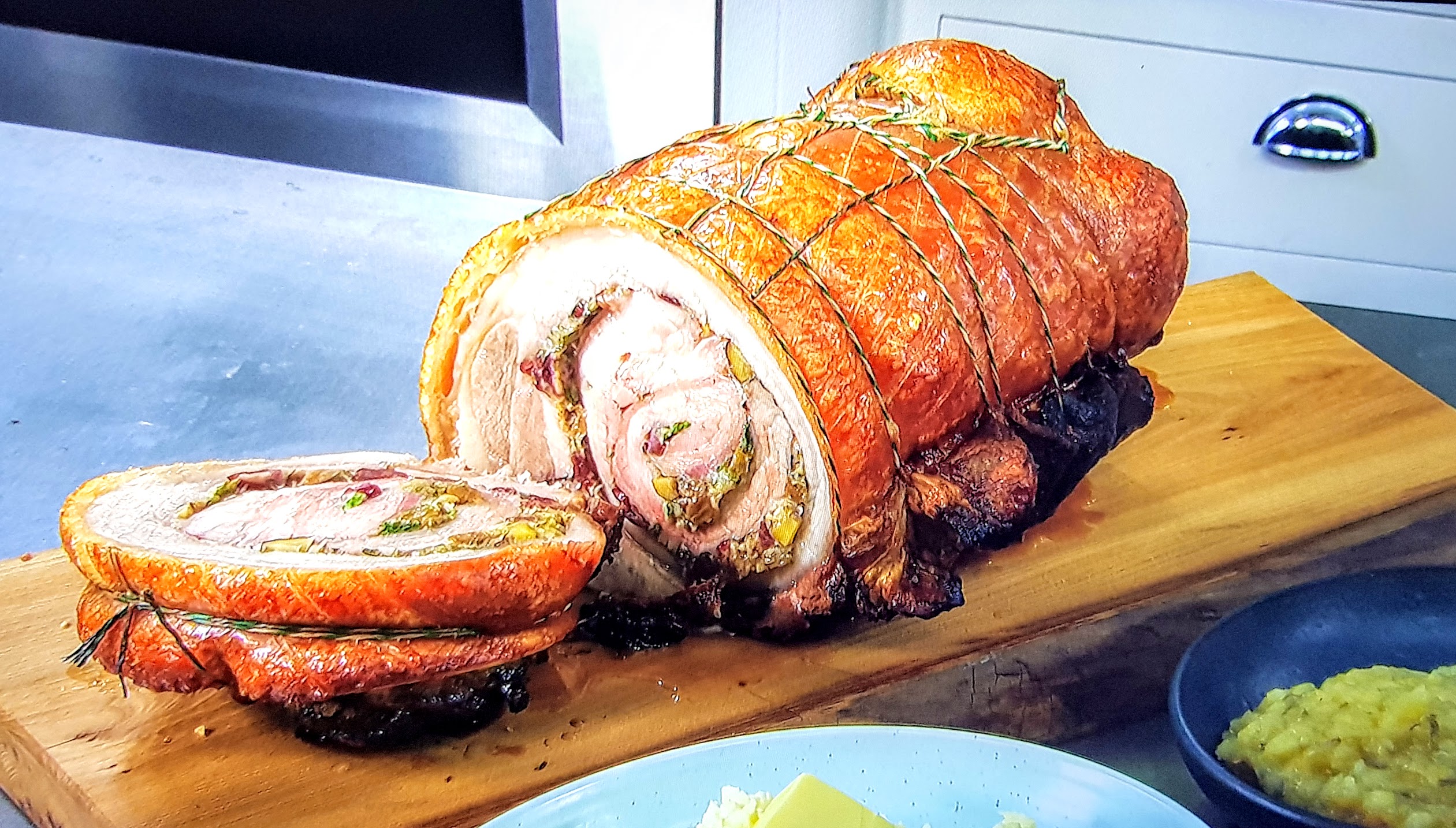 Things starting to heat up here now, the show is in full flow and the guests, especially Galton were 'lubricating' up very well. We wasn't doing too bad as the Frothy Coffee man was passing round Tequila shots (…at 2pm in afternoon it kind of gives you a heads up as to where this day was heading) Along came Pan fried scallops in a mussel sauce, courtesy of the Michelin starred man from Norfolk. These  just blew you away, hats off to Mr. Blackiston, the eastern culinary wizard.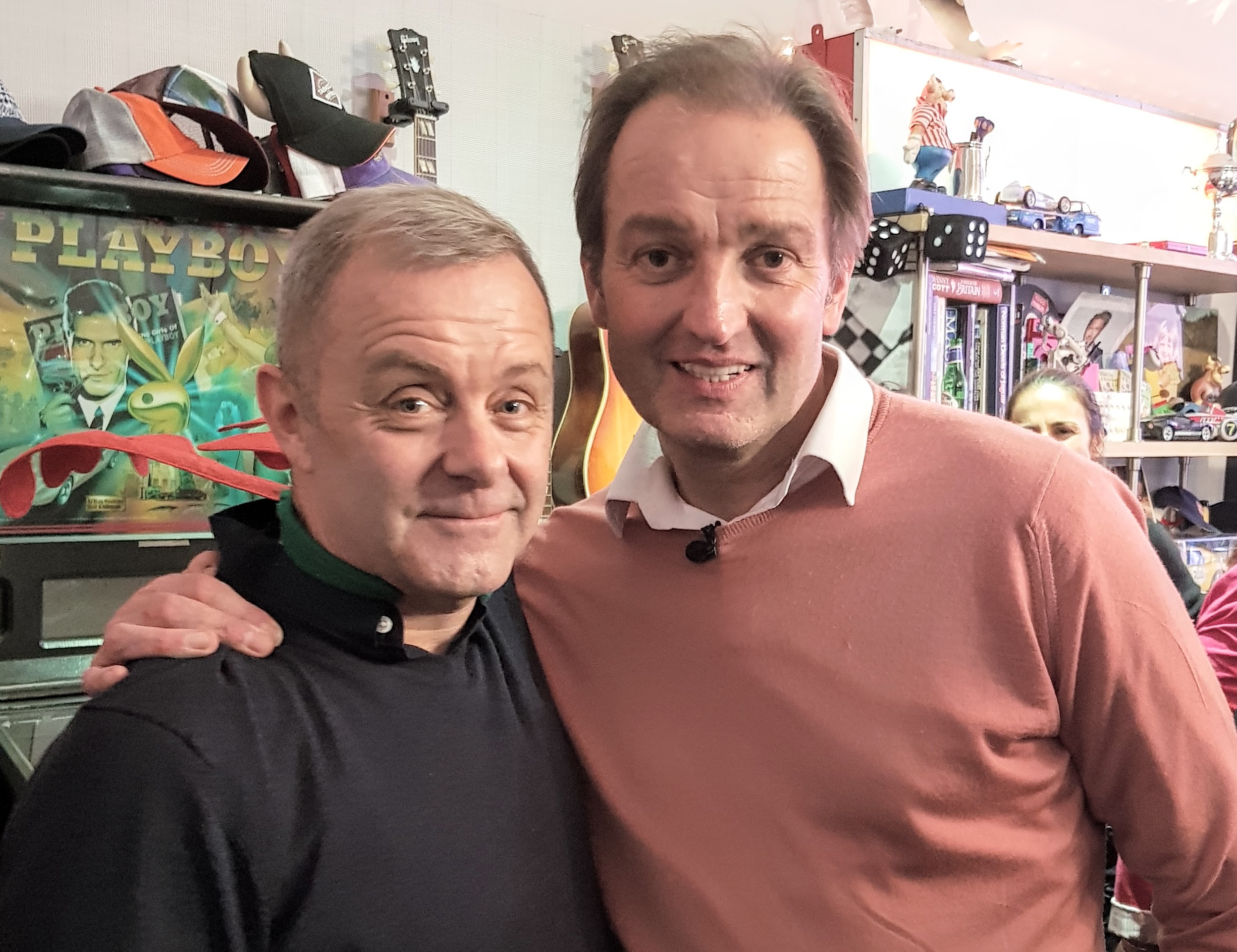 Unfortunately, I missed out on what looked to be a divine dessert, not great from for a self confessed 'sweet tooth! Too much chatting, rubbing shoulders with the stars and Tequila possibly the cause of my loss. James knocked up a huge bowl of Lemon posset topped off with a mountain of Salted caramel popcorn, simple but amazing, you'll have to check out the show with Chris Evans on Saturday the 21st of December morning at 9.30am on https://www.itv.com/  You can grab a glimpse of this in the group piccy in this post as my photos would not do this sweet spectacle any justice worthy of the creation.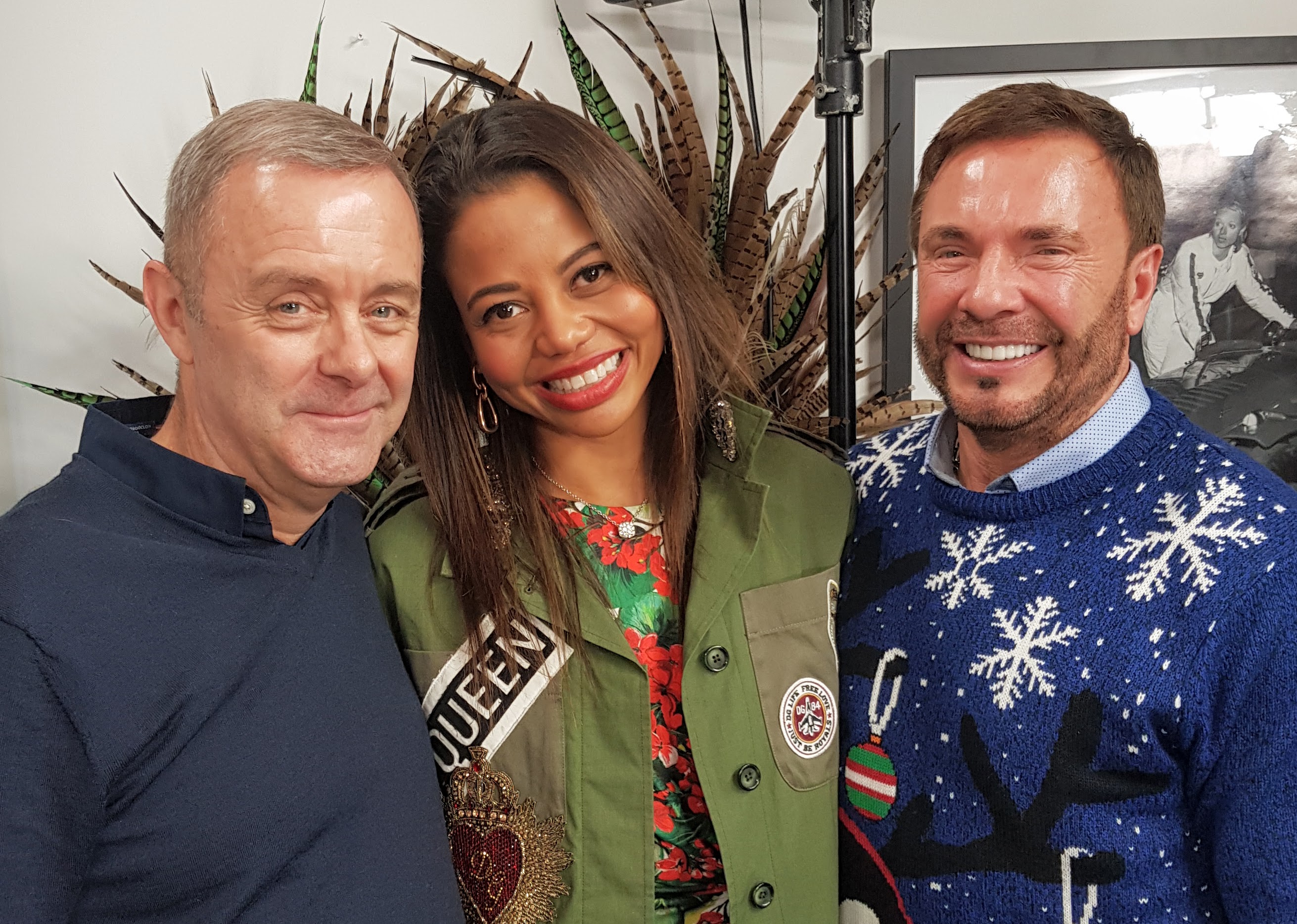 Looking like the show's over and we all thought back on the coach to Chewton Glen with a ton of amazing memories, how wrong was we.
James tells us it's all to the man cave to to join in with the show finale, his band doing a live set for the programmes climax. He dedicates the first track to Chris and his charity work, they play very appropriately 'The Chain' by Fleetwood Mac.
Must say the band but even more so, the two lead singers were mentally good. James now declares the show over and he declares the party isn't.
The band now go on to perform a full set of Rolling Stones covers, none of the regular stuff to, some of the more obscure but best tracks ever, Gimme shelter etc…. Awesome. Check out my 'Bruv', front and centre, I'd headed to the back hating cameras but more so to take in this whole surreal 'party' of 30 people in James Martin's man cave. Mind blowing!
Finally, after an hour of Stones, Tequila and champagne, the band winds it up with an encore to a standing ovation, My God. What a day, will it ever end? Thinking that this was that moment when James then invites us to his local pub which he and the village had just purchased and that week had been voted 'Best Pub in England', not a bad accolade to be boasting.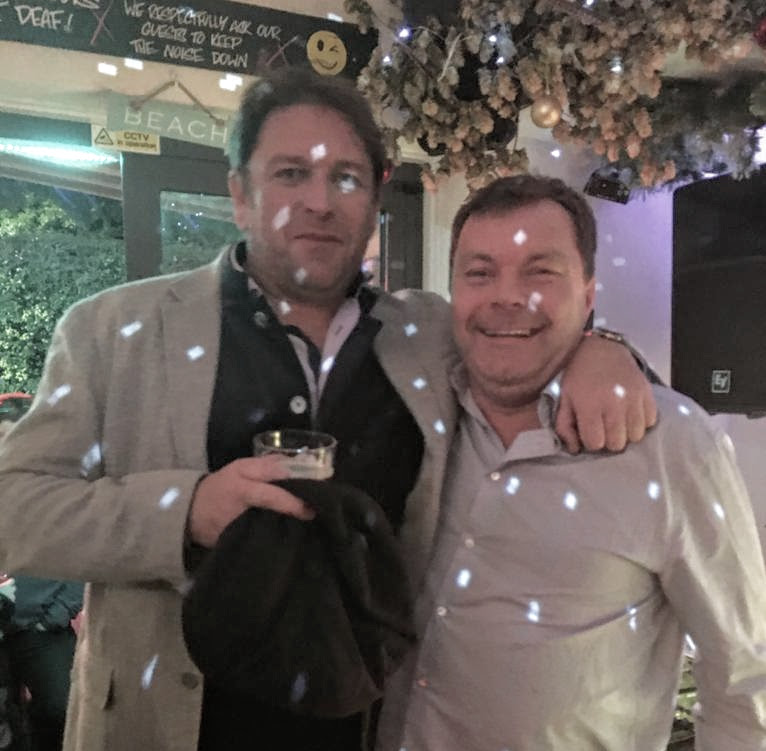 The 'entourage' pull themselves together for a wobbly meander down the lane to said boozer. Here we go again as the new party begins with us in a 'lock in', proper up close and personal with 'stars' now being able to switch off in private and finally let their hair down. Final memory was Chris Evans, my Bruv, Tequila Tash and I sitting at a table swigging Tequila from a passed around bottle, what a way to bow out.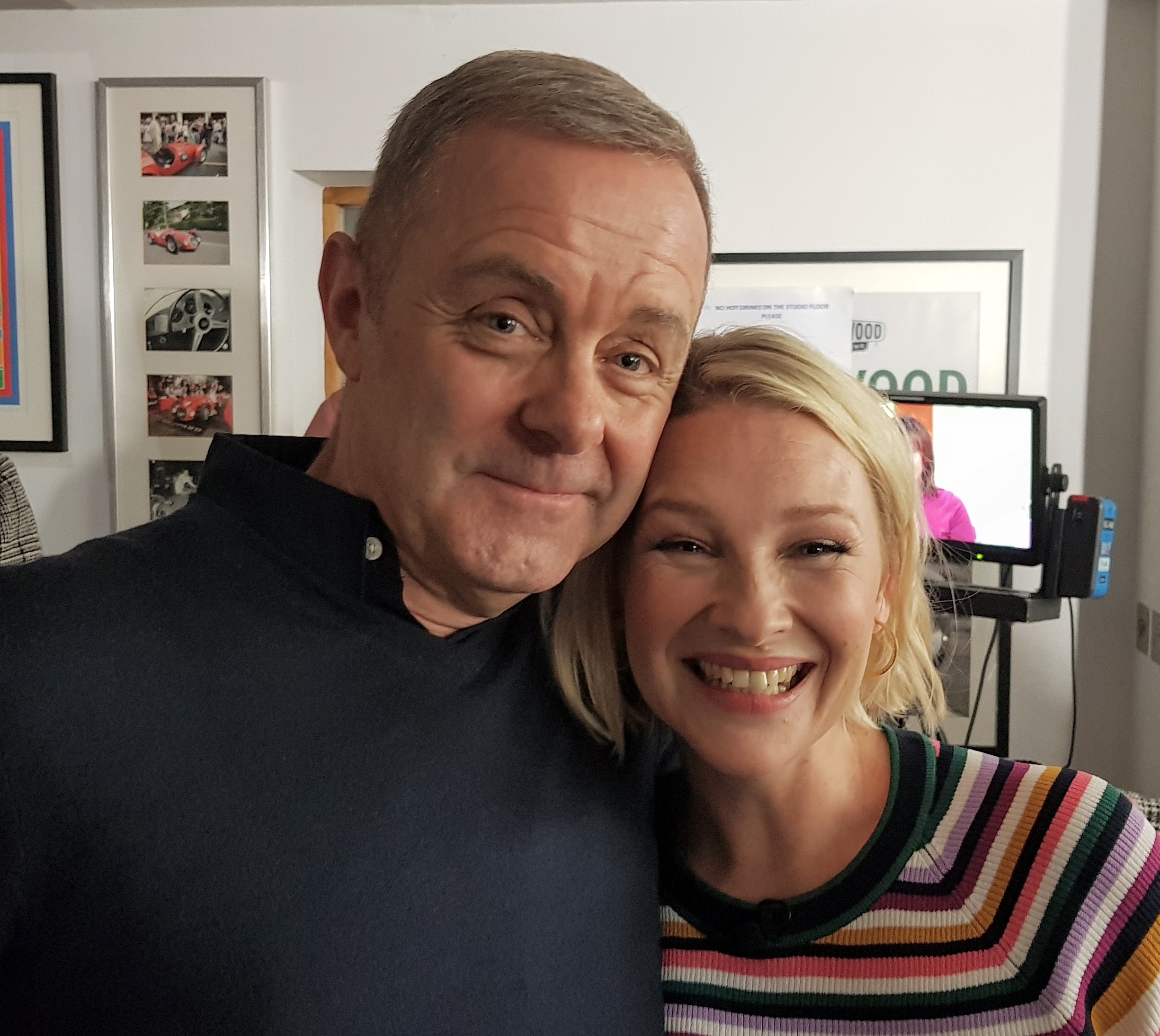 Only way to sign off here is in the famous last words from the Looney Tunes gang.
"Th-th-th-th-th-that's all folks!!!"