A gorgeous Georgian villa kitchen
One of a kind!
This project was special to me for all sorts of reasons. It goes a little bit further than most of the kitchen industry would attempt so I hope you can appreciate the efforts applied to give an experience of what really goes into a 'Charlie' kitchen creation. I had the pleasure to be involved in the creation of one of our favourite Georgian style kitchens for a lovely couple who are now dear friends. Their home was a gorgeous period, Georgian villa which they had been restoring with great care and diligence taken to ensure the history and heritage were rightfully maintained.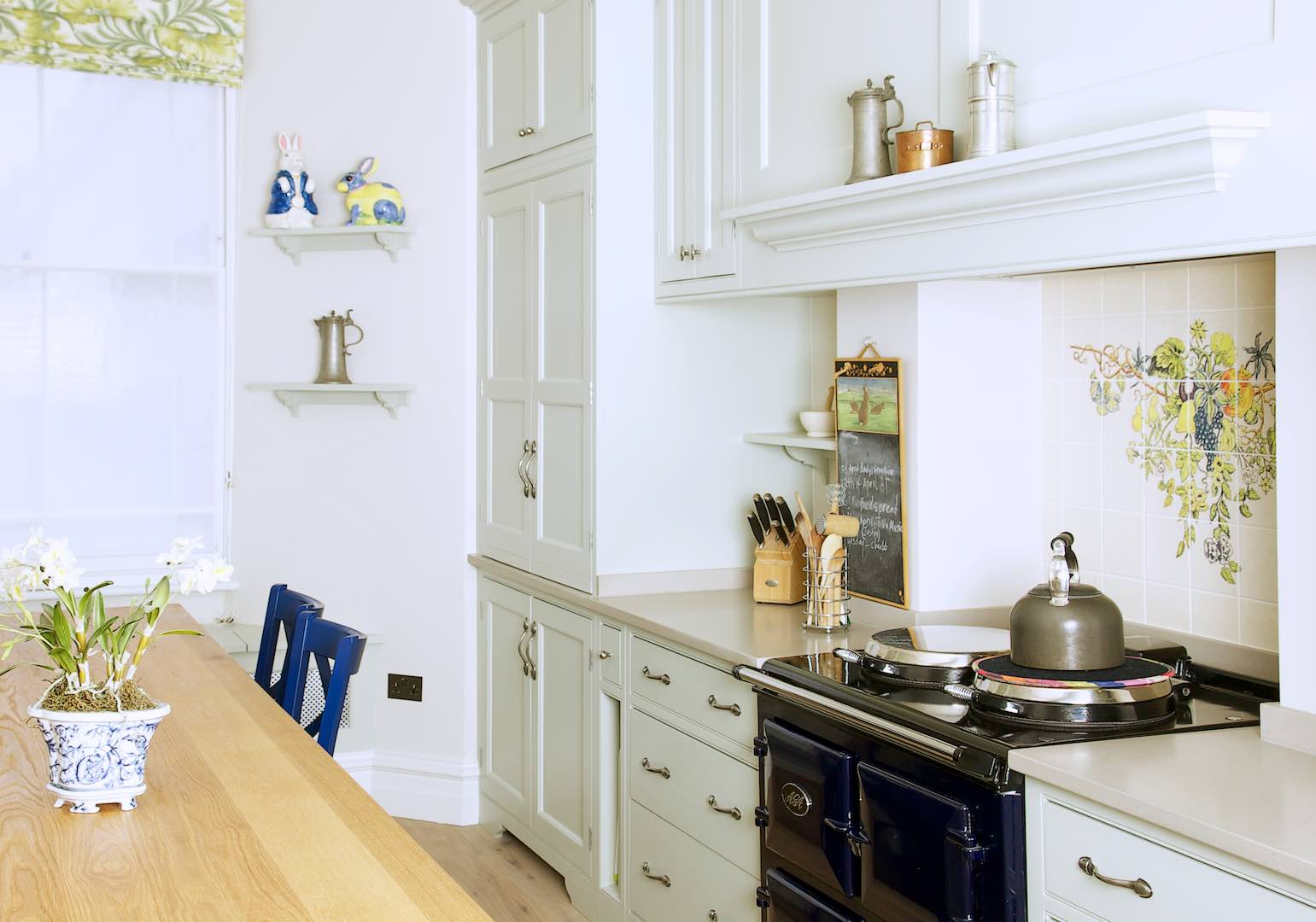 The client had chosen an underfloor heating system with an engineered wooden floor that complimented the whole ambience of the room very well. They were looking for a traditional theme with a classic shaker foundation and, of course, we delivered!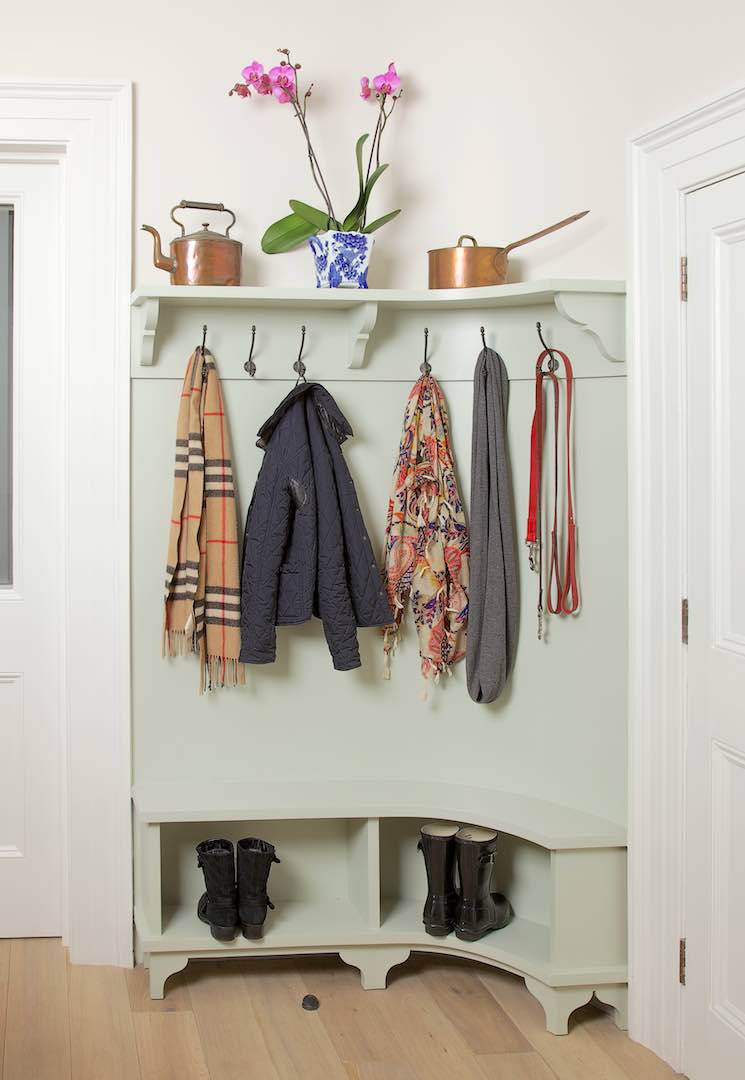 The cabinets were artisan hand painted in a modest grey green shade – Mizzle from Farrow & Ball. This was elegantly paired with an off white shade for the walls to create a breathable and inviting aesthetic. The ironmongery handles and singles were specially sourced by us and finished in handmade pewter. We sourced a subtle ivory shade for the worktops and full stave prime oak with oil finish for the island. As you can see there are a lot of different colours involved in this project, but we made sure that each shade complimented each other perfectly without making the kitchen look cluttered or mismatched!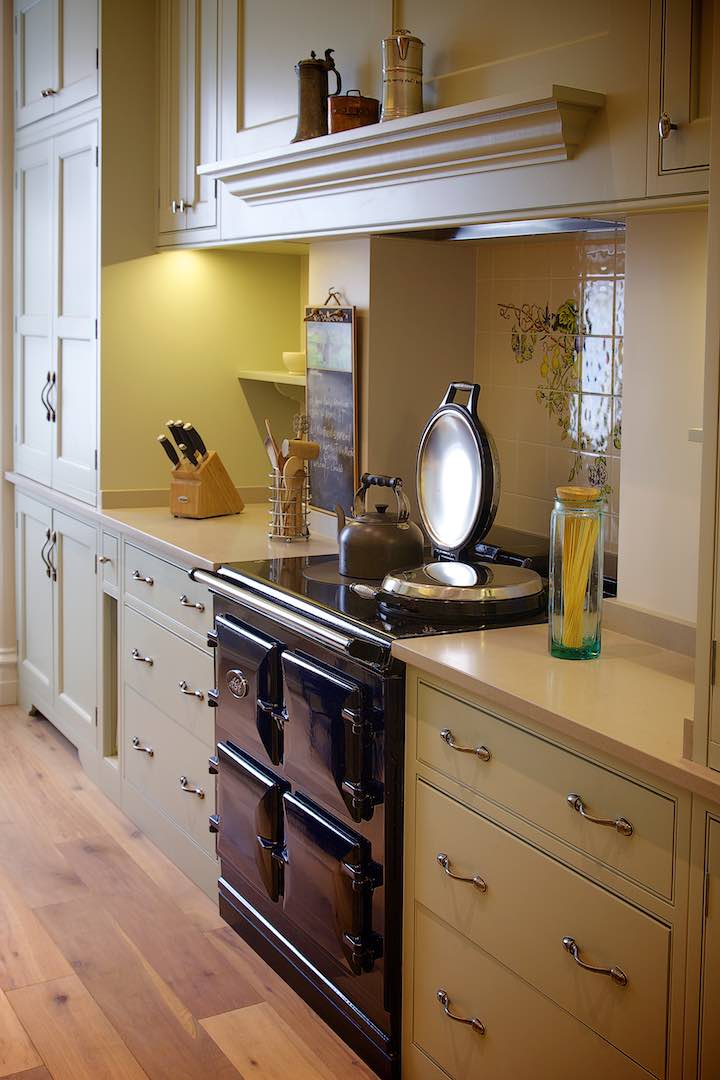 We used an AGA three oven in traditional black to make it really stand out as a focal point in the kitchen. The fridge, freezer, wine cooler, microwave and dishwasher were all sourced by Miele, one of our trusted partner brands.
For this project we also concocted our very own concept that we like to call the "Tea & Toast" cabinet. This is a cool idea where we add inside a unit a drainer sink, filtered water, Quooker kettle tap and Miele microwave, all neatly hidden away which also gives you more counter space and less clutter, a win win, as they say!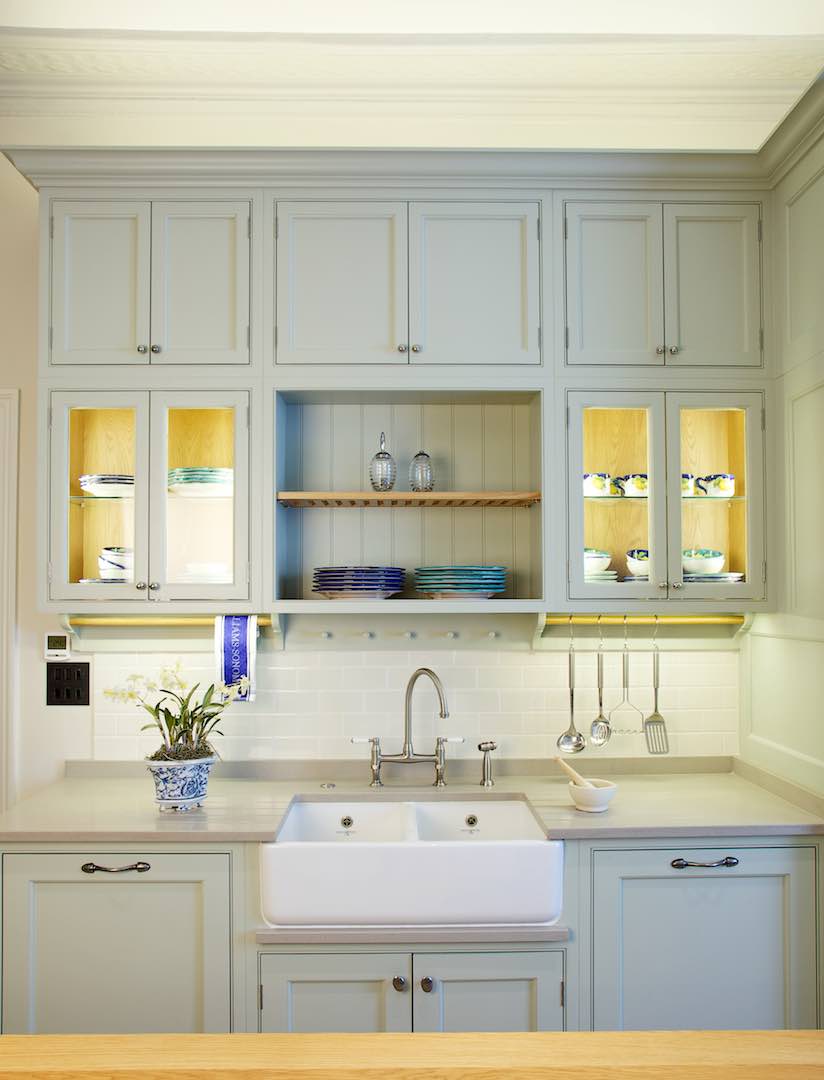 Next was our spin on the traditional larder! Rather than our normal spec'd oak for the interior, we decided to pain the inside of the larder. As you can see, this twist definitely paid off and left us with a lovely contemporary piece.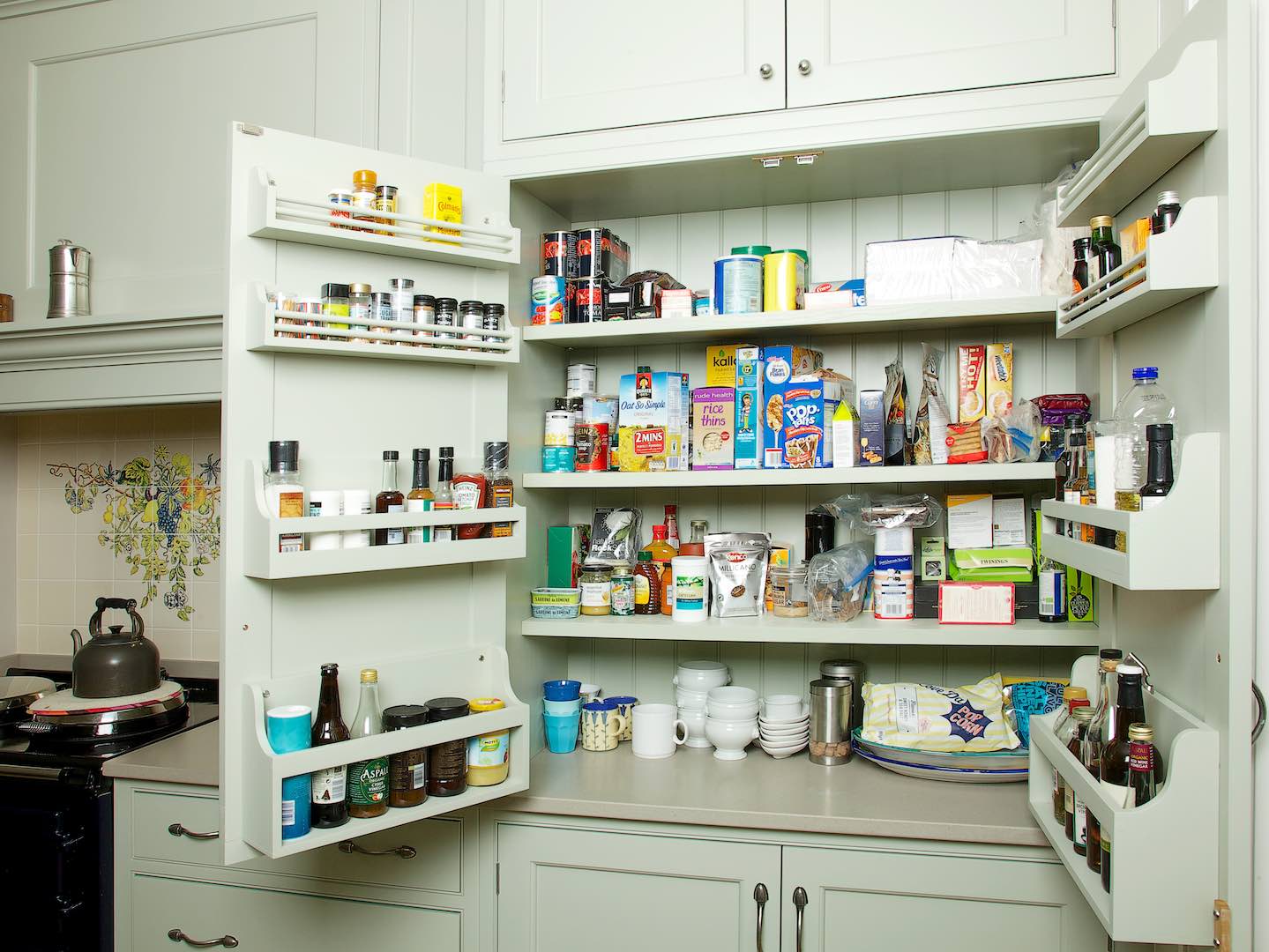 Another feature that you wouldn't normally see is this exquisitely curved hat, shoe and coat rack. We utilised the dead space behind the door to create an area that is both functional and beautiful, perfect for busy and active families! 
The client had asked for the four stool seating area to be family and socially orientated  so we faced them against each other either side of the island. They were hand painted to match the AGA oven which resulted in a very special and eye-catching pop of colour in an otherwise fairly neutral kitchen.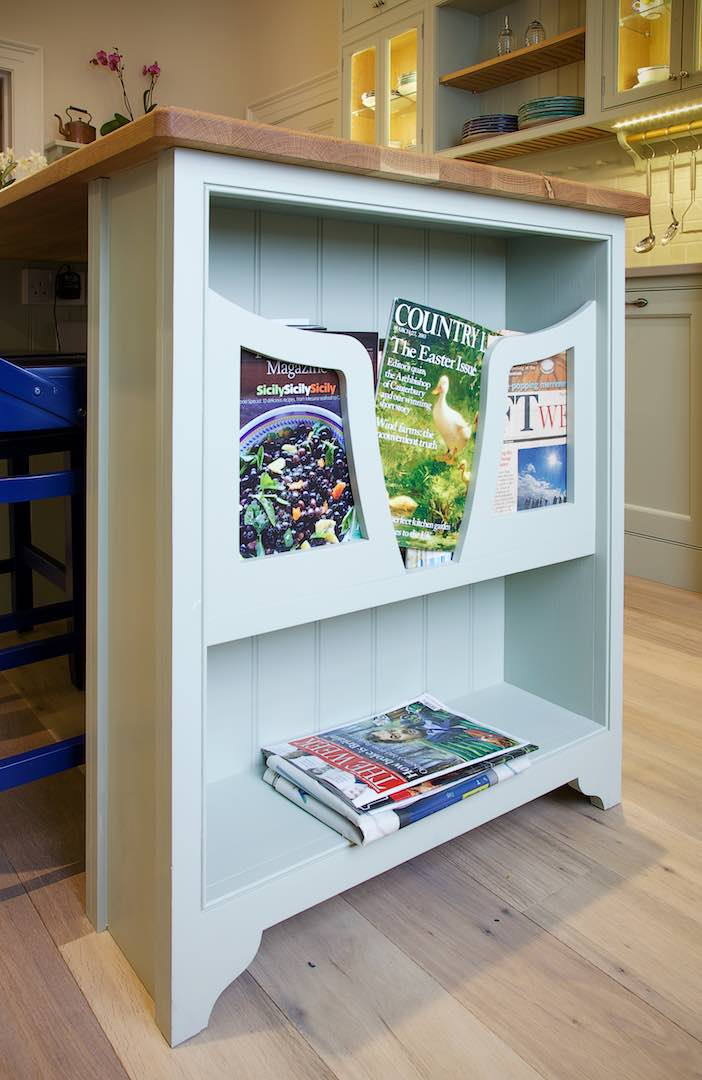 Another added feature that we love is the magazine rack on the end of the island. Our client was especially fond of this detail for its practicality and quaintness.  And finally a window benched seat with storage was added for those lazy mornings with a coffee and the Sunday paper.
A gorgeous final design and a pleasure to create! We hope you adore our Georgian style kitchens as much as we do! Click here to read about more of our projects!