A Guildford 'Georgian' Classic
Tighter than two coats of paint!
We had lots of fun bringing this project to fruition, mainly because the Lord of the manor was a character with a great sense of humour, especially when haggling – he won't mind me saying that, he would actually take great pride in hearing it!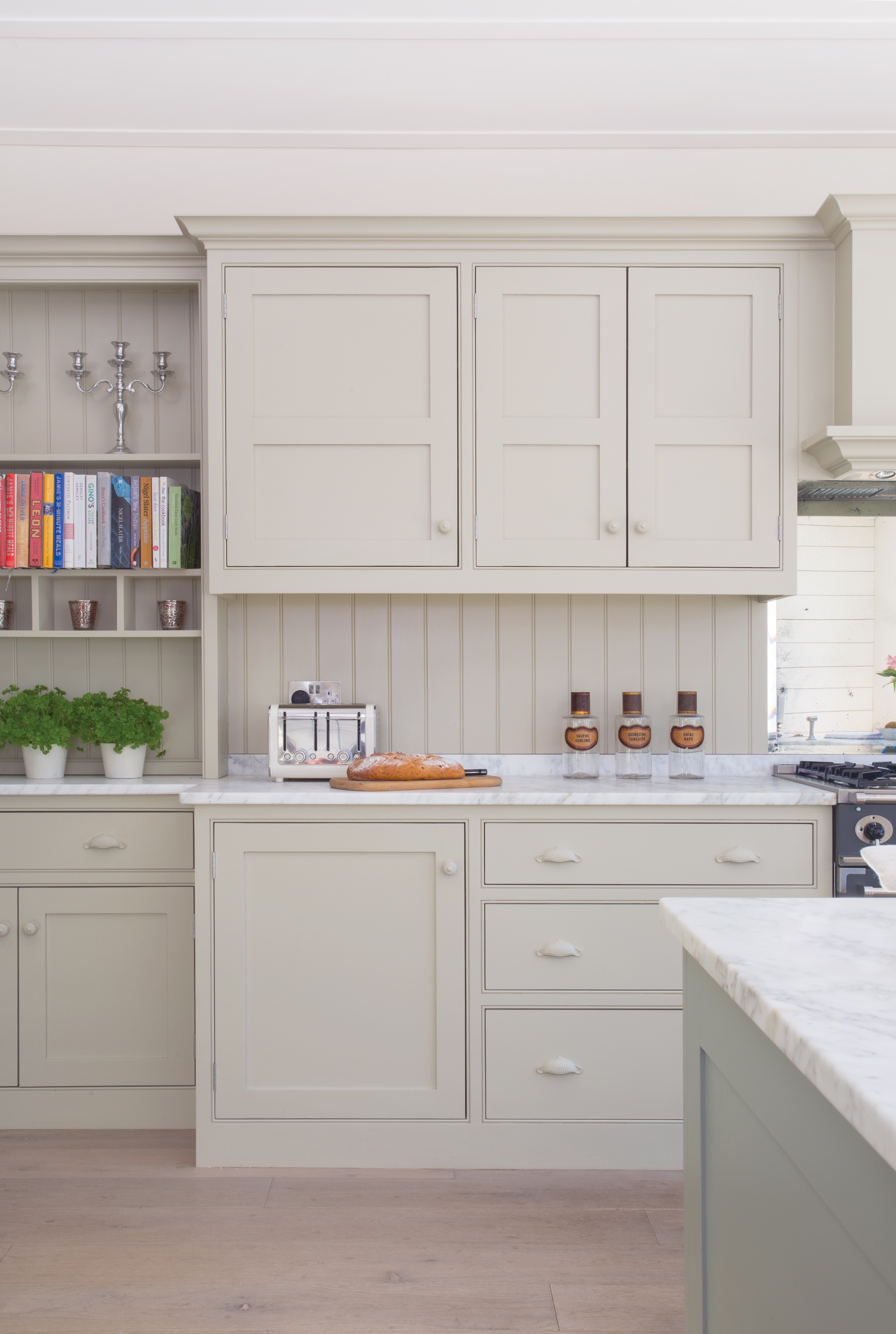 Luckily, the Lady of the Manor was much more sensible about the task at hand, which really helped as this was going to be 'the special one' for her – and for us, after all, we take great pride in every unique and bespoke project. We give commit whole-heartedly to each and every commissioned project.
The detailed design drawings and beautifully CGI-rendered visuals along with one of our 'Hollywood' block-busting videos were created, considered and signed-off; the joinery was scheduled; the project became a reality and was now underway.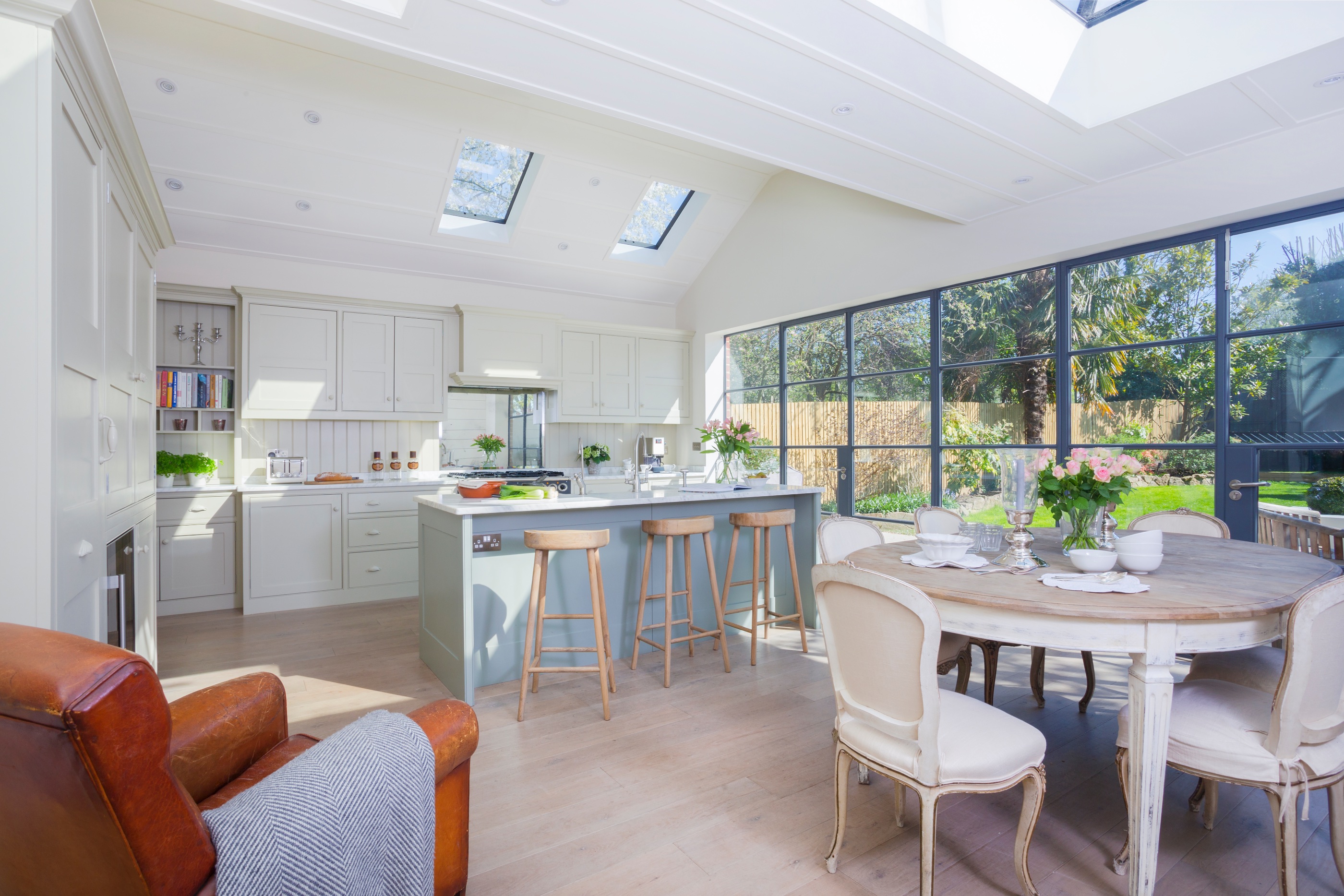 The furniture took some time to layout just right but the space planning is always worth all the time and effort to get the functionality and flow working with the aesthetics. The cabinetry was panelled with a lamb's tongue mould and staff bead surrounds for a classic Georgian feel.
All this wonderful wood was then sublimely finished by our artisan painters in Farrow and Ball 'Old White 4' for the units and 'Pigeon 25' for the island. What a pairing! Inspirational matching, love at first sight.
The clients chose trusty Miele appliances for their forever-kitchen with the exception of the wonderful charcoal-coloured Falcon range cooker which we paired with our exclusive bevel-edged antique mirrored splashback, created from scratch by a true craftsman. It took me over five years to find him, hidden away in his age old workshop with unique talent and a passion for creating an unmatched patina.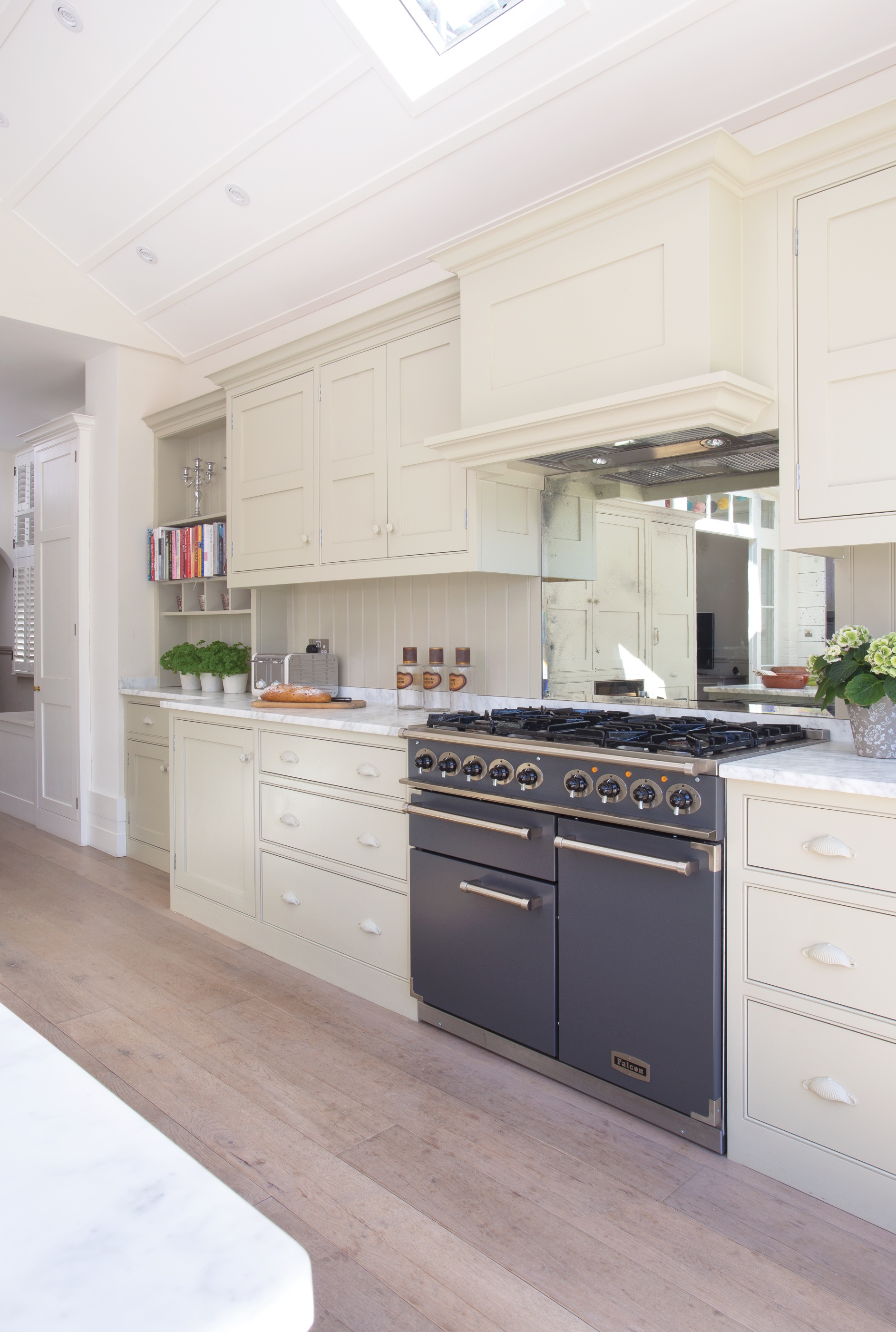 The handles were an old favourite: iron fluted, with a hint of Gaelic charm in keeping with the heritage of our Georgian bespoke kitchens cabinetry. Then, the piece de resistance: we painted over the ironmongery for a real air of understated class. Time would chip away at these, adding to the glorious 'aged' patina that would grow more beautiful with time.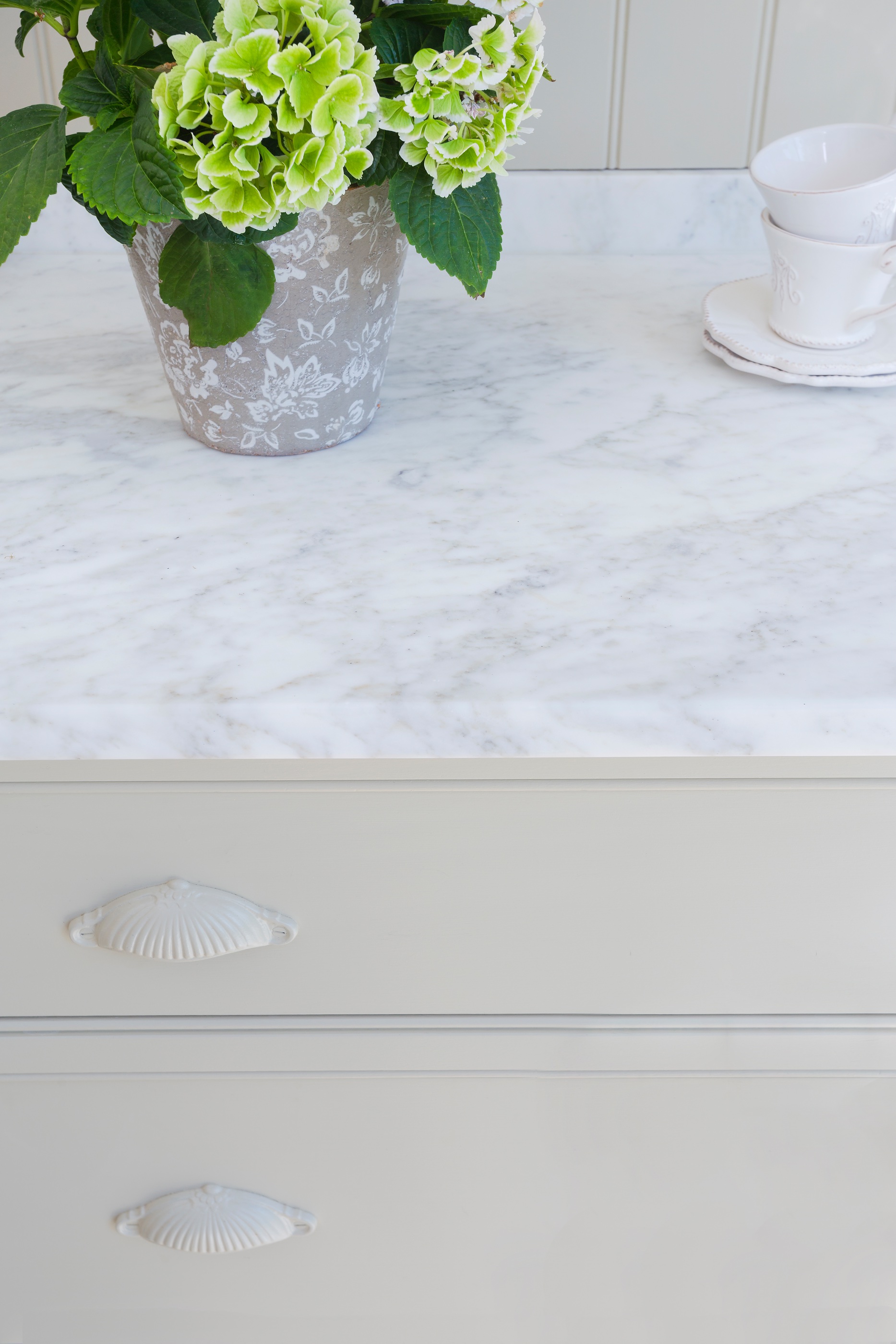 The carefully considered details of the design all came together perfectly: from the beautifully designed dresser that acts as a 'dumping-ground' for housing all those loose items like keys, to the two solid oak dovetailed pan drawers with custom cutlery and utensil inserts.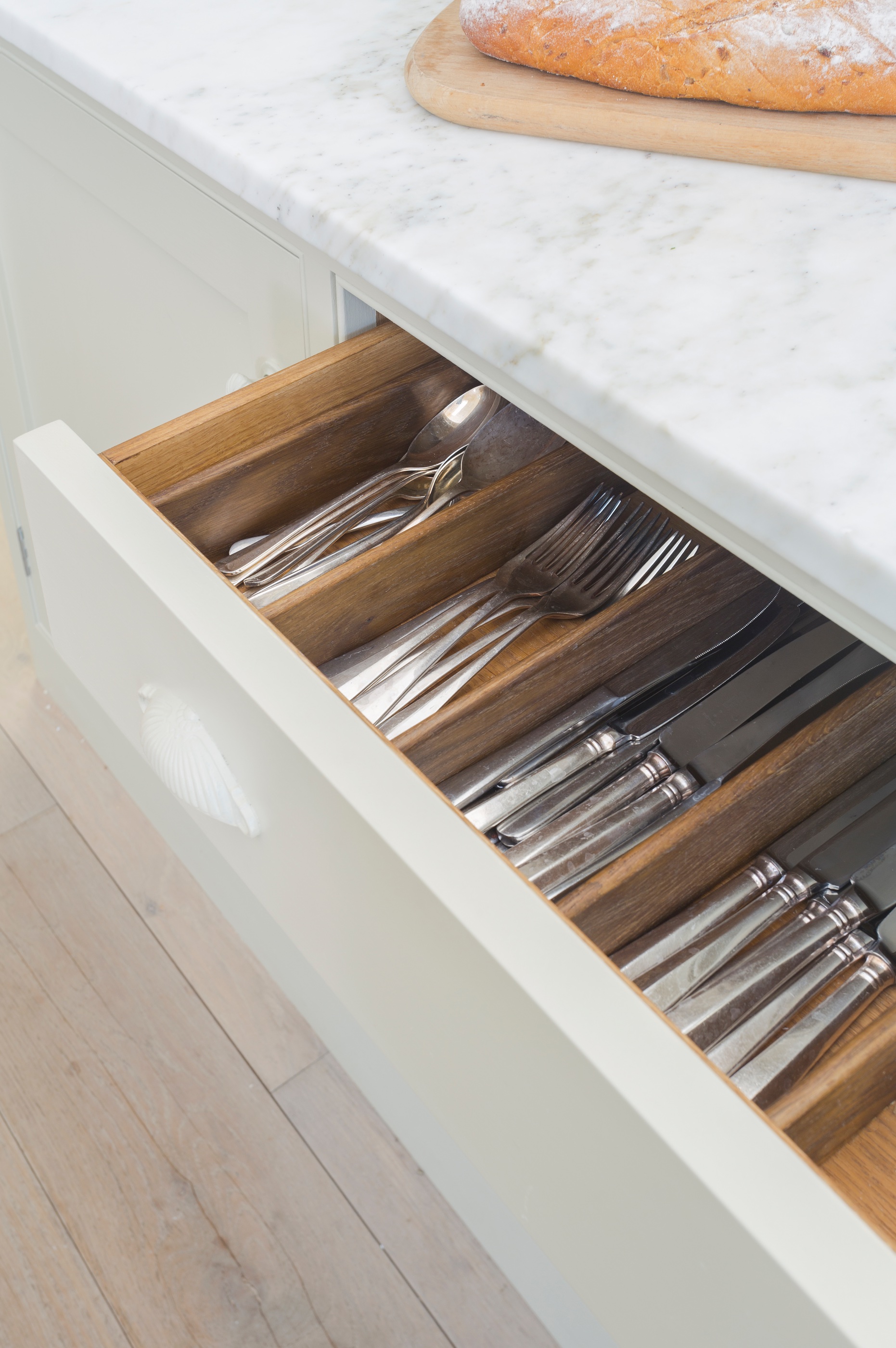 The canopy houses the extraction unit while the island, topped with Carrara marble, incorporates the classic Perrin and Rowe Shaker 900 sink and matching Etruscan and Quooker taps. The dishwasher and huge recycle bins were strategically placed and, last but not least, the free-standing larder unit with solid oak racks and painted interior housed the wine cooler, the fridge and the freezer.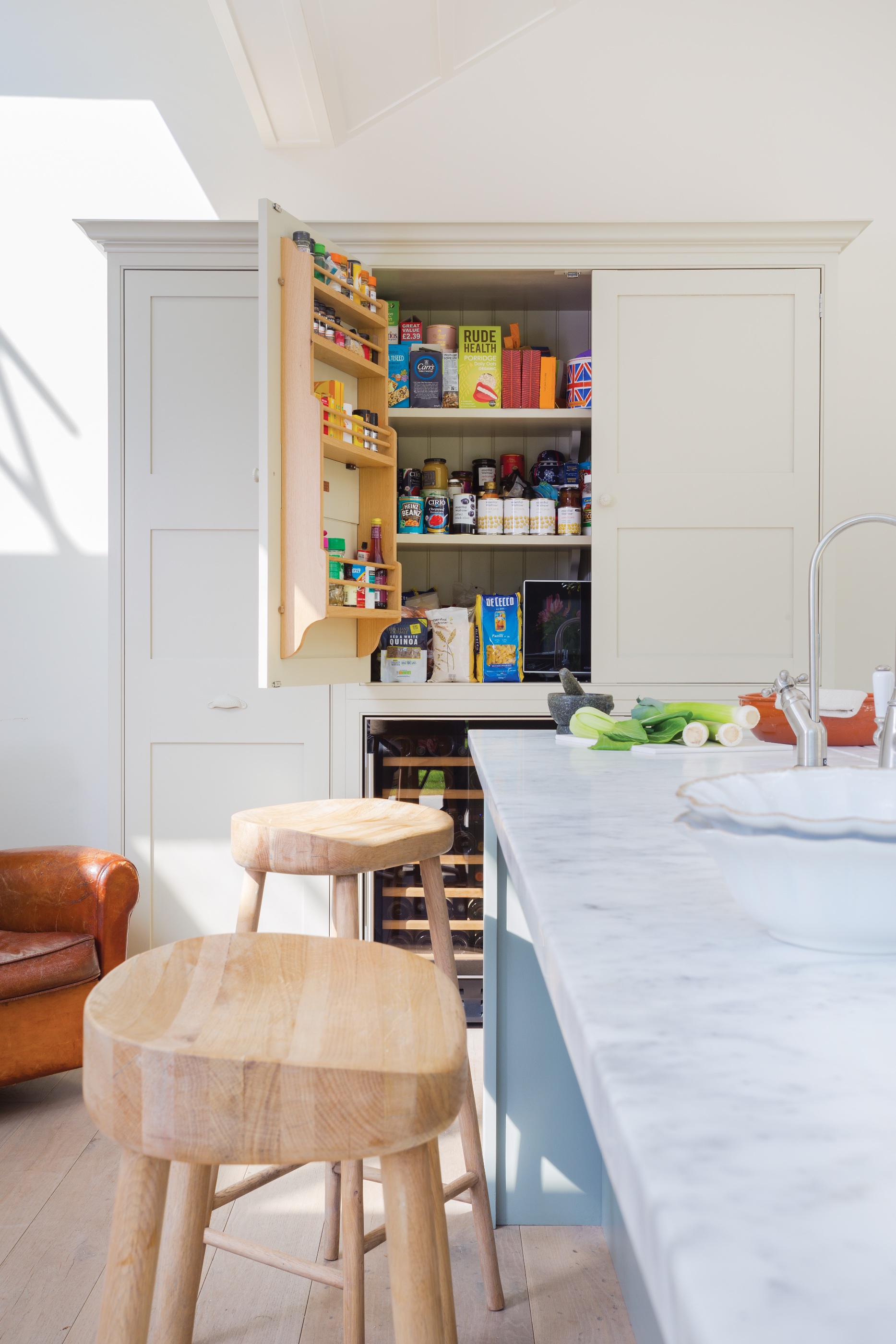 One little aside, lastly. We had the task of creating a cloak/boot room in the narrowest halls. A man on a mission chose to paint it white giving it a sense of being much larger than it actually was but also spreading the light around it to create an illusion of more space. Imagine walking in the door to be welcomed by this gorgeous little beauty. Home sweet home.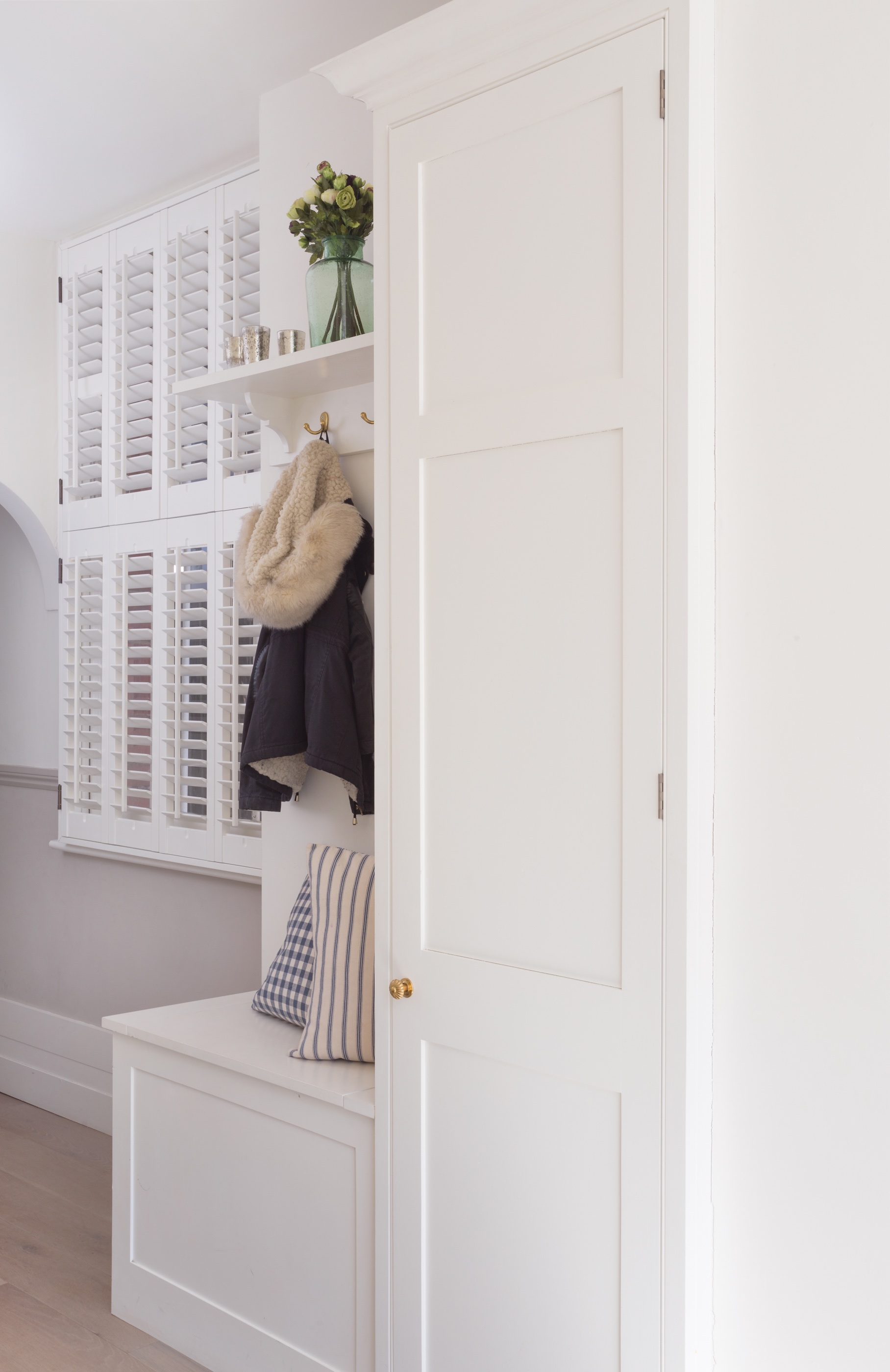 This project was all the fun of the fair, an old saying but relevant to our experience, not to mention the clients' excitement and joy when their dream kitchen and hall came into being! Happy smiling faces all round: isn't that what it's all about?
To read more about our full offer of bespoke kitchens, head to our homepage for inspiration!