A pantry, a pantry, my Kingham for a pantry!
Before we beginning discussing the bespoke pantry, let us get something straight right from the start: pantry, larder; larder, pantry? People often get these confused. They most definitely are not one and the same, they are two very individual considerations. The difference is as follows.
A bespoke larder is a cupboard (or when made by us, a cabinet, subtle but big difference, mainly quality and desirability). A bespoke pantry is a room, a 'walk in', it's as simple as that. Again, when made by us, it is created to be beautifully simple, yet simply beautiful. They can become a very unique characteristic of your home that unfortunately may inspire envy. Make sure you can handle this before you take the leap!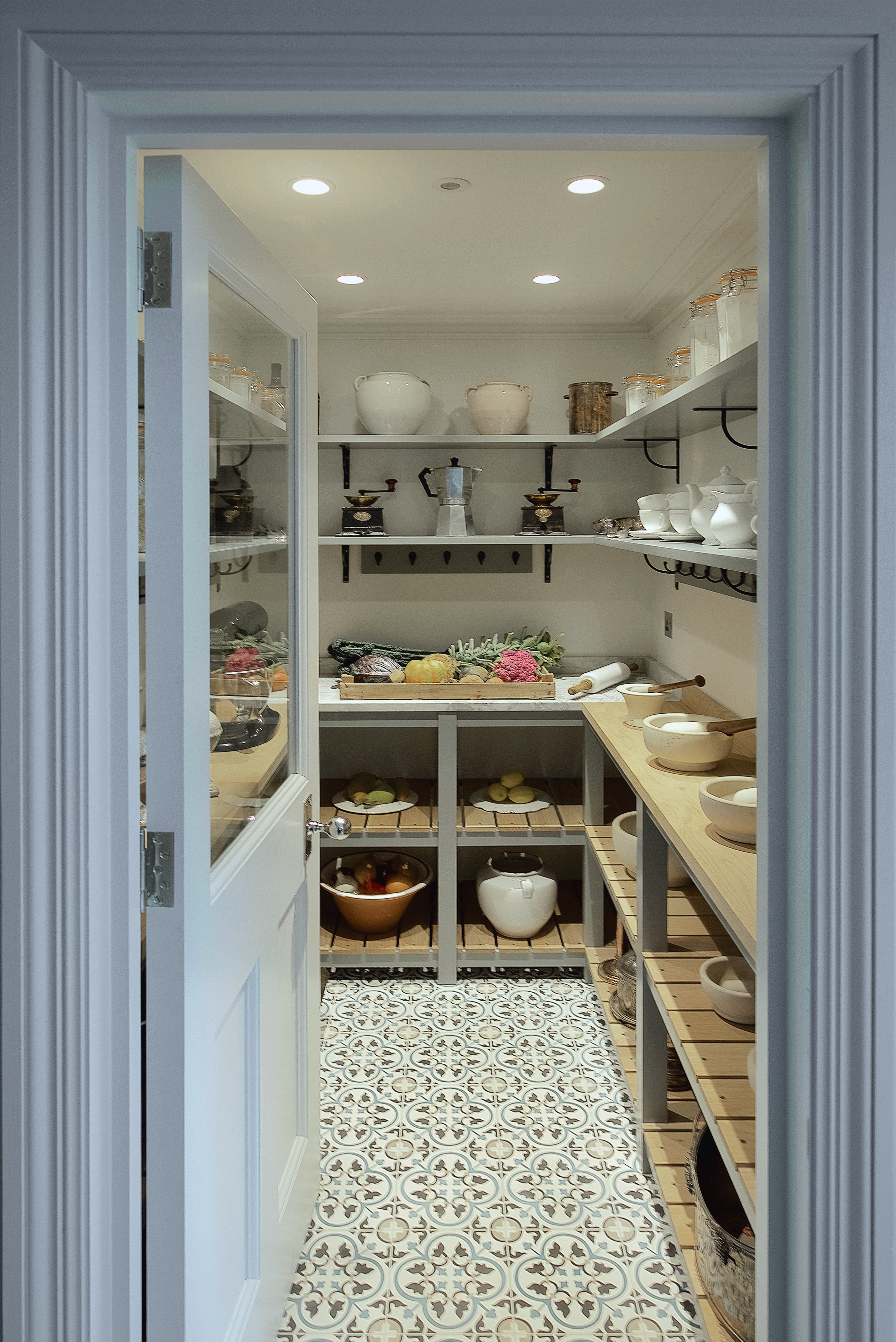 The word pantry is derived from a lovely old French word 'paneterie' which literally means 'the place where bread is kept'. Over time, England discovered a whole new way of storing produce with rooms specially dedicated to different foods, such as the buttery for beer & ales and the pantry for breads and conserves. I mean, who wouldn't want a beer room – or a bread room for that matter!
Elizabeth Ellet, the American writer and poet, wrote in the 1850s "Let there be a place for every article, and when not in use, let every article be in its place". As you can see, cupboard organisation is not a contemporary obsession – nor was it invented by the lovely Marie Kondo!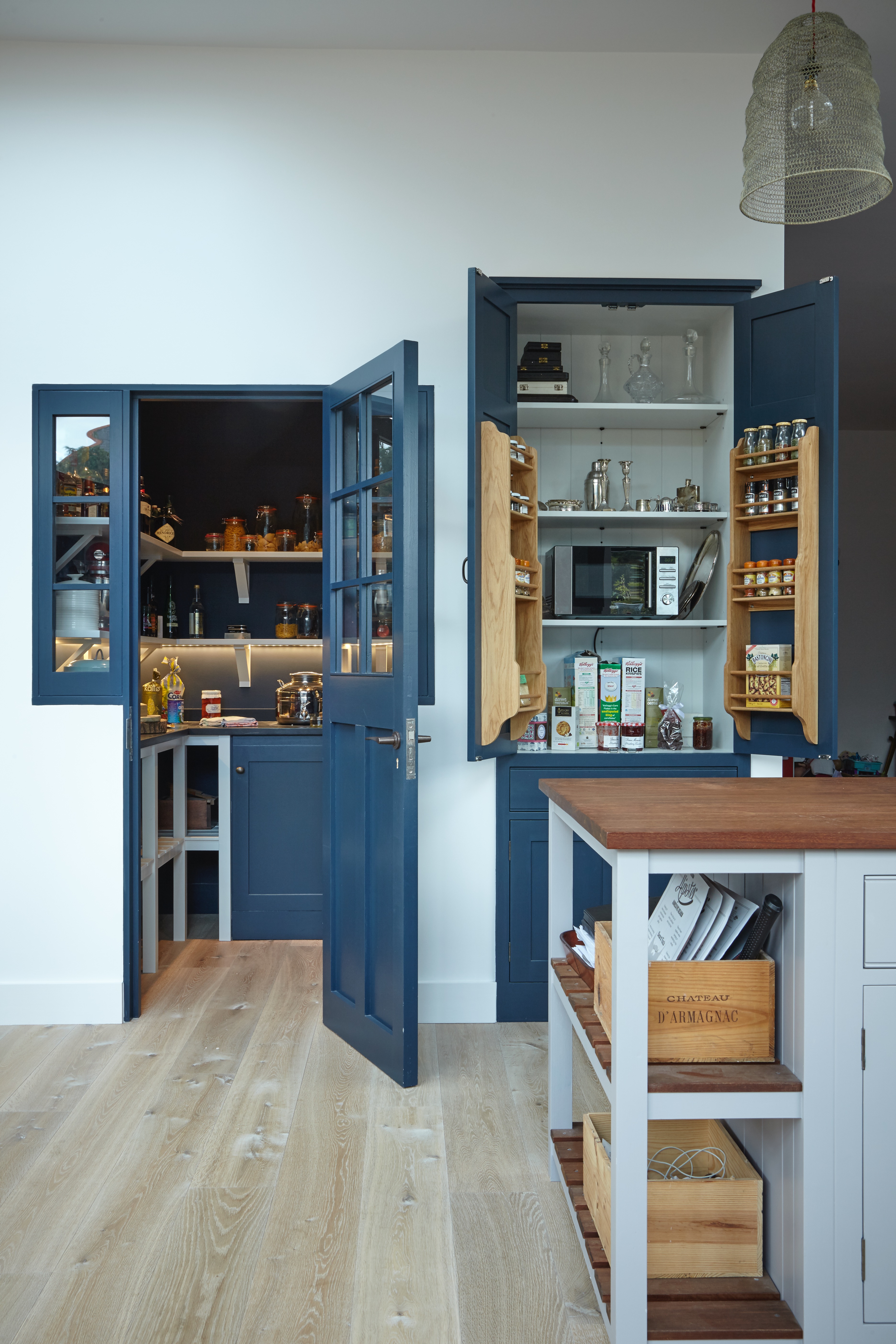 As the canning of foods became more popular, particularly due to war, these tins took their place beside the breads and conserves. Up until the early part of the 20th century there was no refrigeration. This is why you invariably find these historical pantries on the north side of most period properties, in order to keep groceries fresher for longer.
Little by little, this storage space merged into the kitchen itself and by the 60s, with the advent of the refrigerator, it was replaced by a large cabinet. And so began the evolution of the larder and the demise of the pantry as a storage room. As with most trends, and with new period property owners wishing to preserve original features, we seem to have gone full circle. It is still a very popular choice today, even to the point of new builds having space allocated for a beautiful walk-in pantry. A bespoke pantry is now one of the most sought-after features for a handmade kitchen project! It works in most style, from traditional Shaker to more contemporary.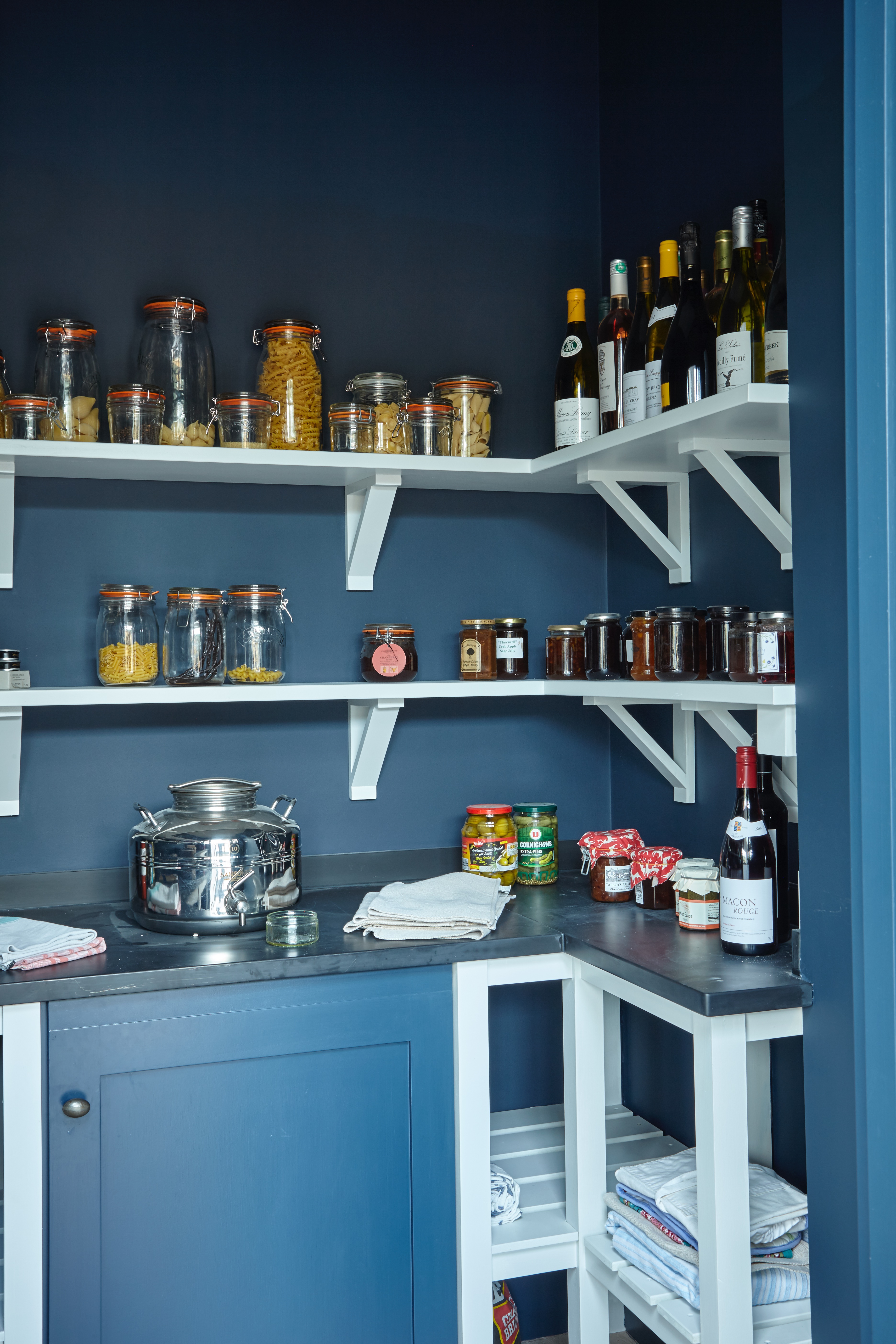 The resurgence of our beautiful pantries is partly due to how much entertaining happens in today's kitchens, rather than in the dining room which means most hosts like to be able to hide away at least some of the food chaos.
The very starting point of any pantry we are commissioned to create is the entrance, the door or doors. If space allows, we love to set this off with a pair of paned and panelled French doors. Why shouldn't the portal to Narnia be a divine experience? For those of you worried about the mess behind these closed but glazed doors, we suggest either etched glass or a pair of uncomplicated curtains.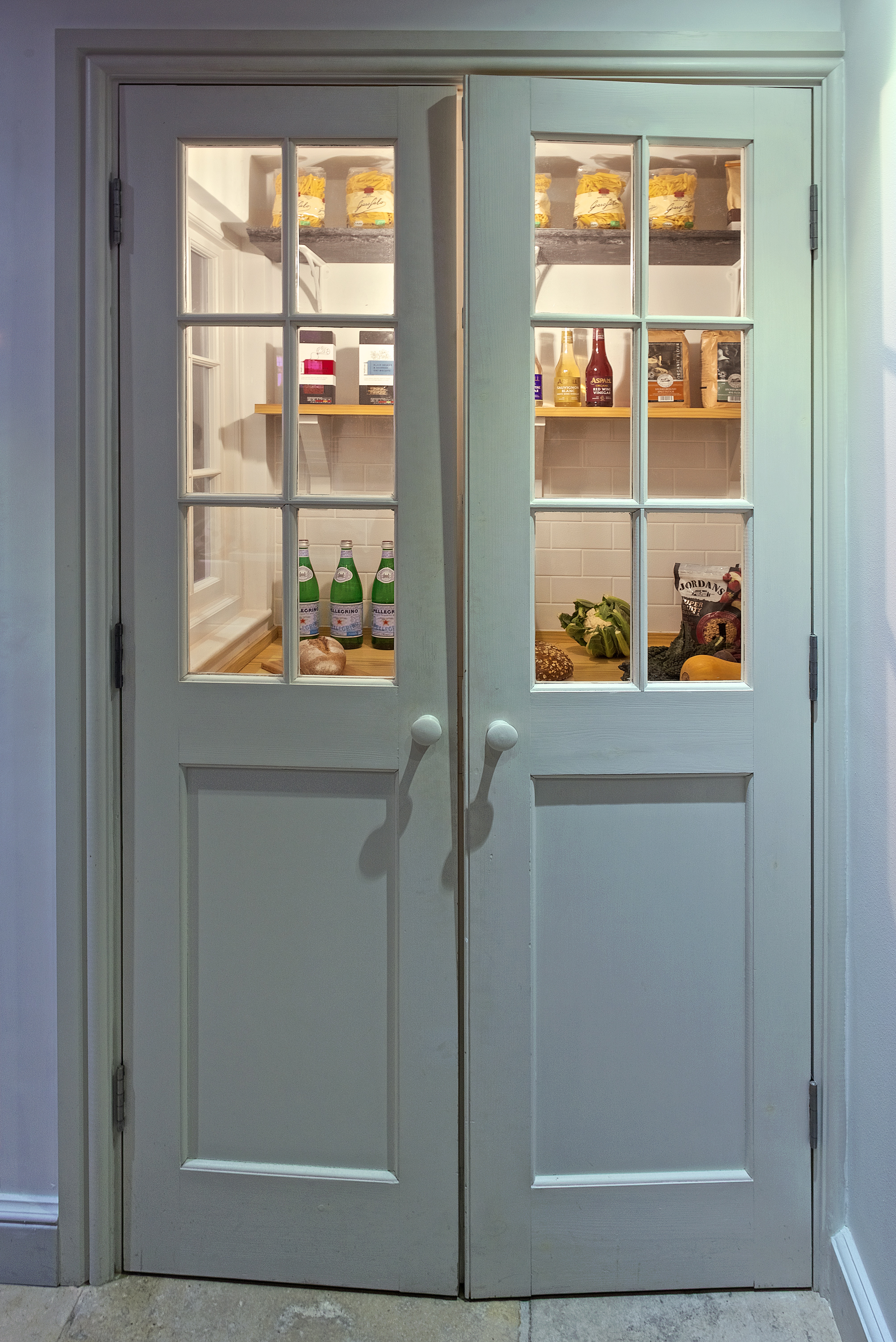 Now let's take a look inside this very simple room. Charlie Kingham truly embraces and incorporates authentic modesty into every pantry, starting with one of the most important features. In an original pantry a cold shelf, normally slate, although later marble, was essential. We incorporate this simple element into our design too. Most pantries, old and new, maintain an understated simplicity that only adds to their charm such as plain open shelves to store the dry goods. Some may also include a small sink and work space to prepare food before cooking.
We love to combine bracketed shelves with unique hooks or shaker pegs for hanging pots, pans or tea towels. The farmhouse look is a very popular style with slatted shelving and soft neutrals but we also love a more grand feel with brass finishes and dark hand-painted shelves.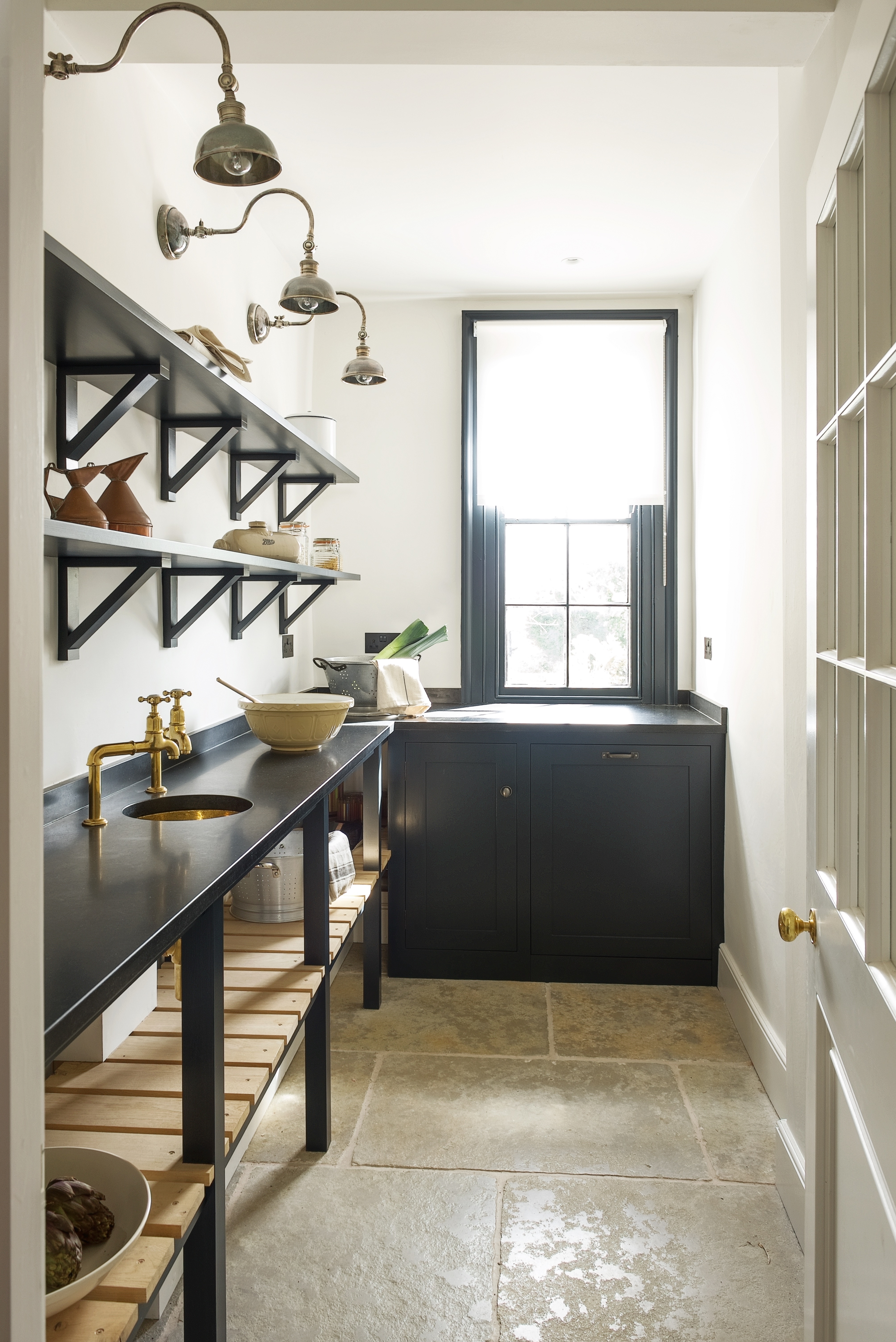 Lighting is also a key aspect as many pantries do not have windows (unless we have our say). This is another way to add to the style: from the most classic copper ceiling pendants through to elegant aged brass swan neck down-lighters, these final elements really do add the finishing touches to a discrete room.
Can you have it all?  Is this not a great starting point?
To read more about our full offer of bespoke kitchens, head to our homepage for inspiration!