The finest worktops available today
Becoming the pinnacle of bespoke kitchen design is something we constantly strive to achieve. The years spent researching and sourcing the very best worktops and surfaces has brought us even closer to this goal.
Our love affair with natural stone is well documented. However, it does tend to have a level of vulnerability and definite issues around porosity. This means that natural stone is not always suited for family environments and an alternative is needed. This is where our dedication to researching accessible man-made substrates has paid off! The hard work we have put in at Charlie Kingham allows us to offer you the rewards of our experience and expertise. Our discoveries grant us the opportunity to present you, our valued clientele, the greatest selection to help determine which worktop material is best suited to your lifestyle and needs.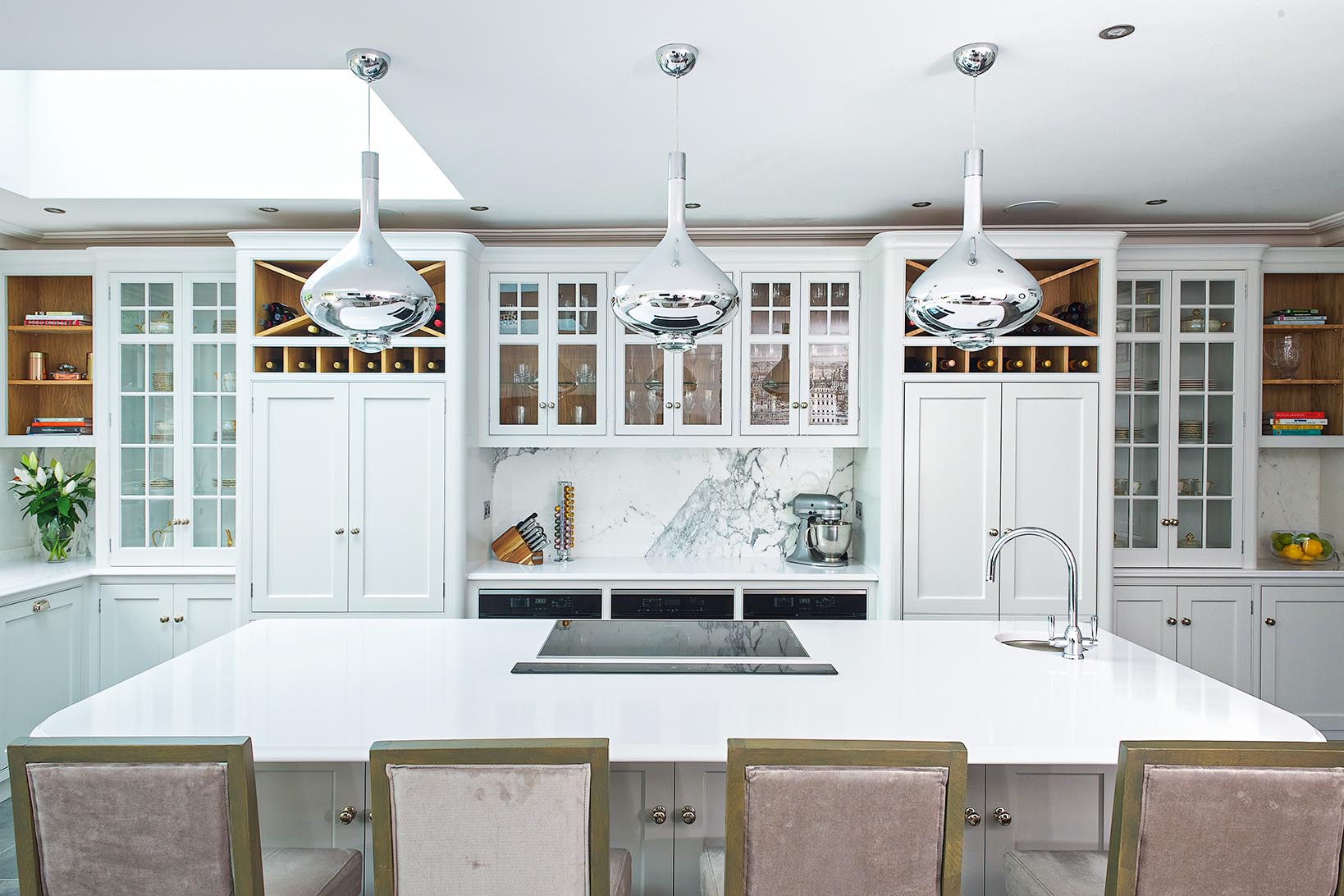 Quartz continues to maintain a prominent stance in the marketplace – no wonder when it is one of the hardest minerals on earth. Its durability as well as its antibacterial stain-resistant properties make it one of the most practical choices on offer.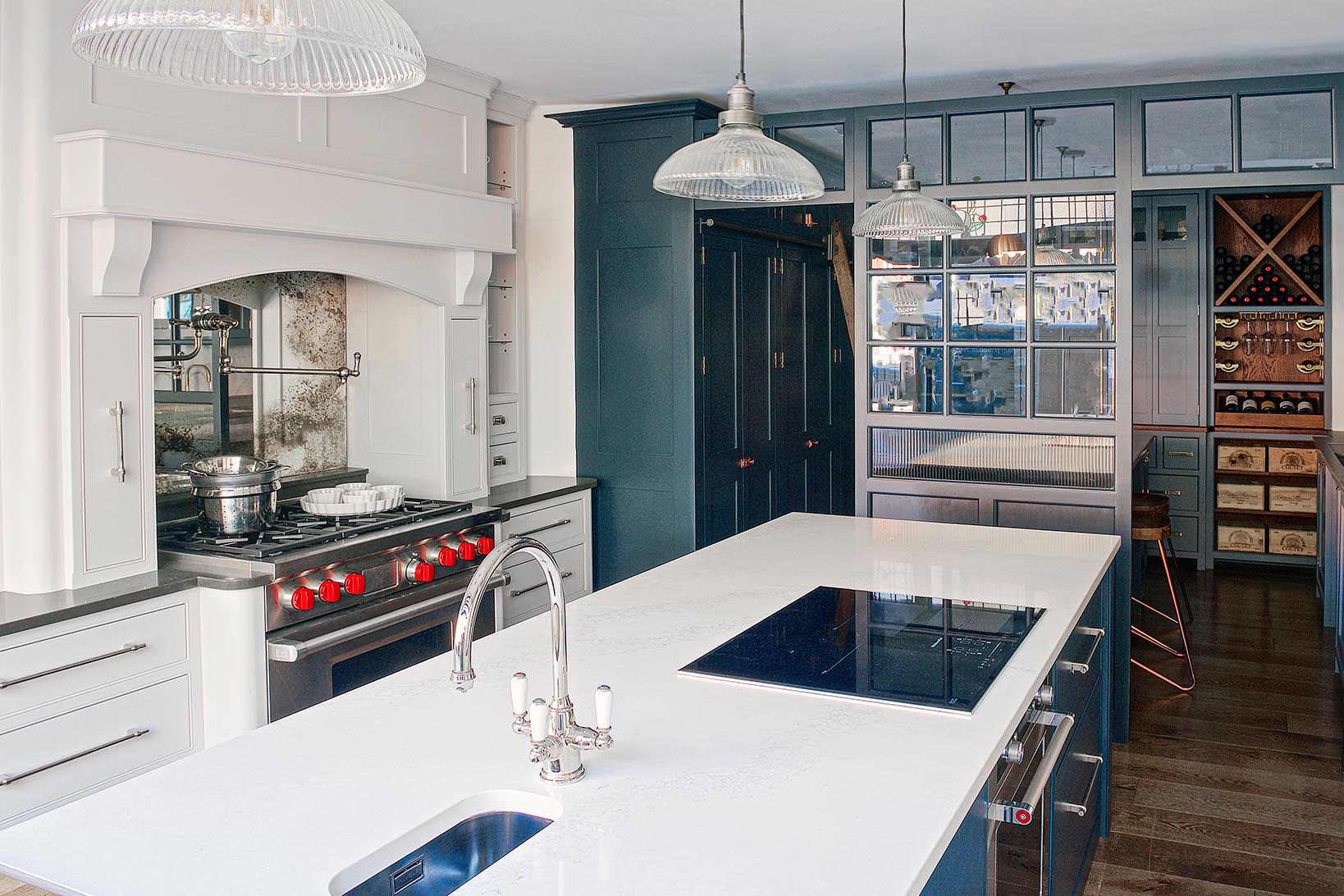 The brand we favour here is Caesarstone. As a forward-thinking company, they have chosen to closely emulate the natural look and feel of a wide range of stones, marbles and even some granites. Pair this with their award winning 'Rugged Concrete' option and this brand soon becomes our first choice when it comes to making a decision on a surface.
Although Caesarstone is our preferred choice of Quartz worktops, we are more than happy to supply other well known quality brands like Silestone, Compac, Radianz and Cambria. They are all also reputable manufacturers of quartz worktops. It is importan here to be very aware of some of these cheaper options, as they may not preserve the same functionality as guaranteed by our leading suppliers.
Next up is the porcelain substrates, sometimes referred to as ceramics. Neolith is probably the most well-known maker of this surface. Due to its formation process, it is very hard-wearing, non-porous and resistant to very high temperatures. All of these are key elements for many rooms of the home to remain functional: utility rooms, boot rooms, kitchens and bathrooms.
A similar material available is sintered stone, a process by which stone and other natural materials are powdered down and subjected to heat and pressure to create a very hard, durable, beautiful surface. Companies have branded versions of this under the names Dekton and Lapitec. Still a relatively new arrival, sintered stone has quickly gained a strong reputation with architects, designers and consumers alike. Sintered stone is beautifully practical and, although more costly than quartz, it is still highly affordable.
Sintered stone is tough as old boots with amazing properties: it is waterproof, stain-proof, unaffected by temperatures, very hard to chip/scratch/damage, easy to clean, hygienic and non-porous. It is clear to see why this material would be many clients' favourite choice! 
Last but not least, there is corian, a great surface which can be fashioned in many ways that others cannot. It is a combination of minerals and acrylic making it non-porous and stain-resistant. Unfortunately it is also a rather soft material which makes it prone to damage from scratches and heat. We recommend that you take note of this and are careful when making corian your preferred material for your worktops. It works very well on kitchen islands or runs of cabinets that are not right by a hob or prep space – sinks (and therefore water) are no issue here! 
Why not let us hold your hand when deciding which workshop material is best for your home and lifestyle?