Bespoke Cutlery Drawer Divider Tray
Nothing worse than rummaging around in some shabby old drawers
Who doesn't love an orderly cutlery caddy!
Check out the amazing ways we molly coddle your finest knives, forks and spoons. We go to great lengths to be able to offer no limitations on what we can create here for you. It goes without saying that such treasured family heirlooms, like a genuine Sheffield silver service, should warrant this special attention and conservation.
This is where truly bespoke comes into its own. Everyone has such differing amounts and sizes of tableware. Therefore, it goes without saying, that nearly all of our clients have a different personal requirement. We have you covered!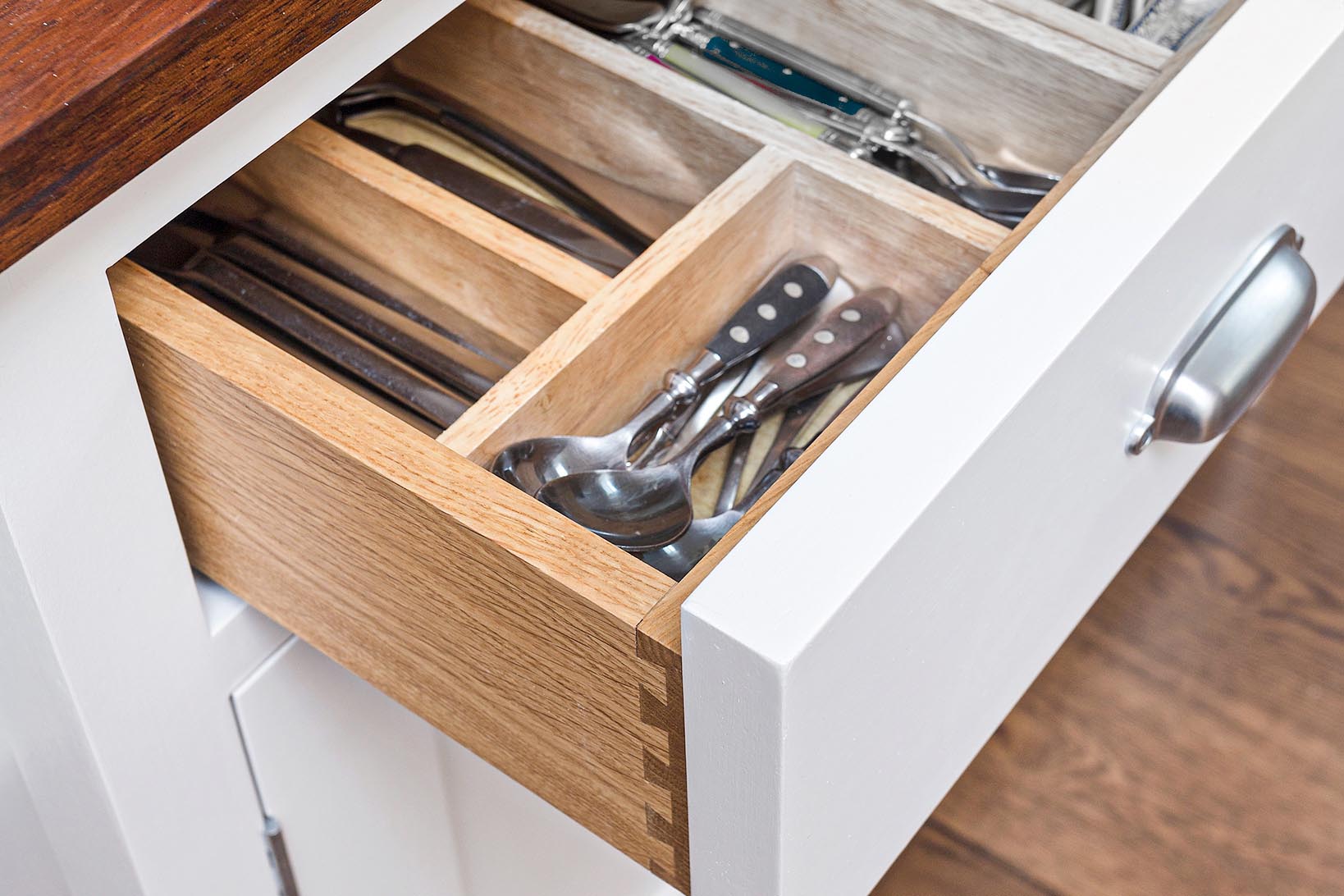 Just marvel at the solid oak or American black walnut drawer boxes with their delightfully hand-crafted, dovetailed joints. Sitting comfortably on Blum soft-close runners, these really are a work of art. However, they are only going towards serving a greater purpose. They are there to house your divider trays that we fashion so adroitly and exclusively to your specification.
All of this again has another function: protecting these gleaming and polished silver wonders from scratches and long term deterioration. Why, when you have invested in some of the finest silverware, would just chuck it in a drawer without any care or thought?
Your investment in such stunning tableware surely needs some looking after, a little TLC. When only the very best solid wood cutlery insert trays will do, who else would you turn to for their safeguard but us! We are proud to say we produce some of the best drawer dividers on offer. A perfect addition to any shaker or Georgian bespoke kitchen!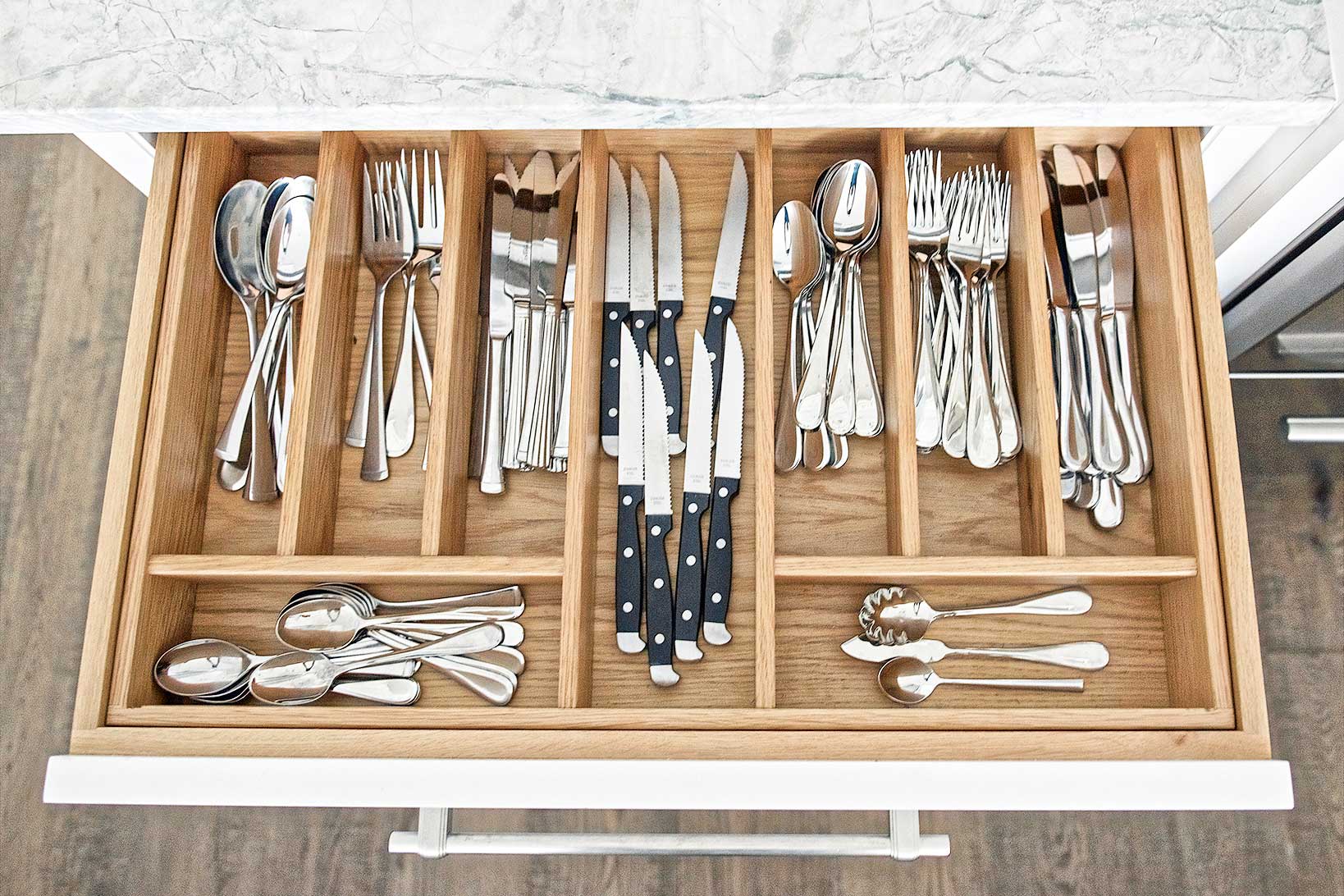 One of the most useful elements we love to add is making the trays easily removable. It is something so simple but one of the most admired ideas because of the practical element, especially when it comes to cleaning when needed from time to time.
For our final flourish we like to give the solid wood base a covering fit for a king or queen.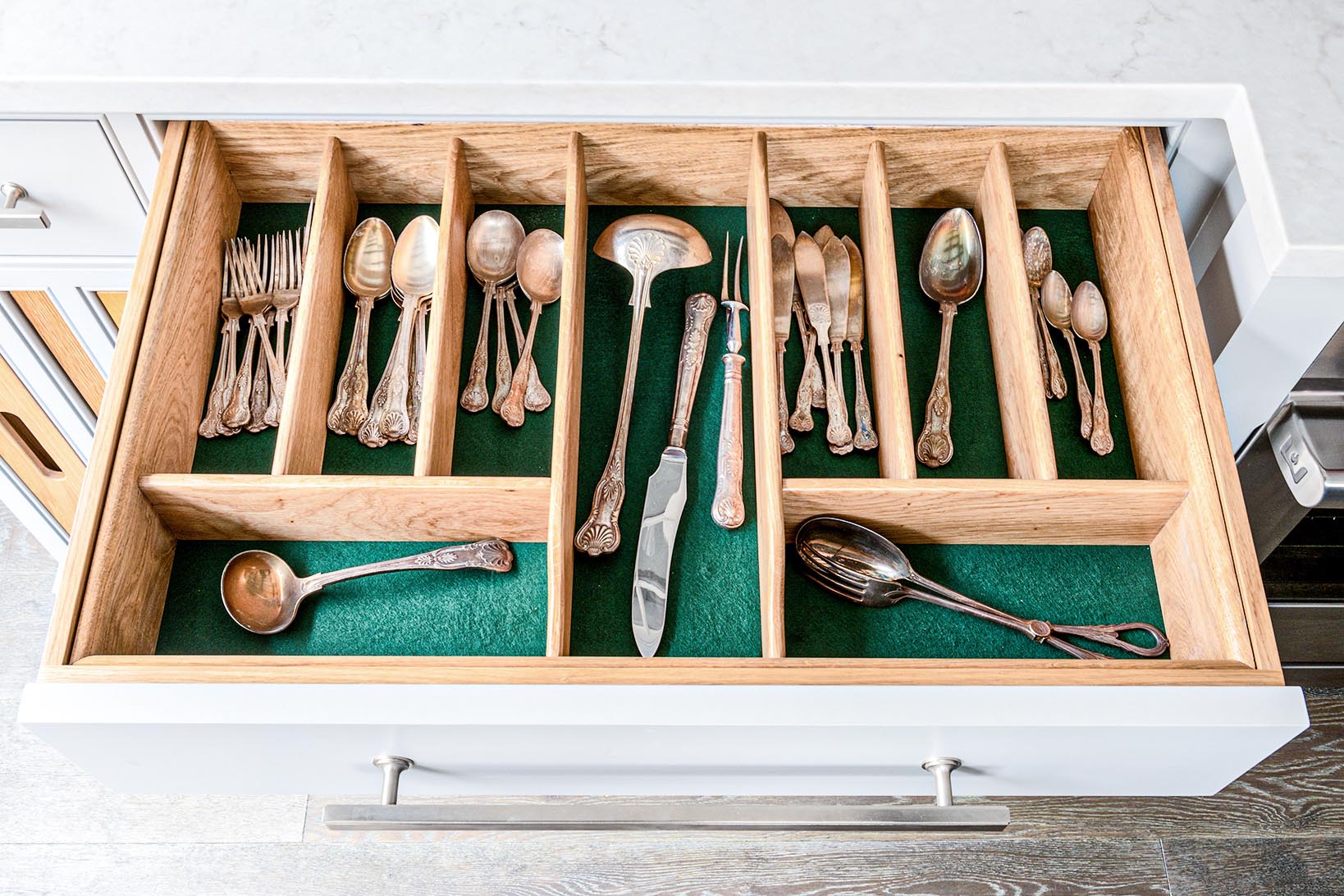 How about a lustrous and gorgeous green baize? A historically authentic and very traditional choice. Maybe you would prefer a leather or suede covering? This is more luxurious and tactile. Both of these are divine aesthetically and extremely functional (they soften the impact when placing or removing your precious pieces).
Why not let us become engaged here in the creation of something not just effective but harmoniously exquisite?